REPOST.  UPDATE.  I have had a few friends of Mark McCandlish get in touch with me and state unequivocally that he would never commit suicide.  There is a COVERUP in progress….
MAJOR NEWS ON DEATH OF MARK MCCANDLISH   PLEASE SHARE. THIS AFFECTS US ALL!!
05.30.21 UPDATE
At least 2 of my sources on this story have subsequently come forward under their real names:  Robert Morningstar and Richard (Rick) Price.
UFO WHISTLEBLOWER KILLED AFTER OFFERING TO TESTIFY TO THE SENATE INTELLIGENCE COMMITTEE AND MARCO RUBIO – SHOTGUN TO THE HEAD
5.21.21 BREAKING NEWS:   According to a key source:  Mark Mccandlish offered to give testimony to the Senate Intelligence Committee and contacted Marco Rubio on this just prior to his death… His potential testimony along with his obsession with building the ARV probably got him killed.  Just as it got Gordon Novel killed.  And James Allen the director of the film Zero Point (all about Mark McCandlish).  This is no distraction or disclosure dog and pony show… This is also about THE TRUMP CARD that Trump is holding—his ties to Nikola Tesla and this tech.  And this is all about bringing Zero Point energy into the public and the battle to keep it quiet.
–KERRY CASSIDY
PROJECT CAMELOT
According to a source the Redding City Coroner said there are 5 different agencies looking into the death of Mark McCandlish.   Judging from the past history of intel agencies and "suicided" victims it is highly likely that at least one of those agencies is right now working hard to come up with a feasible set of lies.  The objective would be to convince the general public that Mark was killed by some "lone gunman" or chose to commit suicide "suicided" as opposed to what really happened which all signs point to a typical Cabal-styled hit job.
Mark McCandlish was a highly refined, passionate engineer and designer whose illustrations were intuitive and detailed while at the same time technically accurate.  A person who spoke to him the night hefore he died indicated he was tired but upbeat and focused on moving forward with his projects.  Having served in the American military he felt it was his duty to testify should the opportunity arise, before the Senate Intelligence Committee.  His contact with Marco Rubio is said to have been ongoing. He wanted the truth about UFOs and zero point energy (some call it energy form the vacuum)  to come out and that the people have a right to know.
Update.  5.22.21
According to another source Fred Bell also was also killed and had knowledge of this tech (and of time travel which is intimately connected to how UFOs fly).  As does Sean David Morton who they just took back into prison.  Sean was writing a series of books based on whistleblower testimony and papers given to him by his lawyer….With advanced cancer Sean appears to be targeted in the same way.  Sean was about to release information all about time travel in his 4th book when he was arrested a few years ago.  
The list goes on with people and inventors who have died or been threatened surrounding the story about Zero Point Energy or energy from the vacuum or "free energy".  Another example is former Mars astronaut, Brian O'Leary was killed by a fast-acting cancer in part for interviewing and writing a book about this energy called the Energy Solution Revolution https://www.amazon.com/Energy-Solution-Revolution-Socio-Political-Suppression/dp/0979917646
and the list goes on.
It is worth noting Mark was killed 33 years from when Brad Sorenson first saw the ARV in a hangar (either at Norton Air Force Base or if the story posted here is true, at the Lockheed Martin Skunkworks facility). The 33 year connection is another indicator of the stamp of the Illuminati on Mark's death in addition to the method of death which is another trademark "shotgun to the head".
Excerpt from book:  SPACE WARP PROPULSION-PART 2 Alien Reproduction Vehicle SANTOSH DANDIN (a real name?)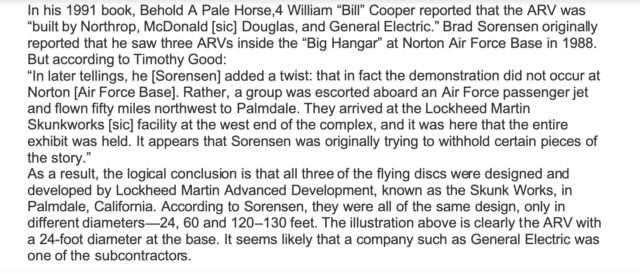 It's important not to lose sight of the fact that Marco Rubio and the sudden push to release highly sanitized versions of the UFO/UAP story is coming from somewhere deep in the intelligence community and deep state.  If you are willing to suspend disbelief momentarily and consider Trump's close relationship to his uncle who was instrumental in getting Nikola Tesla's tech into the hands of the deep state this sudden push becomes clear.  What the Cabal seem to be doing is racing against time to "one-up" Trump and take control of the narrative to spin it where they want, before he releases this tech into the public.  Once he wins back the Presidency by way of proving vote fraud and outside interference… "A digital Pearl Harbor" as Juan O. Savin is fond of saying Trump would be in a perfect position to literally change the world.  When Trump (who is still Commander-in-Chief and has the nuclear codes, is reinstated, in theory the tribunals would start against the human traffickers-adrenochrome junkies of the deep state.  At some point Trump would during his last 4 years then bring his "trump card" forward which is ZERO POINT energy… Zero Point is considered the keys to the kingdom encompassing UNLIMITED and free access to energy that makes all things possible including travel through wormholes, aka Portal technology aka time travel.  Greening the deserts, unlimited access to food, water at no cost and the end of the fossil fuel stranglehold on our economies….
Not to mention weapons technology that is of course already in the hands of the Secret Space Program … but that access would be worldwide and in the hands of our enemies as well.  Some would say it already is….This is of course the double-edged sword that surrounds the release of this technology and why in part, the military industrial complex has fought so long to keep it all secret.  But the secrecy has forced human society to split with the majority of humans living lives of desperation and growing limitation while the secret government/secret space program has access to unlimited wealth and prosperity and what some of my witnesses have said are as many as 10,000 years in advance of the average person.
So this recent push for a type of disclosure is another effort to OWN THE NARRATIVE and arguably could involve A FAKE ALIEN INVASION staged by the military so that they can get out from under the karmic burden of 70 years of secrecy while people lived lives dependent on scarcity and need, trading humans for alien tech and much more….  To learn more about the fake alien invasion scenario promised by MARINE, RANDY CRAMER see my article here:
RANDY CRAMER: REVISITING THE FAKE ALIEN INVASION SCENARIO AKA PROJECT BLUE BEAM
SEE THE TRIBUTE SHOW AND RELATED LINKS HERE:
IN ANSWER TO A COLLEAGUE'S QUESTION REGARDING "DOCUMENTATION":
No there is no documentation to my knowledge… This is info from a key source and is based on what Mark McCandlish told him.
We don't have access to his computer or email or phone conversations although I'm sure the NSA has….
DOES ATTEMPTING TO BUILD A UFO GET YOU KILLED?  2 DEATHS ONE ARV (ALIEN REPRODUCTION VEHICLE)
The Mysterious Deaths of Mark Mccandlish and Gordon Novel, and James Allen.
By Kerry Cassidy
https://www.legacy.com/obituaries/redding/obituary.aspx?n=mark-mccandlish&pid=198360452&fhid=18299
https://www.spreaker.com/user/xzoneradiotv/2014-03-13-segment-2-mark-mccandlish-the
https://www.imdb.com/title/tt6111304/
ZERO POINT:  The Story of Mark Mccandlish and the Flux Lander
Documentary about Mark McCandlish, an American illustrator thrust onto the international stage in 2001, combined with a detailed exploration of the mysterious 'Flux Liner' anti-gravity vehicle.
 EN
Director: James Allen
Writer: James Allen
Star: Mark McCandlish
DIRECTOR/FILMMAKER :  JAMES ALLEN died shortly after the release of this film.  Possibly died of Thorium poisoning.
https://www.pioneeringminds.com/mark-mccandlish/
Back in the 1960's Ralph Ring and Otis Carr built a ufo (flying saucer) and Ralph and two others flew the craft to a nearby hill by going inter dimensional and then returning to the same place it left (an adjacent hill) in Southern California.  When they brought evidence of their craft to an executive of GM, he said, "If you put them up I will shoot them down".  In that crude reply is encapsulated one of the key reasons that the real story behind UFOs (now called UAP's "unidentified aerial phenomena") has never been revealed by our government. 
That amazing story is detailed in my Project Camelot interview with Ralph and on these pages:
Video interview:
https://odysee.com/@PROJECTCAMELOT:d/project-camelot-interviews-ralph-ring:2
Backup pages: https://projectcamelot.org/ralph_ring.html
Apparently, knowledge of what is called Zero-Point Energy would replace all the conventional forms of energy (gas, oil, electricity and more).  And because of this and due to the weapons-related potential behind this secret it has been a matter of national security since even before the Roswell crash in 1947.
What I recently found out from a source is that the intricate drawings Mark Mccandlish of the craft (that is called the ARV "alien reproduction vehicle") based on the description of at lease one craft seen by Brad Sorenson hidden in a hangar at Norton Air Force Base in November of 1988, became, for Mark, an obsession to build such a craft.  Another story claims Brad saw 3 such craft.  But the significance of Mark's drawings and resulting quest to turn those drawings into reality, led him down a path that would lead 33 years later to his violent death in April 2021.  Mark died of a shotgun blast to the head currently called a "suicide" by the Redding, CA coroner.
It turns out Mark Mccandlish offered to give testimony to the Senate Intelligence Committee and contacted Marco Rubio on this just prior to his death… His potential testimony along with his obsession with building the ARV probably got him killed.  Just as it got Gordon Novel killed.  And James Allen the director of the film Zero Point.  This is no distraction this is THE TRUMP CARD that Trump is holding his ties to Tesla and this tech.  And this is all about bringing Zero Point energy into the public and the battle to keep it quiet.
ORIGINAL POST:
A few weeks ago I heard Mark McCandlish died.  I figure it was natural causes.  I now hear that he was killed.  Mark was "suicided" …this is a traditional method of killing whistle blowers by the dark Magicians/deep state operatives.  
We met and interviewed Mark many years ago.  As I recall it was an audio only interview in person..I think at his request we did not publish the interview.
He. would not kill himself.
The author of  this article is Dr. Joseph Farrell a prolific and well respected author of many books.  We also interviewed Dr. Farrell.
REPOSTING LINK TO  HIS ARTICLE HERE:
THE MYSTERIOUS DEATH OF Mark Mccandlish
WE KNEW HIM… HE WAS SUICIDED…
They killed him…he must have stood in the way of the upcoming alien invasion scenario…
SHORT BIO FROM HIS WEBSITE:
Mark McCandlish is an internationally-recognized artist who has specialized in aviation and conceptual art within the defense and aerospace industries for the better part of the last thirty years, serving the needs of many of the top American corporations in this regard. Mark's father was a twenty-five year veteran of the United States Air Force and as a consequence, Mark has had a life-long love of aircraft and aviation history. His first UFO sighting occurred at Westover Air Force Base in the State of Massachusetts, in the Winter of 1966 and he observed the craft through an 80 power telescope for about ten minutes before it accelerated out of sight at an extreme velocity. He later discovered that this craft had been hovering above a flight of nuclear-armed Boeing B-52′s sitting on the Alert Ramp of the flight line on base. Mr. McCandlish has spent most of his life trying to discover the science that would make such incredible performance possible, and he believes there is a plausible answer to interstellar flight without violating the currently-accepted laws of physics. Having had literally dozens of sightings since 1966, he feels certain that this carefully protected technology has been co-opted by an as-yet-unknown group, and the sequestration of this technology has provided that organization tremendous leverage in world politics, finance and international conflicts over the past five decades. http://www.markmccandlish.com
RELATED LINKS:
BACKGROUND INFO ON MARK McCANDLISH:
THE MYSTERIOUS DEATH OF MARK MCCANDLISH – AEROSPACE ILLUSTRATOR – ARV
RELATED LINKS:
"The Pentagon and Director of National Intelligence are due to deliver by June 25 a non-classified report with a "detailed analysis of unidentified aerial phenomena data" collected by the Office of Naval Intelligence and the FBI."-Tampa Bay News
MARCO RUBIO URGES US TO TAKE UFOS SERIOUSLY AHEAD OF GOVERNMENT REPORT
Audio interview with Mark McCandlish about his work
https://youtu.be/bbU_KugUefI