Guest tags:
Under the CAMELOT top menu heading is the Guest Index.
Search function:
Please see the magnifying glass icon on the top menu.
Articles:
All articles from Project Camelot fall within the 'Camelot' category. You can view this category as in the links circled in blue below.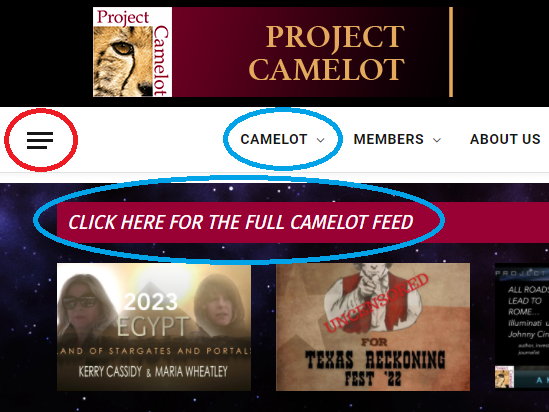 Note most interviews will become
members only
after a month. On the front page is a section showing the latest members articles. As with the Camelot category, you can view articles in the Members Category by clicking the title of the Members section. Articles can also be sorted by tags. Popular article tags can be seen by clicking the hamburger menu (three horizontal bars) on the left side of the Project Camelot Portal menu (circled in red above). Also at the bottom of each article are listed the tags for that article. Clicking on a tag will show a page for that tag, listing all relevant articles.
How do I Join Project Camelot?
Here. This page also has a section to sign up for the free weekly newsletter.
Where / How do I Log in ?
Click SIGN IN on the top menu.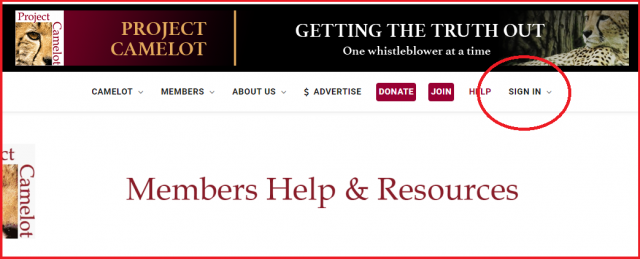 When you have logged in this button with change to show the word "ACCOUNT". Note you may have to navigate to a different page for the site to load the menu button changes.
If you need to reset your password, please use the login instructions above.
You may have to refresh your page after logging in. You can refresh the page, or navigate to a different page to encourage the site to update the menu button to show logged in status ("Log In" will change to show Account).

Please note that membership is handled through memberful, an external service. Some browsers may hinder the subscription service from working with this site. This also applies to some add-ons which may need to be disabled for Memberful to work correctly.
You can also clear the local cache and reload the page as here:
PC: Ctrl + F5. Mac: CMD + R.
Update Subscription / Account details / Audit member payments
For Paid Memberships see this section, otherwise regarding newsletter subscriptions, see the below heading "Newsletter Settings".
Click here to login / bring up the memberful overlay, which allows adjusting all settings for subscription.

From the Memberful Overlay, click the Menu button to change your account settings. You can also view previous transactions here.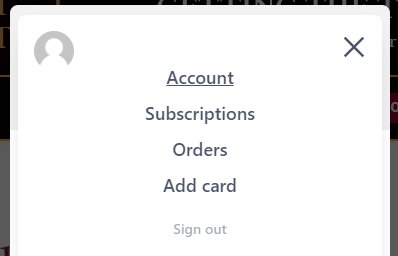 The "ACCOUNT" Top Menu button indicates you are logged in. This button will bring up the Memberful overlay. See Login Issues section if required.

Memberful account settings can be also accessed externally on their website here:  projectcamelot.memberful.com/account/subscriptions/
Note see the 'Cancel Subscription / HOW TO TOGGLE OFF AUTO-RENEW' heading for help navigating the Membership overlay menu
Cancel Subscription / HOW TO TOGGLE OFF AUTO-RENEW
FIRST LOG INTO YOUR ACCOUNT.  THEN REMOVE YOUR CREDIT CARD.
Same process as the above entry.
When logged in, click the Account button in the top menu. This will bring up the Account settings overlay for Memberful. In the top right is a Menu button. Click that for card and subscription options.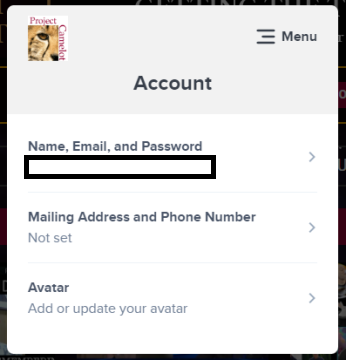 From here you can view cards saved and also change subscription options.

You will receive no further charges to your account when auto-renew is disabled. To further guarantee you will not be charged you can also REMOVE your payment method (credit card).
Note when logged in, you may update the settings also directly from the memberful website here:  projectcamelot.memberful.com/account/
Note you will need to login first, to prevent this link from redirecting back to the Portal site.
Regarding newsletter subscriptions, see the heading "Newsletter Settings".
Where do I find my purchased Conferences or Products?
Assuming you are logged in, under the 'MEMBERS' top menu button you can view "My Purchases".
There are three ways to change newsletter settings:
1. When you are logged in, under the "Help" Top Menu button (shown when logged in) is newsletter settings.
2. Also you can use the link at the bottom of the most recent newsletter to update your settings.
3. To receive a link to update your newsletter settings, resubscribe to the newsletter here.
Note for newsletter deliverability please check junk email, and whitelist the domains projectcamelotproductions.com and projectcamelotportal.com which are used for email. If you still cannot receive email, if possible try using another domain to receive email (your provider may have blocked our domain), or contact us to resolve.
Media missing / site broken
Please contact us at the form below to resolve this! Please include page and all relevant details. Thank you!
Please note: you may need to refresh your page after logging in to show logged in status.
If the above solutions are not working you can contact Technical Support for Project Camelot using the below form. This includes site issues and content missing. We will endeavour to ensure all content is available!
Please let us know exactly what is not working as expected. Please try to be as descriptive as possible.
To contact Kerry directly, you can email [email protected]
Note: For any subscription changes, Please use the simple suggestions above.