TOURS AND CONFERENCES
EGYPT & JORDAN – SPRING 2018
DATES:  APRIL 4-14, 2018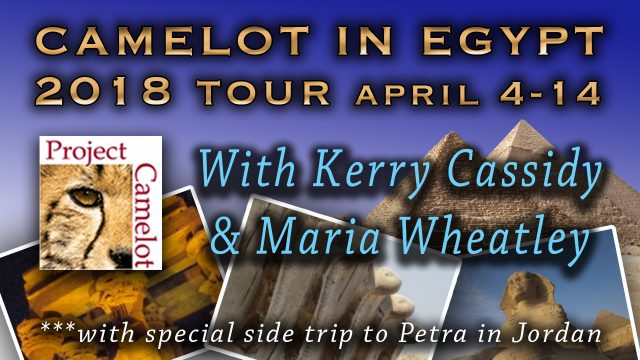 Kerry Cassidy and Maria Wheatley will be leading a tour in Egypt and Jordan this spring. Join Us!
SIGN UP FORM (below):  PLEASE DOWNLOAD AND FILL IN NECESSARY DETAILS, SIGN AND EMAIL TO:  kerry@projectcamelot.tv
CLICK HERE TO DOWNLOAD – PROJECT CAMELOT AND Soul Of Egypt Travel – Booking Form
DEADLINE EXTENDED TO MARCH 15TH FOR FINAL PAYMENT!
DEPOSIT TO HOLD YOUR PLACE:  $500 PER FAMILY  send money to PAYPAL:  conferences@projectcamelot.org
DO NOT BUY PLANE TICKETS UNTIL THIS TRIP HAS BEEN GREEN-LIGHTED BY KERRY CASSIDY AND MARIA WHEATLEY WITH THE NECESSARY NUMBER OF TRAVELERS.
PRICING:
Egypt $3550 Per person (TWIN ROOM)
(add on) Jordan $1700 Per person (TWIN ROOM)
SINGLE SUPPLEMENT = INCREASED CHARGES ON BOTH EGYPT AND JORDAN TBD. SINGLE SUPPLEMENT MEANS 1 PERSON TRAVELING ALONE REQUESTING A SINGLE ROOM BY THEMSELVES.
CONTACT INFO: Due to the large amount of email if you do not hear from us or have questions call or text Kerry @ 310-279=6769 or skype: snowjaguar or what's app free at same number.
Questions write to:  kerry@projectcamelot.tv
ITINERARY   — SUBJECT TO CHANGE
Day 1: Wednesday 4th April – Arrival, meet greet & assistance – Overnight Cairo.
Welcome to the land of Pharaohs! Upon arrival our friendly rep. will be waiting for you to meet, greet & assist you throughout airport procedures, and then you will be transferred to your chosen hotel for overnight. 
Meals: Meals on your own / Overnight: Hotel in Pyramids Area
 Day 2: Thursday 5th April – Sakkara – Overnight hotel in Cairo
We will take you for a guided trip to "Step Pyramids of Saqqara" one of the most extensive archaeological sites in Egypt! It was the cemetery for Memphis, the capital of Ancient Egypt, yet it is still one of the virgin archaeological sites, despite the fact that so much has already been found here! "The Step Pyramid of King Zoser".
Meals: Meals on your own / Overnight: Hotel in Pyramids Area
Day 3:  Friday 6th April – Giza Great Pyramids & Private visits
In the morning we will have a visit privately inside the Great Pyramid with a culminating initiation in the King's chamber. Here, we unite our life story with the story of those who have come before us and those who will come after as we embrace the transformation that we have experienced.
Followed by our visit the Giza Plateau, Take a very good look at The Great Sphinx, the guardian of the Pyramids, Feel the energy of the spirits… Then we are off to discover some of the most awesome wonders of the World to touch them and to feel them here the Pyramids of the Giza Plateau. Our guide, who is an encyclopedia of Egyptology, will give us detailed examinations of various controversial theories surrounding these amazing structures.
Meals: Breakfast / Overnight: Hotel in Pyramids Area
Day 4: Saturday 7th April – Egyptian Museum & Fly to Luxor  
After breakfast you will meet up with your tour guide at the lobby to start an interesting trip to the "Egyptian Museum" housing more than 160'000 piece of antiquates; you can also ask your tour guide to enter Mummies room where you can reveal more secrets about mummification…
Afternoon will be free at your disposal. Evening flight to Luxor. Arrival & transfer to your chosen hotel in Luxor.  
Meals: Breakfast at your hotel / Overnight: Hotel in Luxor
Day 5: Sunday 8th of April – East Bank in Luxor 
Start our trip with a visit to "The Temple of Karnak", considered as the largest Temple in the World! The complex contains a group of Temples such as the Great Temple of Amon Ra, The Temple of Khonso, The Ipt Temple, The Temple of Ptah, the Temple of Montho and the Temple of the God Osiris. A 20m high, mud brick enclosure wall, surrounded all of these buildings. On the Bank (East Ban of the Nile); will head to "Luxor Temple" it is huge in scale — it once housed a village within its walls. It has several pylons (monumental gateways) that are some 70 yards long. The first pylon is over 70 feet high, fronted by massive statues and several obelisks. There are several open areas, once used for various forms of worship but now empty. Later additions include a shrine to Alexander the Great, a Roman sanctuary, and an Islamic shrine to a 13th-century holy man.
After this breathtaking trip; will take you back to your hotel to relax & refresh. Night will be free at your disposal… you might love to have a relaxing walk through the city or perhaps stay & enjoy hotel facilities.
Meals: Breakfast / Overnight: Hotel in Luxor
Day 6: Monday 9th of April – Dendera & Abydos & the start of your 4 nights Cruise trip:  
After breakfast will start with an early drive North from Luxor & head to "Abydos Temple",  dedicated to Seti I, Osiris and Isis along with Ptah, Ptah-Sokar, Nefertem, Re-Horakhty, Amun, and Horus, is one of the major archaeological sites in that region. It was begun by Seti I and finished by his son, the great Ramesses II. In fact, this structure built of fine white limestone is actually one of the most impressive religious structures in Egypt.
Will take you to "Dendera Temple" or "Temple of Goddess Hathor", this Temple complex contains the Temple of Hathor, is one of the best-preserved temples, if not the best-preserved one, in all of Upper Egypt.
The whole complex covers some 40,000 square meters and is surrounded by a hefty mud brick wall. The present building dates back to the times of the Ptolemaic dynasty and was completed by the Roman emperor Tiberius, but it rests on the foundations of earlier buildings dating back at least as far as Khufu (known as the Great Pyramid builder Cheops, the second Pharaoh of the 4th dynasty [c. 2613–c. 2494 BC]) but it was the pharao Pepi I Meryre who built the temple. It was once home to the celebrated Dendera zodiac, which is now displayed in the Louvre Museum in Paris.
After we are done with the visits, will take you to the cruise dock where you will check in for a magnificent 4 night's trip sailing from Luxor to Aswan.
Meals: Lunch box & dinner / Overnight: On board 5* deluxe cruise.
Day 7: Tuesday 10th of April – West Bank in Luxor
Get up early in the morning to avoid the noontide heat of the West Bank, head to the Valley of the Kings with its numerous tombs and chambers. Only fifteen tombs out of 63 are open for public, among them are those granted to Tutankhamun, Thutmose III, Ramesses I and Seti II.
Visit the massive twin statues depicting the Pharaoh Amenhotep III widely known as the Colossi of Memnon, Queen Hatshepsut, where you can learn the tale of the divine birth of the first female king. Sail to Esna by 12:30 noontime.
Meals: Breakfast, Lunch & dinner / Overnight: On board 5* deluxe cruise.
Day 8: Wednesday 11th of April – Sail to Edfu
Breakfast on board; visit the remarkably well preserved Temple of Edfu dedicated to the falcon God Horus. Set sail to Kom Ombo by 10:30 am, after lunch we will take you to the unusual double temple of Kom Ombo.
Meals: Breakfast, Lunch & dinner / Overnight: On board 5* deluxe cruise.
Day 9: Thursday 12th of April – Sail to Aswan – Philae Temple
Early Sail to Aswan, arrival & a short sail across the river that will bring you to the Agilkia Island, where the Philae Temple dedicated to the Goddess Isis is currently located.  Originally, the temple was situated near the First Cataract of the Nile River, though in 1902 when the construction of the Old Aswan Dam started, the area was flooded and the complex was moved. Afternoon felucca ride in Aswan. Night is free at leisure; you might like to go exploring Aswan's Famous markets in the evening.
Meals: Breakfast, Lunch & dinner / Overnight: On board 5* deluxe cruise.
Day 10: Friday 13th of April – Fly Back to Cairo
Cruise disembarkation & afternoon transfer to Aswan airport for the flight back to Cairo. 
Meals: Breakfast / Overnight: 5* deluxe hotel in Cairo
Day 11: Saturday 14th of April Departure
Breakfast and meet up with our friendly rep. for the transfer to Cairo International airport for final flight.
Rate per person / per package in double or twin share U$D 3550.00

Rate is based on minimum 10 persons confirmed minimum.
OPTIONAL ADD-ON JORDAN PORTION:
Day 1: Saturday 14th of April – Amman / Petra   
Arrival Amman, you will be met & assisted by our friendly rep. who will escort you for a drive to Petra for visits, enjoy Petra for a few hours, followed by a visit to Little Petra or "Siq al-Barid in Beidha, located about 5km away from Petra, a Unesco world heritage site since 1985 and famous for its ancient buildings sculpted out of solid red sandstone; where you will be able to explore the tastes & the tradition of the real Jordan! Later on we will enjoy a traditional Bedouin dinner in Little Petra you will be surrounded by local Jordanian music, you will have a chance to try the wide variety of local dishes as you soak up the atmosphere.
Meals: Dinner / Overnight: Petra 
Day 2: Sunday 15th of April – Petra / Amman
Enjoy breakfast, and an early visit to Petra, Jordan's most valuable treasure and a landmark that you will really enjoy! The city of Petra, capital of the Nabataean Arabs, is one of the most famed archaeological spots in the worl, Located 240 km south of the capital Amman & 120 km north of the Red Sea town of Aqapa, It is not known precisely when Petra was built, but the city began to prosper as the capital of the Nabataean Empire from the 1st century BC, which grew rich through trade in frankincense, myrrh and spices. Will leave for a Night city tour in Amman.
Meals: Breakfast / Overnight: Amman
Day 2: Monday 16th of April – Amman / Departure
Enjoy last breakfast on the Land Of Wonders! Ten you will be transferred to the airport for your final flight back home…Bonne voyage!
Rate per person / per package in double or twin share U$D 1700.00