PLEASE NOTE:  DONATIONS AND SUBSCRIPTIONS ARE NOT THE SAME THING!  
Due to the continued censorship on Youtube, Project Camelot will now be subscription-based as of May 23, 2020. Some videos will remain free but all new videos will require a subscription to view.
SUBSCRIBE TO PROJECT CAMELOT: JOIN NOW!
YOUTUBE CENSORSHIP.. VIDEOS NOW MOVING TO Project Camelot WEBSITE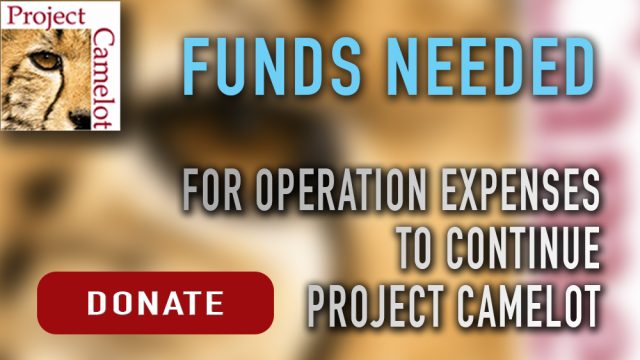 WAYS TO DONATE:
SUPPORT PROJECT CAMELOT BY MAKING A MONTHLY DONATION
Note:  I recommend you simply Join Project Camelot with a paid subscription unless you want to simply donate money.
OR
You can send money VIA your PAYPAL to:
[email protected]

OR
Click this PAYPAL button… Note: Paypal also takes CREDIT CARDS
OR
DONATE TO MY COINBASE WALLET
BITCOIN ADDRESS:  3LTzof6xsJqXpNPY3czPcVZ6EDbYnzpp72
NOTE: Donations are not tax-deductible for United States citizens. Project Camelot is not a non-profit company. 
Note: If you wish to donate by CHECK or money order please make it payable to:   Kerry Cassidy  
MAILING ADDRESS:  
Project Camelot  
638 Lindero Canyon Road, #277
Oak Park, CA 91377
Your donations make our work possible!
---
Project Camelot reserves all rights on all interviews and live events that we Produce.
Thank you for your continuing support of our work!
****