Here are some KEY links to my presentations and key interviews to watch on my channel.  NOW ON ODYSEE.COM 
SHORT OVERVIEW OF KERRY AND PROJECT CAMELOT
LINK TO MY BIO & ABOUT US PAGE ON MY WEBSITE:
OUR TV SHOW PILOT SHOW BY TRUTV THIS WAS MADE BY MAINSTREAM HOLLYWOOD FOR US TO HAVE A SERIES
WATCH:  I specialize in interviewing whistleblowers who worked above top secret for the secret gov/secret space program (way above black!).  I have over 1500 video interviews with some filmed on location around the world!  See below for links.  My website
http://projectcamelot.tv
MY INTERVIEW WITH JORDAN MAXWELL ONE OF THE GREATS IN THE UFO / SECRET SOCIETY SECRET GOV SCENE:
BOB DEAN IN 3 PARTS:
PETE PETERSON
IN 3 PARTS:
— MOST IMPORTANT PART
CLIFFORD STONE:
AND ALL MY JOHN LEAR INTERVIEWS:
STARTING WITH THIS ONE:
KERRY INTERVIEWED BY FORMER CIA AGENT ROBERT DAVID STEELE. (SHORT EXCERPTS)
This interview and the full version below was done in a rapid-fire Q&A fashion to get at the root of all the subjects Project Camelot has covered over the years and an overview of Kerry's knowledge.
SHORT VERSION
LONG VERSION
KERRY INTERVIEWED BY ROBERT DAVID STEELE FULL INTERVIEW
For over 30 years, Captain Mark Richards has been and still is, a prisoner of the war between on and off-planet races that have dominated Earth for centuries.  He is an honorable officer of the Navy, who because of his rebellion against the Draco and Reptoids (Luciferian alliance) is considered a threat to their operations. 
He was framed for a murder he is accused of having masterminded while he was on a mission off-planet in service to humanity.  He was Captain of a starship enterprise type vessel, fighting the war against aliens bent on the takeover of Planet Earth.
I am the only journalist who has interviewed him in person while he is in prison with regard to his entire story.–Kerry Lynn Cassidy, Project Camelot
***
HISTORIC MOMENT:
BOB DEAN AND ARTHUR NEUMANN AKA HENRY DEACON ON STAGE IN BARCELONA EXOPOLITICS SUMMIT 2009:  "YES THERE'S LIFE ON MARS, BASES ON MARS, I'VE BEEN THERE"– Arthur Neumann, Project Camelot Whistleblower from way above top secret
see this announcement at 55:03 minutes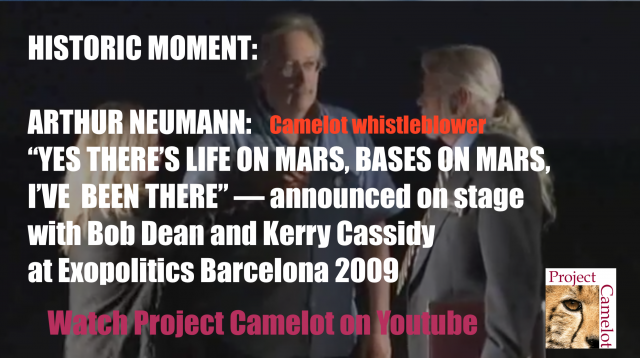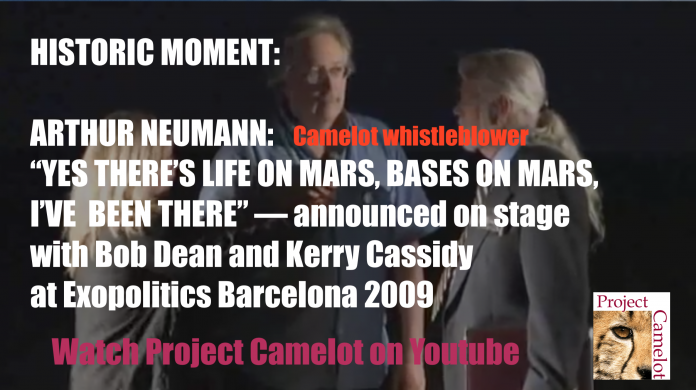 STAY UP TO DATE WITH PROJECT CAMELOT
SUBSCRIBE TO: