FRENCH MILITARY..SECRET DOC AFFIRMS COVID IS A WAR AGAINST WORLD POP TO ENSLAVE, CONTROL, STERILIZE AND REDUCE IT!! THE TRUTH WILL SET US FREE!!!  (document below). This latest disclosure from a secret FRENCH ARMY DOCUMENT also substantiates the frequency/DEW/ electromagnetic weapon angle that I published several days ago… LINKED BELOW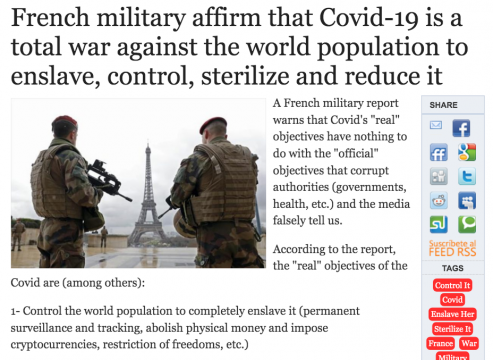 FRENCH MILITARY DOCUMENTFrench-Army-Report-on-COVID-19-and-5G_8-31-20

This latest disclosure from a secret FRENCH ARMY DOCUMENT also substantiates the frequency/DEW/ electromagnetic weapon angle that I published several days ago and also did a VIDEO BLOG ON:
I am starting to see SIGNS OF CAPITULATION ALL AROUND…. TASKING EVERYONE TO DO THIS GATHER THE DATA… INDICATIONS THEY ARE CHANGING THEIR STORY…THE MEDIA, THE CDC, OFFICIALS… BACKTRACKING… THEY ARE SAYING SUDDENLY:
1. NO NEED TO DISTANCE
2. NO NEED TO WEAR MASKS
3. NO NEED TO STAY AT HOME… THE NUMBERS WERE WRONG, THE TESTS DON'T WORK …ALL THE THINGS WE KNEW ALL ALONG… I believe this is a REAL SIGN that Trump and Team are proving victorious and these orgs … are now trying to SAVE FACE!!!
https://www.facebook.com/watch/?v=779404059485156