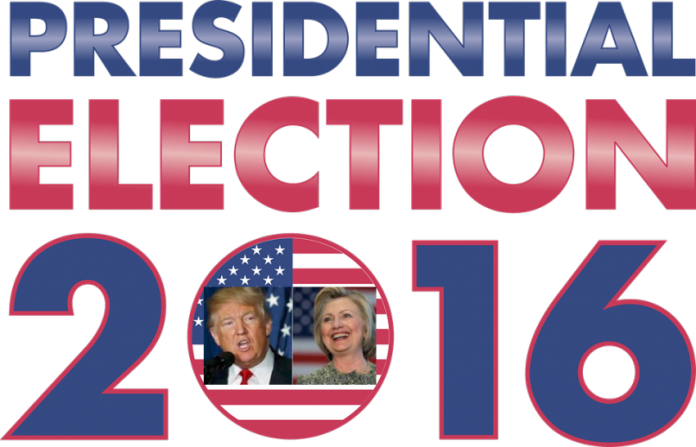 HITCHHIKERS GUIDE TO THE GALAXY ON THE ELECTION: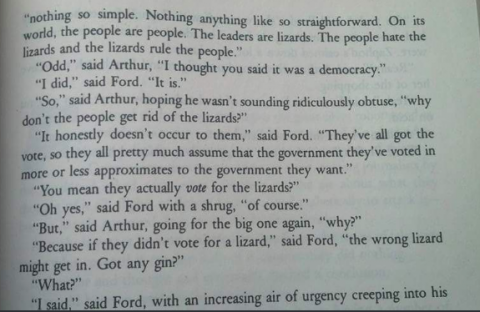 "It comes from a very ancient democracy, you see…"
"You mean, it comes from a world of lizards?"
"No," said Ford, who by this time was a little more rational and coherent than he had been, having finally had the coffee forced down him, "nothing so simple. Nothing anything like so straightforward. On its world, the people are people. The leaders are lizards. The people hate the lizards and the lizards rule the people."
"Odd," said Arthur, "I thought you said it was a democracy."
"I did," said Ford. "It is."
"So," said Arthur, hoping he wasn't sounding ridiculously obtuse, "why don't people get rid of the lizards?"
"It honestly doesn't occur to them," said Ford. "They've all got the vote, so they all pretty much assume that the government they've voted in more or less approximates to the government they want."
"You mean they actually vote for the lizards?"
"Oh yes," said Ford with a shrug, "of course."
"But," said Arthur, going for the big one again, "why?"
"Because if they didn't vote for a lizard," said Ford, "the wrong lizard might get in. Got any gin?"
"What?"
"I said," said Ford, with an increasing air of urgency creeping into his voice, "have you got any gin?"
"I'll look. Tell me about the lizards."
Ford shrugged again.
"Some people say that the lizards are the best thing that ever happenned to them," he said. "They're completely wrong of course, completely and utterly wrong, but someone's got to say it."
"But that's terrible," said Arthur.
"Listen, bud," said Ford, "if I had one Altairian dollar for every time I heard one bit of the Universe look at another bit of the Universe and say 'That's terrible' I wouldn't be sitting here like a lemon looking for a gin."–― Douglas Adams, So Long, and Thanks for All the Fish
SEE THE GROUNDBREAKING DISCLOSURES BY WILLIAM TOMPKINS FOR MORE INFORMATION:
William Tompkins: Secret Space Program First-hand Witness – One Man Disclosure Project
www.youtube.com/watch?v=Rjz7PCq6qmM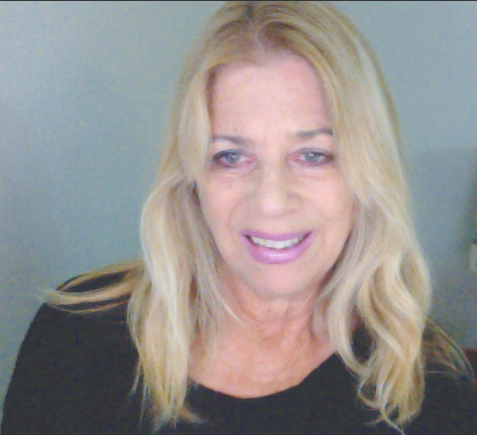 Kerry Cassidy is the CEO/ Founder of Project Camelot. Kerry is a documentary filmmaker/investigative journalist, author and well known host of Project Camelot TV broadcasting weekly live shows .  PROJECT CAMELOT  http://projectcamelot.tv aka projectcamelotportal.com  –  is a leader in the alternative media sector, with a Youtube channel (NOW ON OUR OWN PROJECT CAMELOT LIBRARY)  that has over 1000 video interviews over past 16 years, plus 5 years of radio show interviews and over 70 million unique viewers worldwide with over 312,000 subscribers at the time our youtube channel was removed by the Youtube censors. Kerry travels the world conducting interviews and documenting the testimony of whistleblowers with above top secret clearances as well as authors, researchers and experiencers covering conspiracies, the secret space program, black projects, ETs, kundalini and ascension and free energy. She speaks at conferences around the world and is considered one of the leaders of the disclosure movement. Kerry's book, "Rebel Gene: Secret Space and the Future of Humanity" documents her trip down the rabbit hole and years in Project Camelot. 5-STARS ON AMAZON! Due to censorship and demonetization by Youtube Project Camelot has now become a subscription based platform.  JOIN NOW BECOME A MEMBER
KERRY CASSIDY – PROJECT CAMELOT is now banned and deleted from the following platforms:  YOUTUBE, TWITTER, VIMEO, INSTAGRAM, LINKEDIN FOR TELLING THE TRUTH.  WATCH OUR VIDEOS HERE:
https://media.projectcamelotportal.com/
Over 900 free videos…
DISCLAIMER
Project Camelot does not necessarily agree with or endorse all of the views represented by those we interview or have on our radio shows, internet TV shows or other broadcasts and productions.What Camelot is about is the investigation into the mysteries that surround us. We are all, in a sense, investigators of our world. And while we, as individuals, may not agree with everything presented on our site, we fully support freedom of thought and speech as well as the Quest for truth.
JOIN ME ON TELEGRAM:  NEWS & UPDATES DAILY!

https://t.me/projectcamelotKerry

GET ACCESS TO ALL CAMELOT VIDEOS SINCE DEMONETIZATION ON YOUTUBE BACK IN MAY 2020…VIDEOS BANNED OR CONTROVERSIAL…SUPPORT OUR WORK!  SUBSCRIBE!
http://projectcamelotportal.com/membership-plans/
SEE OUR NEW PROJECT CAMELOT MEDIA LIBRARY AND WATCH OUR VIDEOS