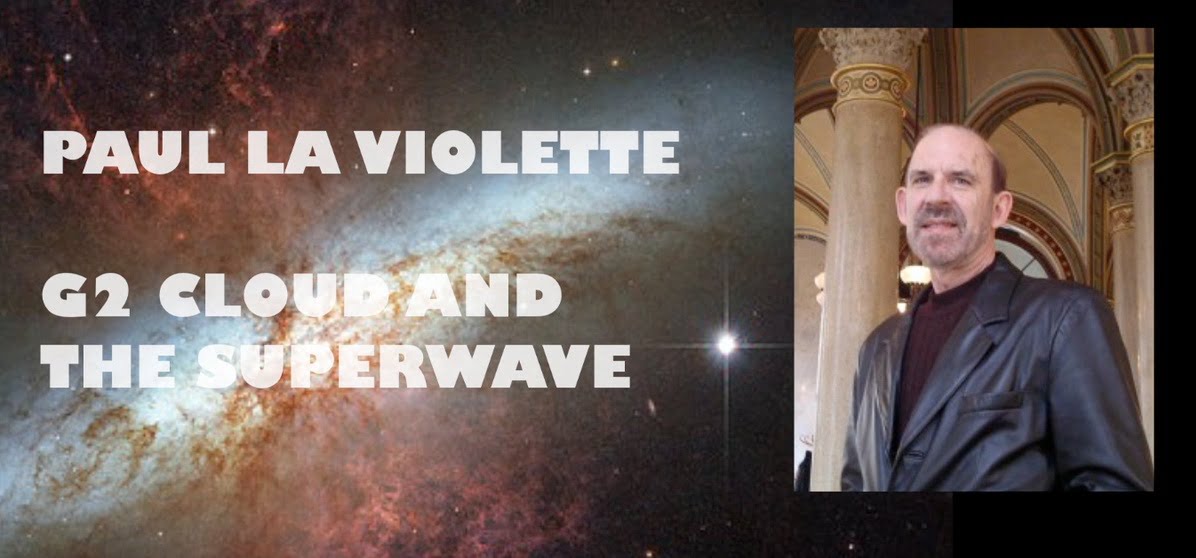 Now available on Youtube:
SUPERWAVE / GRAVITIC WAVE?
MY GUEST :  PAUL LA VIOLETTE :  SUPERWAVE OR GRAVITIC WAVE HEADED OUR WAY IN APRIL 2014??
.."One thing that we should be seriously concerned about is astronomer's nonchalant attitude in their observation of the encounter of the G2 cloud with our Galaxy's core.  As noted in the Galactic Pinball posting about the G2 cloud encounter, astronomers are actually hoping to see "fireworks" to learn more about how "black holes dine".  They don't realize that, if the galactic core does erupt in fireworks strong enough to produce a superwave, then the moment we see the outburst, the superwave cosmic rays will be here at our doorstep and will start to bite us.  Perhaps they think that just because the Galactic center lies 23,000 light years away, there is nothing to worry about."–Paul LaViolette
Note:  This is an update expanding on this original interview on the G2 Cloud located here:  http://www.youtube.com/watch?v=dxp8qDV9o_c&feature=youtu.be:
BACKGROUND INFO:
Here are some Sphinx Stargate news links with some dates they were posted as news items.
Additional link to review:
http://etheric.com/swift-x-ray-telescope-update-gc/
The first six were posted since our interview.
http://etheric.com/trumpet-sounds-sky/  (Feb 10th)
http://etheric.com/evidence-superwave-propagation-nearby-galaxy/  (Feb 10th)
http://etheric.com/swift-telescope-data-shows-gc-still-quiescent/  (Feb 2nd)
http://etheric.com/galactic-pinball-will-lucky-latest-update/  (Jan 23rd)
http://etheric.com/stephen-hawking-rejects-idea-black-hole/  (Jan 28th)
http://etheric.com/g2-cloud-likely-contain-star-increased-chance-core-explosion/  (Jan 3rd)
http://etheric.com/paul-laviolette-camelot-livestream-interview/  (Dec 6th)
http://etheric.com/g2-cloud-update/  (Nov 7th)
http://etheric.com/new-study-on-g2-cloud-trajectory/  (Aug 15th)