Recent Juan show with Nino (not yet posted to Rumble) has a REVEAL on it…purposefully done by Juan (someone in car with him)… In the beginning of the show called "Dead man Mocking"… Juan is driving left handed (JFKjr is left handed) and on the dash of the car is a JUAN HAT… a few seconds later the camera angle switches to look at the side mirror and then back to the dash and the hat has been switched to a JFKJR HAT!
ALSO NOTE:  near the end of the video Juan stresses the DATE:  OCT 29TH as a possible date for Chaos and some dark side event….
FREE VERSION:
 https://sunnysjournal.com/2022/08/28/ninos-corner-juan-o-savin-dead-man-mocking-8-27-22/
SHOW ON NINOSCORNER.TV
NINOS CORNER-JUAN O SAVIN – DEAD MAN MOCKING 8-27-22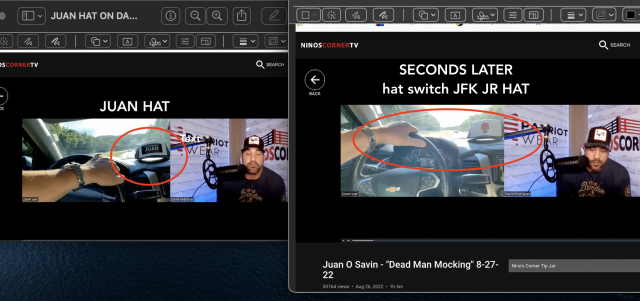 However, during the video the passenger (probably Jennifer Mac) is switching among several hats… Fusco, McAfee, Juan, JFKjr and so on.