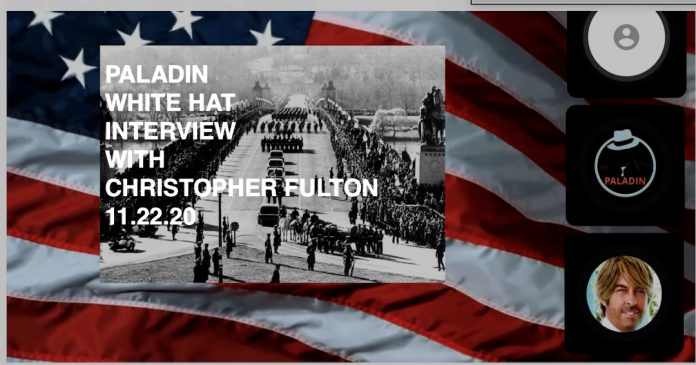 Show linked below is a copy. See why below.  This is a powerful show with Christopher Fulton.  Enjoy.  Update:  due to a copyright issue with the Zapruder film they played during the video they replaced the live show video with a copy removing the Zapruder film.  As it happens that REMOVED all my questions from their video chat since this means the "live chat" was also removed.
Video to view:  (not the original which was removed).
THE FOLLOWING IS NO REFLECTION ON CHRISTOPHER FULTON OR THE WONDERFUL COMMENTS HE HAS MADE.  I HAVE READ HIS EXCELLENT BOOK AND WROTE HIM A LONG LETTER INVITING HIM ON THE SHOW.  HE HAS NOT REPLIED.  MY EMAILS ARE OFTEN interfered with.  
Please note my questions are for the benefit of the audience and not for me to reveal what I know or think.  My objective in spite of whether I know the answer is to get the guest's reaction to the question regardless of how he chooses to answer. 
THE FOLLOWING QUESTIONS WERE POSTED FIRST VIA SKYPE TO PALADIN AND THEN ON THE CHAT ROOM. While attempting to post the following questions during the LIVE chat I was being blocked by the "moderator".  When I questioned Paladin on this he said he was "not the one blocking me" indicating someone else was in control of his chatroom during his show.  This indicates the White Hats have some infiltrators in their group.  Apparently AFTER THE LIVE SHOW Paladin had the moderator remove the blocks and my questions were then allowed to post.  Better late than never.  Most of my questions were not asked by Paladin or Lady Justice during the interview.  
ASK him what he thinks about the replacement of the CIRCUIT COURT JUDGES?
2. ALSO ASK HIM ABOUT THE TACTICS TRUMP IS USING AND HIS THOUGHTS ON CHANCES OF WINNING USING COURT SYSTEM.  Will this certify that the appeals will make it through?  (Note:  at the end of the interview Paladin finally asked this one question).
3.  Paladin mentioned in the chat something about recent changes in the Dept of Defense    and bringing special forces UNDER the DOD…..I asked in the CHATROOM how these changes affect the Trump agenda.
4.    Why does Chris think Trump and team are holding back and moving so slow with what they can bring forward during this crucial time…?  What are his thoughts on why these tactics and what are the chances of winning in the courts now…?
5.  PLUS … what kind of DEALS HE THINKS TRUMP IS HAVING TO MAKE (if any) going forward…in order to operate at all…?
6.   WHAT ABOUT THE ROLE BRITAIN IS PLAYING RIGHT NOW?
7.   Does he have a direct channel to Trump?
8.   Right now economic forum is meeting does he think Trump is getting mostly support or not from those characters…What kind of impasse might he be facing there?  And how will that affect his ability to ACT?
9.  WHY DIDN'T TRUMP PUT IN BLOCKCHAIN FOR THE ENTIRE VOTE instead of just some states…surely this is an executive decision not based on states rights.
10.  ASK him if he thinks JFKjr is alive and why hasn't he come forward… there were rumors he was supposed to come forward in JULY…what stopped him?
11.   Ask him about today's news that PUTIN won't acknowledge Biden because Trump hasn't conceded…   MY COMMENT:   (it doesn't matter what we think what matters is his reaction to this).
PALADIN THEN CLAIMS HE IS NOT THE ONE BLOCKING ME…. (?) 
Then in Paladin's chatroom the "moderator" calls the ABOVE QUESTIONS "SPAM"…
(I suddenly thought this was just like talking to Youtube or Twitter…)  
Update:  Paladin says they have now posted my questions back into the chat. Thank you for doing so.  Now that the show is no longer live.
Kerry Cassidy, Project Camelot
RELATED LINKS:
LINK TO PRIOR INTERVIEW AND CHRISTOPHER FULTON'S BOOK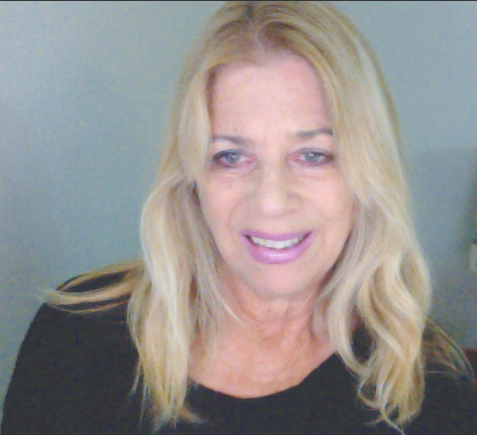 Kerry Cassidy is the CEO/ Founder of Project Camelot. Kerry is a documentary filmmaker/investigative journalist, author and well known host of Project Camelot TV broadcasting weekly live shows on Youtube.  PROJECT CAMELOT  http://projectcamelot.tv aka projectcamelotportal.com  –  is a leader in the alternative media sector, with a Youtube channel that has over 1000 video interviews over past 16 years, plus 5 years of radio show interviews and over 70 million unique viewers worldwide with over 312,000 subscribers. Kerry travels the world conducting interviews and documenting the testimony of whistleblowers with above top secret clearances as well as authors, researchers and experiencers covering conspiracies, the secret space program, black projects, ETs, kundalini and ascension and free energy. She speaks at conferences around the world and is considered one of the leaders of the disclosure movement. Kerry's book, "Rebel Gene: Secret Space and the Future of Humanity" documents her trip down the rabbit hole and years in Project Camelot. 5-STARS ON AMAZON! Due to censorship and demonetization by Youtube Project Camelot has now become a subscription based platform.  JOIN NOW BECOME A MEMBER
DISCLAIMER
Project Camelot does not necessarily agree with or endorse all of the views represented by those we interview or have on our radio shows, internet TV shows or other broadcasts and productions.What Camelot is about is the investigation into the mysteries that surround us. We are all, in a sense, investigators of our world. And while we, as individuals, may not agree with everything presented on our site, we fully support freedom of thought and speech as well as the Quest for truth.
JOIN ME ON TELEGRAM:  NEWS & UPDATES DAILY!

https://t.me/projectcamelotKerry

GET ACCESS TO ALL CAMELOT VIDEOS SINCE DEMONETIZATION ON YOUTUBE BACK IN MAY 2020…VIDEOS BANNED OR CONTROVERSIAL…SUPPORT OUR WORK!  SUBSCRIBE!