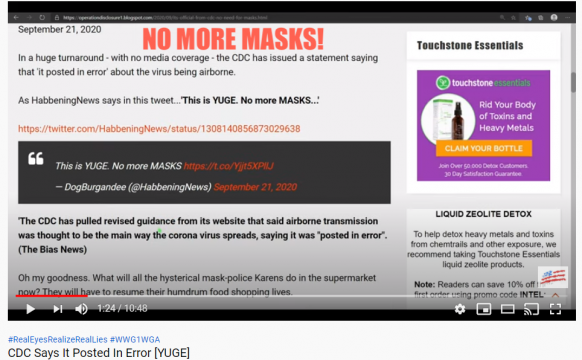 FROM A DEEP SOURCE:
The White House is getting sniper fire daily, and is sending out teams to find the snipers. They have been ordered to KOS (kill on sight) , but some newbies (Marines) didn't do so and got replaced. So far two snipers have been found, but the shooting continues.
This info is coming from the mother of one of the soldiers hunting down the snipers. The President has been supporting their efforts and even has the White House chef giving them meals, since they are basically on duty 24/7. Also, the mother said her daughter is one of those on duty at the WH, and says Pres. Trump has been very supportive.
The mother said that it has been going on for 2 months.
Apparently the British didn't get the news….!
The latest diabolical move by the British government:
OUR WORST COVID NIGHTMARES HAVE JUST BEEN CONFIRMED BY THE UK GOVERNMENT… ?
The British Medical Journal just released that they have been given access to a memo from the UK Government outlining Operation Moonshot, their plan to conduct 10 MILLION tests per day by 2021.
The Government are investing over £100 BILLION in this program to build huge testing centres, warehouses and infrastructure… this level of investment means once they are built it will be incredibly difficult to undo these decisions.
£100 BILLION is almost the entire annual NHS budget. Can you imagine how many people they could help if they invested this money elsewhere?
SO WHY IS THIS TRULY FRIGHTENING NEWS? ?
Starting from next month the government plan to get up to 800,000 tests per day. We are currently at around 200,000 per day and get about 3,000 positive tests, which is an approximately 1.5% positive test rate.
As you can see in the documents below, [no documents were sent]  the new plan is that from next month 250,000 tests per day will be carried out in hospitals and care homes ON PATIENTS WITH NO SYMPTOMS! Supposedly this helps to mitigate potential outbreaks… ?
That is 250,000 of our most vulnerable and elderly people being subjected to a painful COVID-19 swab test even if they have NO SYMPTOMS. This is incredibly cruel and many will be unable to refuse as they are unable to care for themselves.
According to the memo, the UK Government have already signed "letters of comfort" with some companies to guarantee 3 MILLION TESTS PER DAY BY DECEMBER 2020.
THE GOVERNMENT PLAN IS FOR EVERY PERSON IN A CARE HOME TO DO A TEST EVERY DAY BY 2021!
You can see below that Jon Deeks, Professor of Biostatistics at University of Birmingham is horrified by this. He says:
"I'm horrified that the plans are devoid of any contribution from scientists, clinicians, and public health and testing and screening experts. These are plans from the world of management consultants and show complete ignorance of many essential basic principles of testing, public health, and screening. The authors appear totally oblivious to the harms that universal screening can create—this is frankly dangerous.
Deeks said that mass testing could throw up enormous numbers of false positive results. "Even if you have a test which is 99% specific, so only 1% of uninfected people get a false positive result, if you then test 60 million people we will be classifying a group the size of the population of Sheffield as wrongly having covid," he said. In such a scenario, 600 000 people would be told to isolate, along with their close contacts, leading to "substantial economic harm and massive need for further testing."
WE KNOW THAT THE FALSE POSITIVE RATE IS LIKELY TO BE HIGHER THAN 1% BASED ON THE DOCUMENTS BELOW AS NEW TESTS WILL BE EVEN LESS ACCURATE THAN THE FLAWED PCR TESTS!
Our Government is currently rolling out a death sentence to our elderly and most vulnerable people.
IF YOU HAVE BEEN SILENT UP TO NOW THEN YOU MUST STAND UP AND PROTECT YOUR ELDERLY AND VULNERABLE RELATIVES NOW BEFORE IT IS TOO LATE… IT MAY ALREADY BE TOO LATE… ?
In the documents you can see it clearly mentions that people will need a Digital Passport to access events and that this will be used to force public participation.
WHY WOULD OUR GOVERNMENT BE DOING SOMETHING SO RECKLESS WITHOUT CONSULTING SCIENTISTS AND EXPERTS?
Below you can see that Devi Sridhar, Professor and Chair of Global Public Health at the University of Edinburgh says:
"I have concerns around the bidding process for these contracts. The procurement process isn't clear, and it allows for a lot of people getting rich off this crisis. This is public money that we are going to have to pay back at some point."
Commenting on the leaked plans, Martin McKee, Professor of European Public Health at the London School of Hygiene and Tropical Medicine, said they bore the hallmark of a government "whose ambition far exceeds its ability to deliver."
He said, "This plan transmits unbounded optimism, disregarding the enormous problems with the existing testing and tracing programmes. Worse, it envisages a major role for Deloitte, a company that has presided over many of these problems.
It focuses on only one part of the problem, testing, and says nothing about what will happen to those found positive, a particular concern given the low proportion of those who do adhere to advice to isolate—in part because of the lack of support they are offered. What parliamentary scrutiny will there be of a programme that would cost almost as much as the annual budget for the NHS [in England]?"
WE ALL KNOW THAT THERE IS A LOT OF MONEY TO BE MADE FROM WAR AND PANDEMICS… IT SEEMS THE UK GOVERNMENT ARE NOW SHOWING JUST HOW MUCH THEY PUT THEIR PROFITS OVER THE HEALTH OF THE UK PEOPLE. ?
Let me know what you believe we can do to STOP THIS BEFORE IT IS ROLLED OUT!
THE ABOVE WAS SENT WITHOUT DOCUMENTATION AND SOURCE IS UNKNOWN.  (above in use is British spelling not American)…  
UPDATE:  THE LINKS BELOW POINT TO WHY THE BRITISH GOV IS SUDDENLY SO DESPERATE TO TEST EVERYONE!
***
Kerry's commentary:  What they may be testing for is not only to compile a DNA tracking database…but to figure out to what degree the humans are human and what else they are…
It also may test for mutating Dna or Dna that is being upgraded…and to what degree.
That would tell them how much time this version of Earth and Earth humans have left in 3D-4D and how quickly we are ascending ….
So what's in the test swabs?  A replicating nano-bot program?
One that will make the person receptive to the next step..the vaccine.  Which will then convert the Dna of the person into synthetic Dna…?
Is this the road to building the race of passive super soldiers that they have been planning?
And those that develop symptoms who cannot handle the replicating nano…those who are self-destructing are the ones who die of Covid.  The ones who live and never manifest symptoms are the future receptacles of the synthetic Dna.
Sounds like the British are desperate to see what stage their experiment has reached.
We are already at war with China and the state of war is the result of the state at which the invasive species has reached fever proportions …when the body has been taken over to a certain extent and the it has no choice but to go to war to either accept the inevitable or fight it off….This is where we are.
The reason Wuhan is no longer fighting the "virus" is because they have been taken over by it..they are now synths….?
TURNS OUT THERE IS CLEAR EVIDENCE OUT THERE OF WHAT I AM SEEING…
TRANSHUMANISM AND AI:  THE CHALLENGE – my statement
Regarding Transhumanism, the vaccines and the human body… my book contains this info…It's all about where "we are". Where human consciousness resides… Ask yourself what is our relationship with our physical world…We inhabit the body like we use our computer…even more intimately.  So the hydrogel nano containing self replicating and ability to reprogram our DNA… does this really change our HEARTS AND MIND COMPLEX which resides outside the body in the spirit and soul…. We are in ultimate control and connection with source regardless of what you do to our bodies….
Ultimately nothing starts on the physical 3D level…it all originates in the nonphysical realms (dimensions and densities)…. Everything on the lower levels is run by the upper levels.
We have no need to fear the vaccines or the reprogramming mRNA… via nano… because we can reprogram it back to source.
These challenges coming from AI and Transhumanism is all about getting humans to recognize who they truly are and what they are really capable of!
Get my book:
REBEL GENE:  SECRET SPACE AND THE FUTURE OF HUMANITY by Kerry Cassidy Project Camelot.
https://www.amazon.com/dp/B084SQHNY5/ref=rdr_kindle_ext_tmb
LATEST INTEL: WHY THEY WANT TO TEST YOU AND SNIPERS AT WHITE HOUSE
RELATED LINKS:
Supporting links that I discovered after I received the above downloaded info:
mRNA – REPROGRAMMING DNA AND NANO HYDROGEL
FULL TRANSHUMANISM
Gene-editing, Moderna, and transhumanism
https://blogs.timesofisrael.com/gene-editing-moderna-and-transhumanism
Dr. Carrie MADEJ:  WAKE UP CALL TO THE WORLD
https://securetherepublic.com/arkansas/2020/08/29/covid-19-vaccine-gmo-human/
***
This news today indicates the advent of the roll-out of the QFS could be surfacing in this sudden disclosure from Wall Street.
https://www.cnbc.com/2020/09/21/deutsche-bank-jpmorgan-lead-drop-in-financial-shares-amid-report-the-banks-moved-suspicious-funds.html
***
Looks like the sudden passing of the RBG is being used to create a HUNG JURY ….in the Supreme Court for some upcoming cases just prior to the election. 
In a related case the court case with respect to Pennsylvania is reported on here:
https://www.cnbc.com/2020/09/17/2020-election-pennsylvania-supreme-court-hands-democrats-a-win.html
***
TELESCOPES TAKEN DOWN…WHAT IS IT THEY DON'T WANT YOU TO SEE?
▶756e72 (1)  No.10672323>>10672493
File (5ff3d4d6f23fcf0⋯.jpg (119.79 KB, 873×582, 3:2, Arecibo.jpg) (h) (u)
): 
File (243ccdb87cf97d8⋯.png (309.47 KB, 1366×556, 683:278, Yang.PNG) (h) (u)
): 
>>10672107 (lb)
>Arecibo
On Aug. 10, 2020, the Arecibo Observatory — a massive telescope in Puerto Rico famous for tracking asteroids and advancing the search for extraterrestrial intelligence (SETI) — was slashed to pieces after a metal cable above the telescope came loose in the dead of night and crashed through the radar dish below.
https://www.msn.com/en-gb/entertainment/news/alien-hunting-telescope-suffered-no-damage-to-electronics-during-mysterious-midnight-disaster/ar-BB18W1WY
As of 2018, the observatory is operated by University of Central Florida,Yang Enterprises and UMET, under cooperative agreement with the US National Science Foundation.
https://yangenterprises.com/profile.aspx
This should get you started anon
KERRY'S INTEL UPDATE 9.22.20
Latest news and commentary on Snipers, Covid Tests, DNA/ God Gene, War of Worlds, Telescopes and Asteroids…