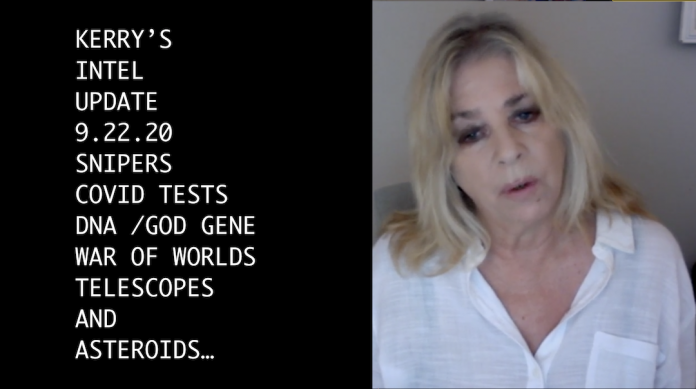 Latest news and commentary on Snipers, Covid Tests, DNA/ God Gene, War of Worlds, Telescopes and Asteroids…UPDATE THIS VIDEO HAS BEEN TAKEN DOWN BY YOUTUBE…AND IS NOW BELOW EMBEDDED FROM BITCHUTE. 
MY CHANNEL NOW HAS 2 STRIKES… WE WILL BE MOVING TO ANOTHER PLATFORM SOON!

Kerry's DOWNLOAD 9.22.20:  What they may be testing for is not only to compile a DNA tracking database…but to figure out to what degree the humans are human and what else they are…
It also may test for mutating Dna or Dna that is being upgraded…and to what degree.
That would tell them how much time this version of Earth and Earth humans have left in 3D-4D and how quickly we are ascending ….
So what's in the test swabs?  A replicating nano-bot program?
One that will make the person receptive to the next step..the vaccine.  Which will then convert the Dna of the person into synthetic Dna…?
Is this the road to building the race of passive super soldiers that they have been planning?
And those that develop symptoms who cannot handle the replicating nano…those who are self-destructing are the ones who die of Covid.  The ones who live and never manifest symptoms are the future receptacles of the synthetic Dna.
Sounds like the British are desperate to see what stage their experiment has reached.
We are already at war with China and the state of war is the result of the state at which the invasive species has reached fever proportions …when the body has been taken over to a certain extent and the it has no choice but to go to war to either accept the inevitable or fight it off….This is where we are.
The reason Wuhan is no longer fighting the "virus" is because they have been taken over by it..they are now synths….?
 ****
Then today I came across this info.  Whereas we all know that there is a direct link from Covid-testing-vaccines—trans humanism this added info fills in the picture.  
TRANSHUMANISM AND AI:  THE CHALLENGE – my statement
Regarding Transhumanism, the vaccines and the human body… my book contains this info…It's all about where "we are". Where human consciousness resides… Ask yourself what is our relationship with our physical world…We inhabit the body like we use our computer…even more intimately.  So the hydrogel nano containing self replicating and ability to reprogram our DNA… does this really change our HEARTS AND MIND COMPLEX which resides outside the body in the spirit and soul…. We are in ultimate control and connection with source regardless of what you do to our bodies….
Ultimately nothing starts on the physical 3D level…it all originates in the nonphysical realms (dimensions and densities)…. Everything on the lower levels is run by the upper levels.
We have no need to fear the vaccines or the reprogramming mRNA… via nano… because we can reprogram it back to source.
These challenges coming from AI and Transhumanism is all about getting humans to recognize who they truly are and what they are really capable of!
Get my book:
REBEL GENE:  SECRET SPACE AND THE FUTURE OF HUMANITY by Kerry Cassidy Project Camelot.
RELATED LINKS:
The video linked below is short and sums it all up.  Below that are two helpful articles laying out the science.
mRNA – REPROGRAMMING DNA
Gene-editing, Moderna, and transhumanism
blogs.timesofisrael.com/gene-editing-moderna-and-transhumanism/
DR. CARRIE MADEJ – WAKE UP CALL TO THE WORLD
ARTICLES TALKED ABOUT IN MY UPDATE;
LATEST INTEL: WHY THEY WANT TO TEST YOU AND SNIPERS AT WHITE HOUSE
WE COME FROM THE STARS AND THEN FROM MARS 
Billy Meier/ Pleiadian/Plejaran book
billymeier.files.wordpress.com/2017/12/we-came-from-the-stars-and-then-from-mars-21-0.pdf
From the Billy Meier Plejaran book: "We Came From the Stars and then from Mars" This "original sin", however, the genetic manipulation, repeatedly let the obsession for fighting and evil to surface from time immemorial – almost becoming Evil itself. Yet, in fact, this entire matter is based upon the manipulation of a single DNA gene that can be rectified, if only our geneticists were to finally discover it. This genetic manipulation, a characteristic for all living human beings on Earth by way of its inevitable, hereditary transmission, can be reversed and therefore by doing so, Man can finally escape his evil demeanor, which was imposed upon him by way of genetic manipulation. Although science has not yet sufficiently advanced in this field, scientists are nonetheless on the correct path. For this reason alone there is ample justification today for continued progress in genetic research and genetic manipulation, despite objections by those who lack understanding, and others who vehemently reject these concepts and preach idiotic, religious nonsense against things they can neither prevent and nor impede. Terrestrial Man merely has to reverse the former specific genetic manipulation that compels him to resort to bloodshed and murder, bloodthirstiness, hatred, greed, addiction and all other inhumanities. Still, genetic manipulation of the fighting capabilities in the Creation-given Creational law and directive sense must not be reversed since the capability to fight is essential for Man's continued existence and evolution. Consequently, the same event must not occur that previously occurred with the "creator-overlords" who robbed themselves of this fighting capability and lost all of their strength to fight through manipulation of their own genes. For this reason, they were no longer able to defend themselves against any aggressors who attacked them and this, in turn, resulted in their monstrous concept of manipulating human beings so they would become fighting machines through genetic alterations – which, ultimately, precipitated new sets of problems. When the human beings who were genetically-altered into fighting machines by the "creator-overlords" are studied, evidence shows that they procreated, or rather bred specifically for this purpose as they were perfectly normal, indeed, even highly evolved human beings. But they were rudimentarily altered physically through the manipulation of their genes. Prior physical traits reappeared and made these people, among other things, extremely resistant to environmental influences, and they displayed a certain barbarity. Throughout all of these genetic alterations, however, the proponents neglected to manipulate the genetic factor responsible for cognizance, memory, comprehension and compliance with the Creational-natural laws and directives – everything that is balanced and good. This omission was completely intentional, for research had shown that this particular omission would provide a form of security against the genetically-manipulated people's complete degeneration. The omission would always allow a degree of humaneness to surface and influence mankind's lives, actions and other factors, and thus provide some guarantee for the "creator-overlords" that genetically-manipulated individuals would not become viciously assaultive against them. These specific desires were not fulfilled, though, except for the fact that the genetically-altered individuals did not become totally dehumanized or completely, utterly degenerated. From the earliest times therefore, the prevailing factor of stability or goodness, respectively, always penetrated the genetically-altered people's consciousness. Because of this factor over the past millions of years, viciousness has increasingly lost its significance although it remains quite evident, particularly within certain rulers, criminals, despots and others. Unfortunately, no one was previously aware that through the genetic manipulation, and the naturally existing factor of stability and goodness in Man, a conflict or at least a feeling of being torn between opposing emotions would arise. This holds true even today with many human beings. As a result of these genetic manipulations, and from earliest times, Man has fought these inner conflicts of good and evil – where evil frequently is the winner. Nonetheless, increasing numbers of humans combat their way to goodness by conquering the damage done by the genetic manipulation and their wicked legacy, i.e., the evil or original sin. Unfortunately, frequent excesses occur that are based upon degeneration and pseudo-humanism, because humans are unable to find the appropriate paths and cling to false ideals that frequently originated from religious-sectarian idiocy. ***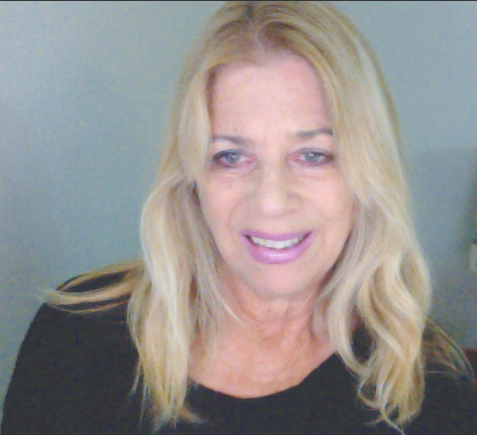 Kerry Cassidy is the CEO/ Founder of Project Camelot. Kerry is a documentary filmmaker/investigative journalist, author and well known host of Project Camelot TV broadcasting weekly live shows on Youtube.  PROJECT CAMELOT  http://projectcamelot.tv aka projectcamelotportal.com  –  is a leader in the alternative media sector, with a Youtube channel that has over 1000 video interviews over past 16 years, plus 5 years of radio show interviews and over 70 million unique viewers worldwide with over 312,000 subscribers. Kerry travels the world conducting interviews and documenting the testimony of whistleblowers with above top secret clearances as well as authors, researchers and experiencers covering conspiracies, the secret space program, black projects, ETs, kundalini and ascension and free energy. She speaks at conferences around the world and is considered one of the leaders of the disclosure movement. Kerry's book, "Rebel Gene: Secret Space and the Future of Humanity" documents her trip down the rabbit hole and years in Project Camelot. 5-STARS ON AMAZON! Due to censorship and demonetization by Youtube Project Camelot has now become a subscription based platform.  JOIN NOW BECOME A MEMBER
DISCLAIMER
Project Camelot does not necessarily agree with or endorse all of the views represented by those we interview or have on our radio shows, internet TV shows or other broadcasts and productions.What Camelot is about is the investigation into the mysteries that surround us. We are all, in a sense, investigators of our world. And while we, as individuals, may not agree with everything presented on our site, we fully support freedom of thought and speech as well as the Quest for truth.
JOIN ME ON TELEGRAM:  NEWS & UPDATES DAILY!

https://t.me/projectcamelotKerry

GET ACCESS TO ALL CAMELOT VIDEOS SINCE DEMONETIZATION ON YOUTUBE BACK IN MAY 2020…VIDEOS BANNED OR CONTROVERSIAL…SUPPORT OUR WORK!  SUBSCRIBE!