My take:  We all have coronavirus (respiratory ailments) from chemtrails weakening the immune system. It is triggered by 5G and concentrated wifi (cruise ships, airports and planes). It is NOT CONTAGIOUS except through suggestion: being influenced by the virus/fear MEME.–Kerry Cassidy, Project Camelot
Update:  March 5, 2020
Reminder:  All numbers of infected are wrong!  Most people do not go to hospitals.  Coronavirus is the flu.  There is a more sinister virus undercover reported only in China (so far) by Chinese Communist Party Whistleblower.  The state (worldwide NWO is using this panic to bring in draconian measures and limit travel.  
Information is that this virus (the flu) is being used to set the scene for global financial reset and possibly other roll-outs related to NWO.
5G is a facilitator frequency that lowers human (and animal) immune systems so they are vulnerable to catching this virus.  The literature of Huawei and other 5G companies proves 5G …
"On your oxygen molecules, the little electrons, with 5G they start to oscillate. So 5G is absorbing the oxygen and then your hemoglobin can't take up the oxygen.2″.
.."technology will broadcast at 60 GHz, which is the absorption spectrum of oxygen molecules, which means it can kill at a distance by interfering with oxygen binding to hemoglobin in blood. If blood cannot hold oxygen, the result is death by suffocation." needtoknow.news/2018/06/will-5g-technology-bring-human-extinction/
Large Collection of Data on Coronavirus Suggests the Illness is Harmless, and that Deaths Are Caused by 5G
needtoknow.news/2020/03/large-collection-of-data-on-coronavirus-suggests-the-illness-is-harmless-and-that-deaths-are-caused-by-5g/
Some helpful info:
Update Feb 27th:
CAMELOT RESEARCH INTO CORONAVIRUS
As of Feb 27, 2020.
TOP ILLUMINATI INSIDER CLAIMS OXYGEN DROPS WORK AGAINST VIRUS!
Example: synergyo2.com/synergyo2
Jim Humble on where to purchase MMS
Poor people do not go to doctors.
Number of uninsured people in the US is huge — well over 27 million and that number does not include people who don't show up on any census.
Targeted communities that do not want official oversite or undue interference by authorities which may also contain large numbers of illegal immigrants will not report cases and will not go to hospitals.
The purposeful gray area between symptoms associated with seasonal flu and colds easy cover for cornovirus.
There is a much more sinister virus in China that is not being reported…depending on whether there is any truth to Chinese Party whistleblower testimony.
Far East rollout of Huawei 5G facilitated virus spread at the very least as it is known to weaken the immune system in humans —See Mark Steele testimony.  Huawei is finished as a company if this gets out… and so is 5G.
No one is talking about any DIFFERENCE BETWEEN FLU/COLD SYMPTOMS AND CORONAVIRUS…
TOP ILLUMINATI INSIDER CLAIMS OXYGEN WILL

 

CURE IT.
Countries operating under totalitarian regimes/run by dictators like Iran, Egypt, Many African countries, and military-run governments like Iraq and Syria will never report the truth about the outbreak or spread in their communities.
Any country that depends on travel / Tourism for its income will under-report cases.
No clear cut reporting on whether the virus is racially targeted or whether it has mutated and what one country reports is the same virus as another.
Any sick person asking to be tested by authorities is asking to be put in quarantine and locked in a hospital or worse.
For over 10 years chemtrails have been releasing various toxins to lower human immune systems…
Population reduction is a primary drive of the Illuminati/secret governments
Chinese Illuminati are working with mainstream Illuminati on a population reduction program.
All officially reported numbers of cases/deaths will be lies— worldwide!!
Ongoing investigation…
ALSO SEE : ANGLO SAXON MISSION WHISTLEBLOWER AND MARK RICHARDS EARLY PREDICTIONS:
CoronaVirus: Bioweapon Predicted by 2 Camelot Whistleblowers
Update:  Scroll down for 2 added reports… Note:  it would appear the only conclusion is that there are two viruses.  The coronavirus which is respiratory and can be healed through the use of O2 (see link below) and/or the Jim Humble Mineral Supplement (see link below) and a much more sinister virus unleashed specifically and perhaps only in China that one does not recover from.  As mentioned by the Chinese Communist Party Whistleblower below, the coronavirus is a COVER for the other.
Added note:  re Dean Koontz book from 1981: ….the Chinese Wuhan lab was built in 1956. Top Writers are often given insider info to inspire their work by gov insiders. This happened to Arthur C. Clarke. They have to sign non-disclosure agreements.–Kerry Cassidy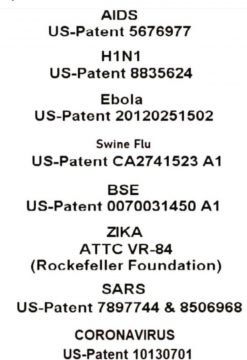 The above patent list was sent to me by an undisclosed source.
***
ozone_therapy_in_practice

***
Hi all,
I just interviewed Captain Mark Richards and he says the following about Coronavirus:
As of right now:  100,000 people in China involved in the virus:
30% have died, 30% are infected and 40% are taken off-world by Reptilians assisting China in their drive to eliminate approx. 500 million people as reported by Mark Richards several months ago before the announcement of coronavirus.
Those humans taken off-world, according to Mark, by Reptilians, are sold to other races for food and used as sex slaves.
This virus will mutate and other governments are using it to facilitate eliminating some of their populations as well.
One-quarter of a million people will die of the virus this year.
***
According to another secret source:
POSSIBLE CURE   According to high-level Illuminati insider:  Oxygen drops 02: 
Related:
or COLLOIDAL SILVER
all good.
***
My book is now available on Amazon!
ALSO, SEE THE CHINESE PARTY WHISTLEBLOWER REPORT that does not support the idea that coronavirus has flu-like symptoms but is instead a diabolical bio-weapon that kills anyone who comes in contact.
ALSO SEE BELOW FOR PAUL COLLIN'S EVIDENCE SUPPORTING MARK RICHARD'S CLAIMS: