Wednesday, March 22, 2017 at 7pm PT – I interview Matthew Heines, author and researcher about the Mormons and interactions with ETs in their history.  Matthew will also share his own experiences and we will discuss his book:  Deceptions of the Ages: Mormans, Freemasons and ETs.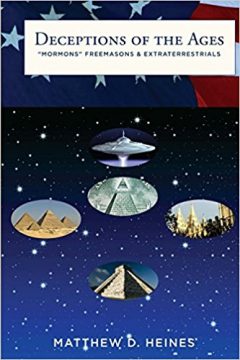 WATCH SHOW HERE:
http://youtu.be/rziTccKgWG4
Short bio:
Matthew Heines is a teacher and a writer. He has taught from Anchorage, Alaska, to Washington State in the U.S. He has also taught English for seven years in the Sultanate of Oman and four years under military contracts in Saudi Arabia. He is a graduate of Washington State University and the University of Alaska in Anchorage. To pay for college, he served as a paratrooper in the 82nd Airborne Division, United States Army.
Why did I write the book?
All my life I have been shown things either because of my upbringing, experiences or lack of judgment. For some reason, things that are important for me to remember are singled out. The Guy who wrote "Behold a Pale Horse"(William Cooper) said the same thing and I thought it also applied to me.
I was frustrated by the Da Vinci code as it was much ado about nothing and really skimmed a major story as well as attacked the message of Jesus.
I have always been frustrated by the claim that The Church of Jesus Christ of Latter-day Saints is not a Christian church.
From there I would like to discuss why people think the way they do…