PART ONE OF TWO: An interview with British Barrister and intelligence specialist, Michael Shrimpton about his case and new book SPYHUNTER.

MICHAEL SHRIMPTON: SPYHUNTER – 2 PARTS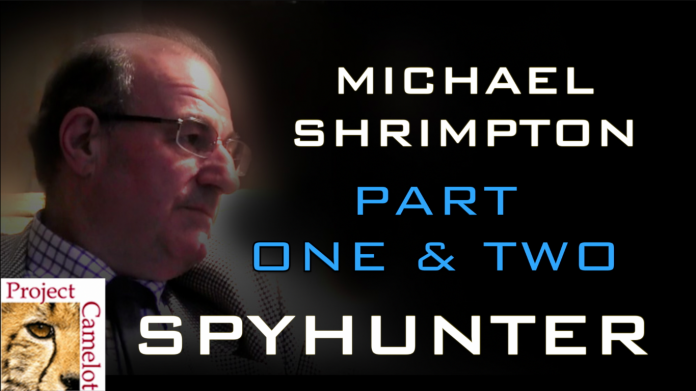 Michael Shrimpton was arrested by the British government for warning them about a nuclear threat to the 2012 Olympics that was later verified by the NSA and various intelligence contacts.  He is now suing for damages in the millions.
He is blowing the whistle on the top secret German intelligence agency which has infiltrated the British government, MI5, MI6, GCHQ, NSA, CIA and the US government.  The German DVD as it is called harks back to the NAZIs and the Gestapo as well as the famed Abwher  ("a German military intelligence organization which existed from 1920 to 1945.")
Not to be missed.  See Part One & Part Two below:
IF YOU SEE SOMETHING SAY SOMETHING… AND GO TO JAIL…THE CASE OF MICHAEL SHRIMPTON – PART ONE
MICHAEL SHRIMPTON:  SPYHUNTER  – THE GERMAN SECRET INTELLIGENCE INFILTRATION OF UK, USA, MOSSAD…  –  PART TWO
https://www.youtube.com/watch?v=FP9VB4rLkY4
KERRY CASSIDY
PROJECT CAMELOT
https://projectcamelotportal.com
Bio (taken from his column on Veterans Today):
Michael Shrimpton is a barrister, currently suspended of course, called to the Bar in London in 1983. He is a specialist in National Security and Constitutional Law, Strategic Intelligence and Counterterrorism. He has wide ranging connections both in Western Intelligence agencies and amongst ex-Soviet Bloc agencies. The late Generaloberst Markus Wolf, of the Stasi and DVD, was one of his contacts. Michael has earned respect in the intelligence community for his analysis of previously unacknowledged post-WWII covert operations against the West by the German DVD organization based in Dachau, near Munich, Germany, and its British, French and American client agencies. These continue to the present day, as politicians and the media are too nervous of standing up to them.
Michael was formerly an Adjunct Professor of Intelligence Studies in the Department of National Security, Intelligence and Space Studies at the American Military University, teaching intelligence subjects at Masters level to inter alia serving intelligence officers. He has represented US and Israeli intelligence officers in law and briefed in staffers on the Senate Select Committee on Intelligence and the Joint Congressional Inquiry into 9-11. In the wake of that murderous attack he addressed panels on terrorism in Washington DC and Los Angeles organized by the respected Jewish Institute for National Security Affairs. Fellow panelists included a former head of Special Operations Command and a former Commander of the US Atlantic Fleet.
Michael's active assistance to Intelligence and Law Enforcement agencies in the Global War on Terror produced some notable successes, including the exposure of the Abu Ghraib 'hood' photograph as a fake. His work on strategic intelligence took him to the Pentagon and he has also met with senior advisors to the President of the Russian Federation, in Moscow, in November 2005. He participated in the Global Strategic Review conference in Geneva in 2005 and was a speaker at both the Intelligence Conference (Intelcon) in 2005, and the Intelligence Summit in 2006, each at Crystal City.
In 2006 he was flown out to, and flew off from, the nuclear-powered aircraft carrier USS Enterprise (CVN-65), as part of the US Navy's Distinguished Visitor Program. She was then working up her air group off the Eastern Seaboard of the United States, before operational deployment to the Persian Gulf. It is comparatively unusual for a foreign civilian to complete a carrier landing and launch cycle.
Michael's ground-breaking, 700 page intelligence text "Spyhunter: The Secret History of German Intelligence" was published in England by June Press in April 2014. It features on a number of intelligence syllabuses, as does intelligence analysis prepared by Michael, e.g. on the brutal 2003 assassination of British weapons scientist Dr David Kelly CMG.
In their unlawful raid on Michael's home in Wendover, Buckinghamshire in April 2012 Thames Valley Police officers seized the manuscript of Spyhunter and all of Michael's onshore backups. Publication was only possible because the draft had been backed up offshore. The police hung onto the seized copies long after it was decided not to use them as evidence.
In November 2014 Michael was convicted at Southwark Crown Court by a tampered-with jury panel on two bogus bomb-hoax charges. Prior to bringing in the police the British Ministry of Defence, after consulting with the Cabinet Office, destroyed their recordings of Michael's initial contact and qualified intelligence briefing re a DVD operation to target the Opening Ceremony of the 2012 Olympics using a stolen Russian SS-N-19 warhead.
Happily the NSA intercepted both Michael's call to MOD and their call to him (on a number he had provided) and the intercepts are now in the hands of MI5.
As Michael's distinguished Veterans Today colleagues Gordon Duff and Ben Fulford have confirmed on this website, his intelligence briefing to MOD was substantially correct and two warheads, both off an SS-19, were recovered by the US. After inspection the Department of Energy estimated their yield at 20KT