I will be talking with Richard Alan Miller and Mat Stein about their upcoming event in Hollywood.
Join us!  Watch live here:  
INTERVIEW WITH RICHARD ALAN MILLER AND MAT STEIN RE URBAN SURVIVAL
https://www.youtube.com/watch?v=57z43fhVbf8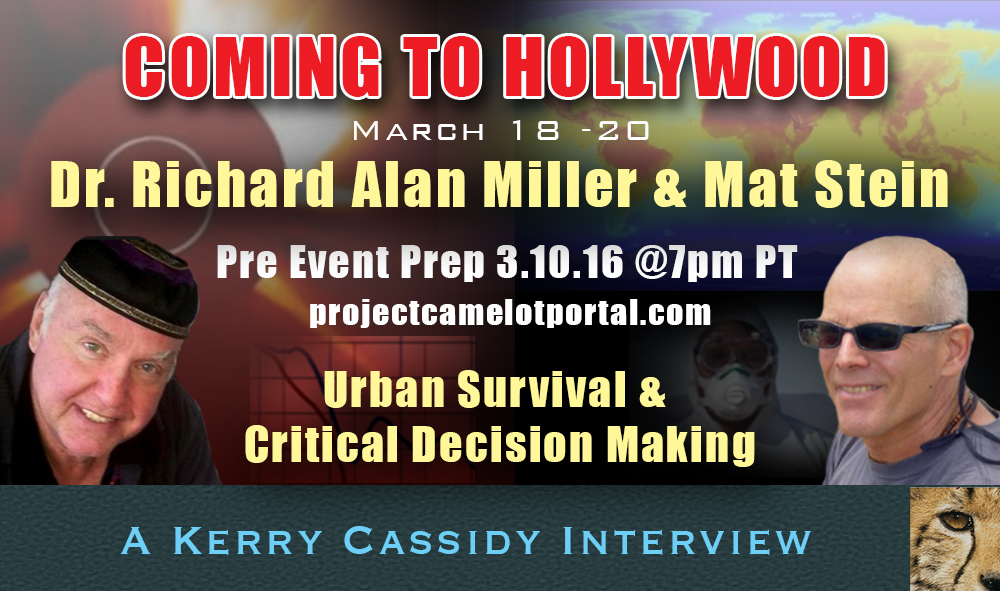 https://www.youtube.com/watch?v=57z43fhVbf8
***
CLICK BELOW TO BUY ADVANCE TICKETS AND FOR MORE INFO ABOUT THEIR EVENT ON MARCH 18-20TH IN HOLLYWOOD, CA
http://www.whentechfails.com/dr-richard-alan-miller-hollywood-march-19th-20th/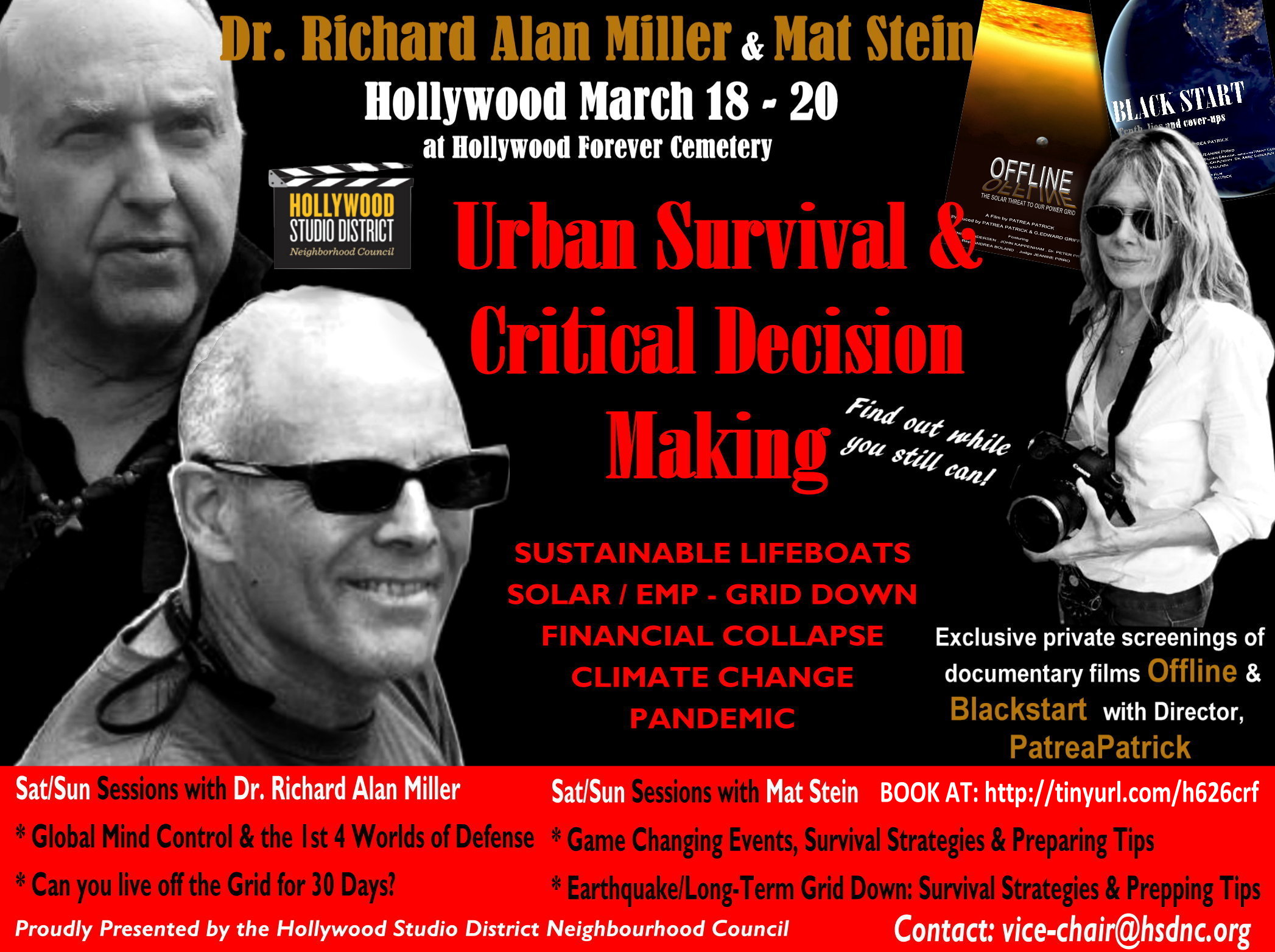 RICHARD ALAN MILLER :
SHORT BIO FROM HIS WEBSITE:
AUTHOR and researcher Dr. Richard Alan Miller reveals a depth of knowledge and experience in Alternative Agriculture, Physics, and Metaphysics. Miller began working in the secret world of Navy Intel (Seal Corp. and then MRU) in the late 60s, and now has amazing experiences and conclusions to share.
His writings reveal a depth of knowledge and experience in three major fields; Alternative Agriculture, Physics, and Metaphysics. Before many leading edge concepts became trendy topics, Miller was (and is) in the international front lines of research, experimentation and documentation.
Today, Miller writes for Nexus magazine and is a preferred guest on internet radio. In the 21st century Miller is re-emerging at a critical time in humanities evolution where metaphysics and practical survival converge.
www.richardalanmiller.com  (primary)
and
www.docram.com  (Facebook blog)
both lead to my bookstore at
**
MAT STEIN – AUTHOR, "WHEN TECHNOLOGY FAILS"
SHORT BIO EXCERPTED FROM WEBSITE:
Bestselling author, engineer, designer, and green builder, Mat Stein was born and raised in Burlington Vermont. His parents started him walking on skis at age three, hiking at age 5, backpacking at age seven, hunting at age 10, rock climbing and extreme skiing at age 11. The Green Mountains of Vermont, White Mountains of New Hampshire, and the Adirondack's of upstate New York were his four-season childhood play grounds. Mat is a National Merit Scholar, a graduate of the Massachusetts Institute of Technology (MIT) where he majored in Mechanical Engineering, and recipient of the "Straight T Award," MIT's highest athletic honor. In 1978, the lure of the "real mountains" of the west drew Mat across the country to California.
Always enjoying work with his hands, and being outside in the wilderness, Mat found it stifling to go to work as a design engineer in Silicon Valley, pushing pencils day after day. So, he took breaks from engineering off-and-on for several years to be a carpenter, climb the vertical walls of Yosemite, and teach skiing and High School math. In the mid eighties, after lots of stress and lost hair, he bailed from designing disc drives in Silicon Valley to a ten-acre homestead in the foothills of the Sierras. Mat has built hurricane and earthquake resistant, energy efficient, environmentally friendly homes. He has also designed, among other things, consumer water filtration devices, solar PV roofing panels, medical bacteriological filters, emergency chemical drench systems, computer disk drives, and portable fiberglass buildings.
A thirty year interest in alternative healing got its start while Mat was still a freshman at MIT, when he witnessed the miraculous remote healing of a crippled friend (big shake up to his scientific "Billiard Ball Theory of the Universe" way of thinking). Over the years, this interest expanded to the use of herbs, homeopathy, and other alternatives to heal medical conditions that weren't responding to western style medicine…
Stein has appeared on numerous radio and television programs and is a repeat guest on Fox News, MSNBC, Gary Null, Coast-to-Coast AM, Alex Jones, and the Thom Hartmann Show. He has also written several articles on the subject of sustainable living and is a guest columnist for the Huffington Post.