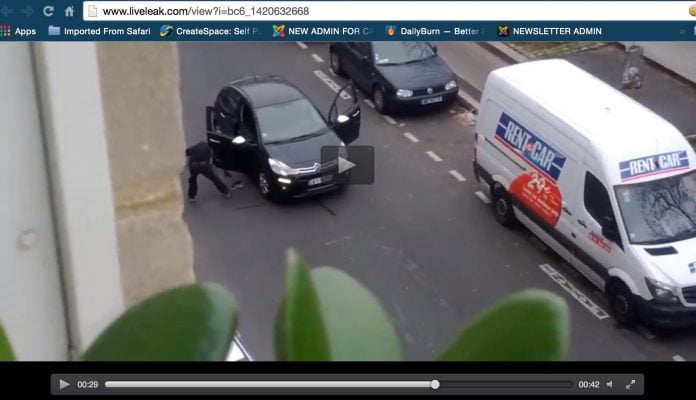 More inconsistencies and outright false notes as one looks deeper into the Charles Hebdo False Flag in Paris.
Apparently one of the so-called terrorists decides to PICK UP A RANDOM shoe that has somehow appeared under the car door while making his escape? Uh, really? Where did the random SHOE come from and why would he pick it up? He is apparently wearing 2 shoes so it isn't his!!
As John Urwin noted in my prior article, there is no way the policeman lying on the street was shot at point blank range by an AK47 and there was NO BLOOD on the video at the time yet a day later this reporter makes a supposed error when showing the blood on the street from where the police office was supposedly shot? He states the blood was "put there"... yeah well no sh--t.
LISTEN TO THIS REPORTER HERE AT THIS LINK:
www.youtube.com/watch?v=i3v8pqosC20
Also noted by various researchers are the LINES DRAWN on the street below the car... The line on the LEFT under the TIRE appears to materialize out of nowhere toward the end of the video around 24 seconds in... It appears there was a cut in the film sometime around 22 and 25 seconds in...
www.liveleak.com/view?i=bc6_1420632668