Project Camelot has interviewed MT Keshe, Iranian Physicist living in Belgium twice: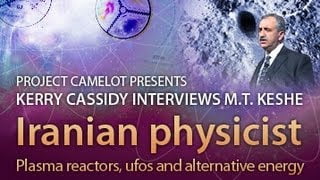 M T Keshe the Iranian Physicist based in Belgium has made an important and challenging statement on his website/forum calling for 2014 to be the year that new technologies will be released to the public.
..."By the end of December we will make sure, that there are no grounds for disruption for space travels on regular bases from all the nations on this planet that all shall harvest the reaches of the universe collectively and equally.



Those who have doubts about our work, be ready to become soldiers of the peace and unity before the end of this year."



M T Keshe  http://keshefoundation.org/
http://forum.keshefoundation.org/forum/keshe-official/30510-2014-the-year-of-the-change-for-the-humanity
Project Camelot has interviewed MT Keshe twice:
GO HERE FOR THE MOST RECENT INTERVIEW:  DECEMBER 7, 2012
GO HERE FOR MY FIRST INTERVIEW WITH KESHE : APRIL 23, 2012
 MT Keshe is now in Belgium working on plasma physics, space technologies and other alternative energy technology.
An excerpt from the Objectives page on the Keshe Foundation website:
…"One of the objectives of The Keshe Foundation is to apply plasma reactors in "Oasis Units", which will deliver an integrated solution for human basic needs, such as drinking water, current, light and warmth, where today 1.6 billion people have no electricity and every day 4,000 children die in Southern Africa from contaminated water.
At the same time the Foundation is at present primarily involved in opening and is bringing deep space travel in real universal term and conditions a reality in short number of years  to the reach of every man. Where the man made propulsion technology has become the story of the past."