FOR THOSE OF YOU WHO HAVE READ THE "DULCE PAPERS" as it is currently available on the web, this book, called "THE DULCE PROTOCOL" by Robert K. Teske, Jr. contains those papers and a great deal more information. This is an absolute MUST READ for anyone who wants to know the truth about what is really going on here on Earth and the relationships between the various races visiting, living and breathing our air, whether they are "indigenious" or ET…
Radio show with Robert K. Teske coming soon!
###
The following will soon be listed in our store:
###
Project Summary
The Dulce Protocol
Authored by Mr. Robert K. Teske Jr.
TO PURCHASE GO TO: CreateSpace eStore: https://www.createspace.com/3864588
List Price: $39.95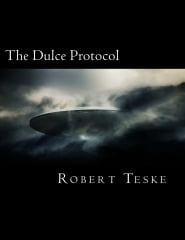 =================
TO READ ALL 3 IMPORTANT BOOKS GO TO:
The Grand Deception… <https://www.createspace.com/3838925>
The Dulce Protocol… <https://www.createspace.com/3864588>
The Omega Files… <https://www.createspace.com/3875394>