From a friendly Camelot supporter: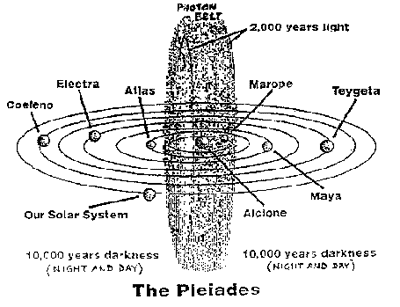 You may be feeling a huge rush of photon energy on May 20th, directly related to our central sun, Alcyone, as the alignment is estimated to take place between 4:44 pm and 4:50 pm (PST) on Sunday!!

Alcyone (also known as the Central Sun) is right smack in the middle of the photon belt, and we are going to be lined up to Alcyone, our Sun, and the Moon (ring of fire eclipse), which is very cool, and full of weirdness. You can be certain that the energy will nothing short of incredible. This Photon Belt has been outside our solar system for a long time and now it is inside our system, and guess who is feeling it — YOU!

Photon Light vibrates at a very high frequency and it has a direct impact on our bodies, on our DNA, and on our brain waves (which makes you feel so tired in the middle of the day you think what is happening here). If you keep an eye on SpaceWeather.com you can see the changes to the photon energy every 10 minutes and quite frankly you can feel it increase and then check the website for confirmation (if you want).

I have been told that the May 20th solar eclipse (ring of fire) signifies a 'reboot' for the Multiverse. This reboot is not just a local deal, just little old us, but rather it is a major reboot for the entire Milky Way Galaxy. Thereafter we start a brand new 25,920 year cycle.

This eclipse will intercept important energetic lines (the serpent and dragon lines) on Earth at two locations. One is at Mt Shasta and the other is at Mt Fuji. Those two locations will be charged up with very potent energy, and you'll be right there.

We have to be emotionally prepared for major changes after this eclipse, some natural, and others contrived to put us into a state of intense fear. The duality of the situation is quite interesting. This period of time marks a fantastic opportunity for humans to wake up and get with the plan, while at the same time it marks the perfect time to create intense emotional fear to feed off of.
Interesting way of looking at it! At any rate there's no doubt about the cool energy coming in at this time.