Project Camelot:
Live at Vilcabamba

Vilcabamba, Ecuador, January 2009

download .mp4 (QuickTime)
download .mov (QuickTime)
download .wmv (Windows Media)
PC users: clicking streams the video.
To download, right-click and then
select Save As.



download .mp3 audio



stream (Google video)
stream (YouTube video)
transcript


click here
click here
coming soon

As many of you know, Project Camelot made a recent trip to Ecuador to speak at a two-day conference hosted by Dr Brian O'Leary, ex-NASA astronaut and prominent Free Energy activist. This is one of the few times Project Camelot's Bill Ryan and Kerry Cassidy have appeared on stage together to present their research. Other conferences where we have appeared are: the NEXUS Conference in Australia, October 2008, where we have been invited back this year; the Crash Retrieval Conference, November 2008; and also at the Alamo Conference, March 2008, where we will be appearing there again this coming May.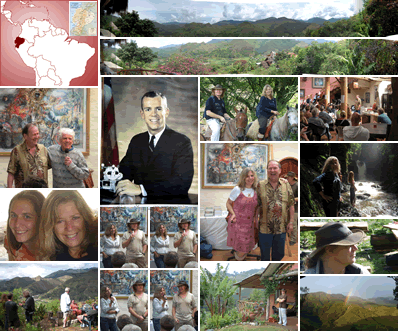 Click on each small image to enlarge
70 people made the long journey to Vilcabamba, Ecuador at short notice, no small feat. Some came from Canada, Europe and as far away as Australia – making this an exceptional international gathering of what George Green calls the Ground Crew. All who attended agreed that the networking was as valuable as the speakers: Brian O'Leary, George Green (now resident in Cuenca, Ecuador's third city), Miriam Delicado, and ourselves.
The title of the conference was CRISIS AND OPPORTUNITY, a fitting theme for the start of 2009 and Obama's new administration with all that it may bring. We talked in some detail about the Big Picture as we currently see it, including information from our important new witness Jake Simpson.
It was the first visit of either of us to South America. Although our current timeline is not thought to be the catastrophic one, according to Dan Burisch and Marci McDowell, there are sure to be various changes in governments, society and finance along with Earth changes that may require those who are so motivated to relocate. Vilcabamba is considered by some to have great potential as a sanctuary. And although we believe you will each decide where it is best to be, some places may be safer than others.
We've sketched out plans to return to Ecuador in a couple of months' time to speak to larger audiences both in Cuenca and Quito, Ecuador's capital, providing the funding can be found. We look forward to meeting our new Ecuadorian friends again, and would like to thank everyone we met for their friendship and hospitality.
Click here for Brian O'Leary's page, and links to his Project Camelot interview
Click here for the audios of George Green's and Brian O'Leary's presentations
Click here for the video (MOV format) of Brian O'Leary's presentation
Click here for the audio of Brian O'Leary's introduction to Bill Ryan and Kerry Cassidy