Why is it important to know the truth about our world?  Do you deserve to know the truth?  Along those lines I submit the following report.  One of many reports I have been doing for the past 19  or so years as part of my work as an investigative journalist/documentary filmmaker.  You might not like the truth but you damn well better endeavor to know it.
This report is put together in response to Mel Carmine's question to Juan O Savin during his recent show when he asked why I continue to state that Juan O Savin is JFK Jr.
I am re-releasing this info with some expanded explanation because in part I am bored with listening to Juan/ John take people down a winding path to distract them from the REAL TRUTH and carefully drop hints as to what is REALLY HAPPENING and because ANY SELF-RESPECTING BAD GUY OR ILLUMINATI/ NWO knows this truth FULL WELL and has known it FOR YEARS while the AMERICAN PEOPLE REMAIN IN THE DARK, pawns in a game they do not understand.
The link below goes to a page with all the pics and background on JFKjr/Juan and has pics of the 2 Juans…. Originally posted after I returned from Vegas DoubleDown October of 2021.
The above photo is an "accidental" view from Juan's cell phone
while he was talking to Nino on a live show..they could have removed it but didn't. What you are looking at is Juan's BODY SUIT… it's head to toe… and the black thing in front of his face is a cell phone… he's photographing himself in a mirror…  He has devised some kind of  "hands free" attachment that he uses on broadcasts that allows him to talk on the phone and usually aim at his feet so all the viewer sees are his legs and cowboy boots and a bit of whatever room he is in.
Note:  (the above pic was taken in some kind of dressing room at the Reagan Library where Juan/John was walking around while doing a show with Nino.  It should still be around and on Ninoscorner.tv archives).
Ask yourself why didn't they remove this rather revealing though fuzzy pic?. You can hear Nino warn him that he is revealing something he doesn't want people to see.. but they left it on the video.  It is probably still there on the version of Nino's show in his Ninoscorner.tv website  where you have to pay to be a member.  I'am a member.  In essence it is John Kennedy's way of telling you he wants you to know who he is but he is not supposed to come forward yet because they have a "plan" and they 'trust the plan" and the plan was put together and agreed on MANY YEARS AGO .. maybe going as far back as right after the ASSASSINATION OF JOHN F. KENNEDY.   Perhaps augmented by an AI they are working with and a number of top Generals in our military as well and Trump and John.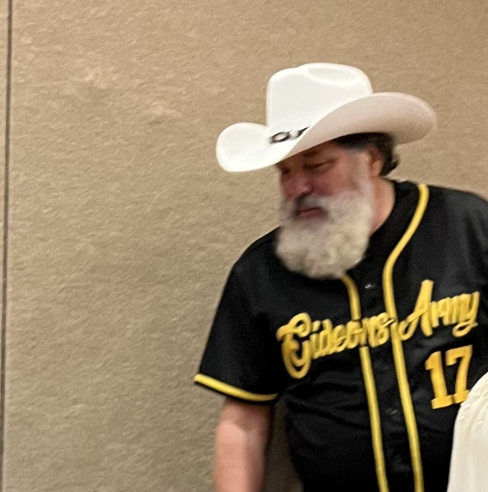 This is Juan/JFKjr in his full disguise …a pic I took while he was at the Patriot Reckoning Festival in late August 2022. He did an all day book signing and had his pic taken with anyone who bought a book. He has a fake beard… his body suit on ..he wears 2 pairs of pants.. because he's rather skinny to make himself look fat. This is the same disguise method of Tom Cruise wore in in one of his movies (Mission Impossible)  and  also another movie where Eddie Murphy famously made himself look enormously fat wearing one. My friend Sean David Morton wore a BODYSUIT to visit his family and they didn't recognize him.. etc
The 2 JUAN'S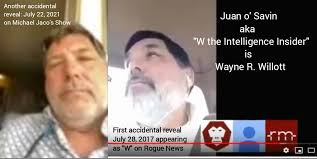 This pic has been on the internet for at least 3 years (or longer)…Along with a bio of Wayne Willott.   Freely available.  The person on the left here is Wayne Willott a former FBI agent arguably currently cia … works with Juan as his (body guard— double). He has blue eyes whereas Juan/ JFKjr has brown….I have met both of them several times over the past 3 years.
The two Juan's wear the same disguise.
I am bothering to show this evidence because I think people deserve to know the truth.  I believe they CAN HANDLE THE TRUTH.  Knowing that JUAN IS JFK JR.  That he is still alive and that he and Trump are running an OPERATION that involves a good portion of our military we call THE WHITE HATS based on the early info put out there by this same group on a website called The White Hat Reports…
THEY.. TRUMP, JOHN KENNEDY AND THE WHITE HATS believe that they need to SHOW THE PEOPLE (which includes letting the dark side do their darkest deeds to "take down America") so that people will "wake up" and realize they have been lied to about just about EVERYTHING since the beginning of the signing of the Declaration of Independence on… (and before that as well for centuries on Planet Earth).. but for now let's concentrate on OPERATION SAVE AMERICA.
There are lots of fun tidbits in the top link above that clearly show evidence that Juan is JFKjr and has a double like many if not all Presidents.
He is BTW our Vice President of the REPUBLIC.
TRUMP is President of the REPUBLIC
Trump (as Jun Harper-Hayes recently said.. DISSOLVED THE US CORPORATION BY EXECUTIVE ORDER while he was in office!
Why does all this matter? Because if you don't understand WHAT THE WHITE HATS ARE DOING and who they are you have no way of putting the narrative together correctly to understand what is going on in our COUNTRY.
I have unequivocal verification of who Juan/ JFKjr is from "Juan" and from several people in the know around him and have had this info for approximately 3 years.
It's boring to be in a world where most people DON'T KNOW THE TRUTH.
JUAN IS JFK JR hiding in plain sight. Juan=John (in spanish) O= Jackie O and SAVIN is from SAVIN HILL LIBRARY where JFK is honored in Savin Hill Massachusetts…
THE NAME HE USES TELLS WHO HE IS…!!!
DUH
So look a it this way… if Trump and JFKjr are the President and VP of our Republic (country) and meanwhile today Hawaii had an EMERGENCY BROADCAST.. telling them to have 14 days of food and water (prep for a nuclear war or SOMETHING..)   WTF ARE OUR RIGHTFUL PRESIDENT AND VP DOING ABOUT IT??????
WHY DO YOU NEED TO KNOW THE TRUTH?
This is an ongoing part of the White Hats Operation that involves allowing (even helping) the dark side NWO take down America (while fighting them at the same time in hidden operations and underground bases and around the world in various 'theaters of operation' when they can.  However, their operation does NOT include telling the American people what is really going on…
Which is why, as an independent investigative journalist I decided to tell the truth that they don't bother to tell you because clearly most Americans are so far out of the loop on all of this and so they can make NO sense of the events they see unfolding around them.  They are "in the dark".  I believe the people need to know to save their lives and the lives of their children.  They need to know there is a group under JFKjr and Trump of our combined military we call "the white hats" for lack of a better word or designation because they pretend not to exist because they prefer to operate in secret using the element of surprise a long tried and tested method of defeating ones enemies…
But it is a problem because arguably at least 3 years or more going back to 2016 and earlier than that, as Paladin says starting back in 2010 when a portion of that group started to go public they have been operational working and risking their own lives to SAVE AMERICA and eventually the Earth. And if the American people knew this truth well perhaps they might decide to wholeheartedly support Trump, JFKjr and the White Hat military.  Instead of working against them.
And MAYBE the next time we get hit by the DEEP STATE FAKE BIDEN REGIME BACKED AND FINANCED BY THE CCP AND OTHER CLANDESTINE SERVICES SUCH AS MI6, THE MOSSAD AND OTHERS… TO TAKE DOWN AMERICA, we the people can stand up and DEMAND THE TRUTH FROM OUR LEADERS (our real leaders) instead of wondering what the hell happened and why is there a huge coverup of what really happened in the Maui ATTACK, which some would call MASSACRE OF OVER 2000 PEOPLE including 2025 (approx) MISSING CHILDREN.
The next time America gets attacked we can turn to our "defenders" the real PRESIDENT AND VICE PRESIDENT and ask them WTF are they and our military doing and why didn't they stop it.  Don't we pay good money to keep them and our troops informed, technically top notch and well trained for just such an attack as this?  Where did the FAILURE OF INTELLIGENCE HAPPEN?
I have investigated the attack on MAUI AND THERE ARE A NUMBER OF UNANSWERED QUESTIONS AND CLEAR EVIDENCE OF A MASSIVE COVERUP GOING ON.  So WHO IS FINANCING AND RUNNING THE COVERUP YOU MIGHT ASK.  Is it the FAKE BIDEN REGIME?  IS IT THE WHITE HATS?  IS IT SOME OTHER NEFARIOUS GROUP?
BEING FULLY INFORMED OF THE TRUTH IS RATHER IMPORTANT WOULDN'T YOU SAY?
–KERRY CASSIDY, PROJECT CAMELOT GOING DOWN THE RIGHT ROAD TO REVEAL THE TRUTH
AND meanwhile….
Never Mind Those Hordes of Military-Aged Chinese Men With the Same Clothing, Haircuts, and Tattoos Swarming Our Southern Border —SGT REPORT
https://www.sgtreport.com/2023/10/never-mind-those-hordes-of-military-aged-chinese-men-with-the-same-clothing-haircuts-and-tattoos-swarming-our-southern-border/
RETIRED COL DEREK HARVEY REPORTS: CHINESE UNITS CROSSING OUR SOUTHERN BORDER
https://projectcamelotportal.com/2023/09/30/retired-col-derek-harvey-reports-chinese-units-crossing-our-southern-border/
HAWAII EMERGENCY BROADCAST 10.3.23
OCTOBER 3RD THERE WAS AN EMERGENCY BROADCAST IN MAUI TELLING THEM TO HAVE 14 DAYS OF FOOD AND WATER… ??? 
RELATED.