"We are occupied by a Belligerent Administration and we are taking our country back…"–JUAN O SAVIN
2 VIDEOS OUTLINING THE MILITARY OPERATION IS NOW IN PLAY….Juan O Savin states the above clearly in the following VERY IMPORTANT VIDEOS.
I spoke to the American Media Periscope's James Grundvig and tI encouraged him to the videos on their front page…  They are very recent and contain unequivocal statements by Juan O Savin about what's about to happen…
According to the Law of War Manual which Juan says is our version of the Geneva Convention our military had 1 year from the date of occupation which is Jan 21, 2021 to Jan 1, 2022 to wait before they act to expel the invaders by force. That year has been up for 8 months. In the 2nd video on this page Juan says our military can now 'shoot on sight' any of the foreign invaders… that includes the Brandon administration. MILITARY OPTION: AMERICAN MEDIA PERISCOPE w/ JUAN O SAVIN – UPDATED
Flag w/no stars = occupied by foreign power
God it's about time they get this out there!
https://projectcamelotportal.com/2022/09/17/we-are-occupied-by-a-belligerent-administration-and-we-are-taking-our-country-back/
law_war_manual15

…"Juan has had Q Clearance, the highest in the land, with Atomic Energy Agency since Reagan. He knows far more than any 3 star generals or Pentagon execs. He advises Trump regularly."—a source
***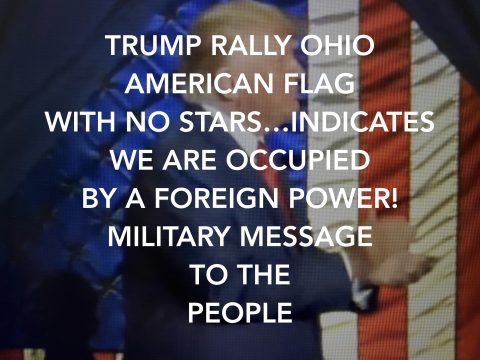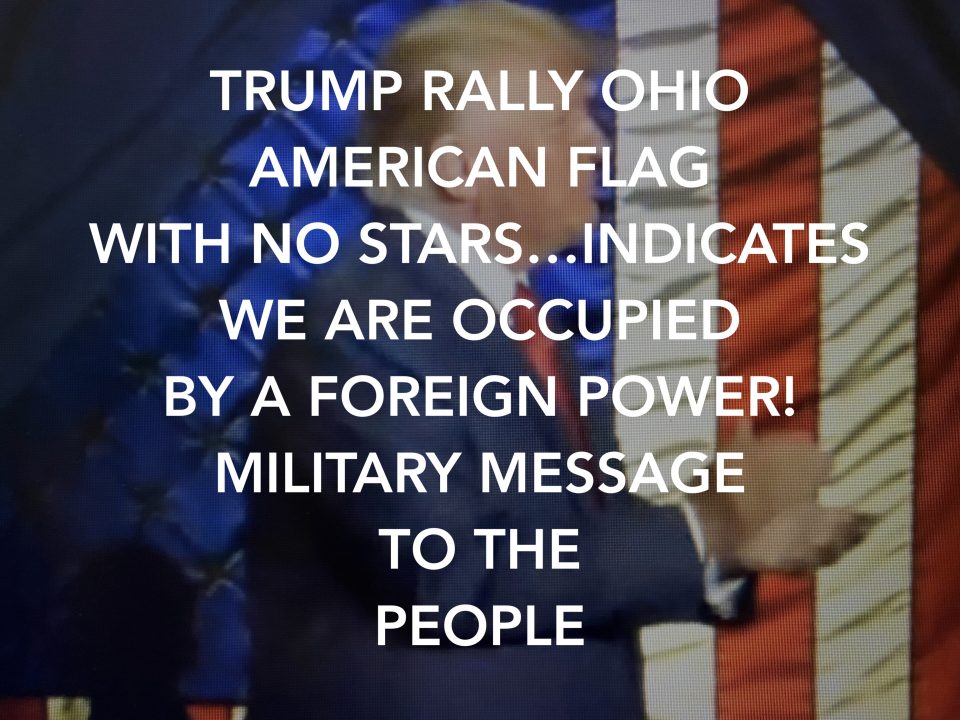 In this 2nd video recorded / the 2nd broadcast was released on MONDAY September 19th.  Juan talks about the flag at the OHIO Trump rally with no stars indicating we are being occupied by a foreign government and the language of FLAGS… The message is to the military that they can now take our country back by force and shoot on sight any member of the Foreign Invaders.
My COMMENT:
The important thing to be aware of is that the Law of War Manual which I have on my site… was produced by the military and likely skewed toward the NWO. The idea of waiting a YEAR before acting /using force to expel invaders is insane. Yet this is supposedly what the white hats have done. Their excuse is avoiding civil war… showing the people and letting the enemy reveal his true colors before taking him down. However this policy on the white hats serves the dark side also in some ways…allowing him to become stronger and more entrenched in our government. And is counter-intuitive. I certainly hope it has worked (they waited a year and 8 months so far). However in January Trump activated the NATIONAL GUARD and ordered them into Washington DC.  The certainly appears to be a military show of force!  (see the videos below where Derek Johnson explains this 2nd Derek Johnson video at approx 1:36 mins in…)
Another thing to consider is that in swearing in Trump as CIC (Commander-in-Chief) in March of 2021 they were clearly acting counter to the Foreign Invaders. So that action was key and likely only the first of a whole list of other actions they have taken behind the scenes such as building out Guantanamo and making hidden arrests etc.
The deep state Foreign Invaders clearly considered keeping the people IN THE DARK to be to their advantage so in spite of Brandon having no real power they continued the farce of taking over the government. This pantomime continues to this day. Which results in us having 2 Presidents (Trump is President of the Republic) and 2 governments. Due to the stranglehold of the Mockingbird Media there are still huge pockets of people in the U.S. who are clueless and will fight on the side of Biden. This is a problem. Juan said we will have 10 days of darkness sometime soon… They need to do the EBS announcements to reveal and demonstrate the true depth of depravity of the deep state NWO Foreign Invaders…. But it will still be seen as a coup by the clueless. Educating them will be a slow and perhaps impossible task. Some of them..their minds are MKultra-ed for life.
Further regarding the authors of the  Law of War manual and the 1 year when you are "allowed" to use troops to have a military response to an INVASION BY AN FOREIGN OCCUPYING FORCE…? That's insane. Why would ANY COUNTRY WAIT 1 YEAR to combat on your own soil a foreign invasion. And further WHY WOULD A SOVEREIGN COUNTRY rely on OTHER COUNTRIES to tell it how to run its life? I realize the 1 year deadline is now past but that LAW OF WAR MANUAL RULE is beyond stupid. Further we didn't wait 1 year.. in fact according to COG it is the DUTY OF THE MILITARY AND PRESIDENT TO SET IN MOTION COG once an invasion has been detected. What utter BS to say a country should wait a year to be OCCUPIED … insane.  ADDED NOTE:  The reason for the delay by our military has to do with preventing civil war. However, I would ask who wrote the LAW OF WAR MANUAL?  Was it a loyal patriotic military or was it a captured operation bowing to the NWO?–KERRY CASSIDY, PROJECT CAMELOT
***
DEREK JOHNSON PROVE ACCORDING TO MILITARY LAW… PRESIDENT TRUMP IS STILL PRESIDENT AND CIC…. Based on the OPTICS on display on Jan 21, 2021…this is a double-edged issue because if he is President why do we see Biden get away with all this nonsense… So you have to stress that we have 2 administrations operating simultaneously.
JUAN O SAVIN= JFK JR.   ALTERNATE = WAYNE WILLOTT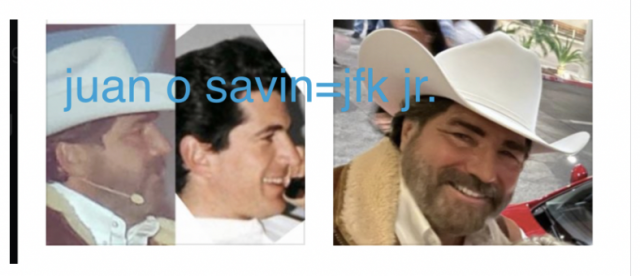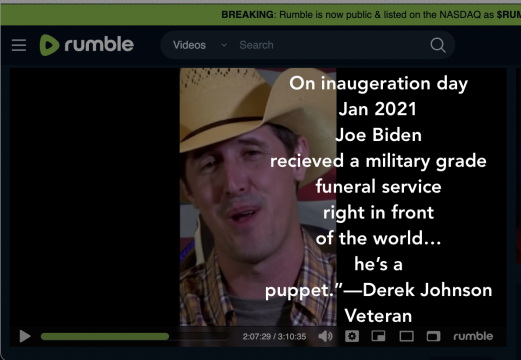 MILITARY LAW SHOWS TRUMP STILL PRESIDENT VETERAN EXPLAINS IN DETAIL