RUSSIA CALLING FOR A UN SECURITY COUNCIL MEETING OVE R THE BIOLABS IN UKRAINE IS A GAME CHANGER….
UPDATE:  
RUSSIA CLAIMS US BIOWEAPONS LABS IN UKRAINE……RUSSIA TOOK THEI R CLAIMS TO THE UN SECURITY COUNCIL AND….According to the Fox News Report (video below) Russia "showed no proof".!
Very strange…proof is not that hard to find… Russian troops are on site at these labs… So what?  No photos, videos etc?  What's going on here?…. Alex Jones found documented proof…
See video Fox News re UN Security Council denial below….
UN SECURITY COUNCIL AND RUSSIA CLAIMS US BIOLABS IN UKRAINE:  30 labs… hidden in plain sight.. SO WHY CALL A MEETING THEN SHOW UP WITH NO PROOF?  SOMETHNG IS OFF HERE… MAYBE THEY SHOWED PROOF AND THE SECURITY COUNCIL IS SIMPLY LYING TO THE PUBLIC…AS USUAL
PREDICTION:  THIS IS ALL GOING TO BE PROVEN AND THESE MEMBERS OF THE UN SECURITY COUNCIL EXPOSED AS THE LIARS THEY ARE….STAY TUNED.
SEE GEORGE WEBB INFO HERE:
https://twitter.com/realgeorgewebb1/status/1502195017250746374?s=21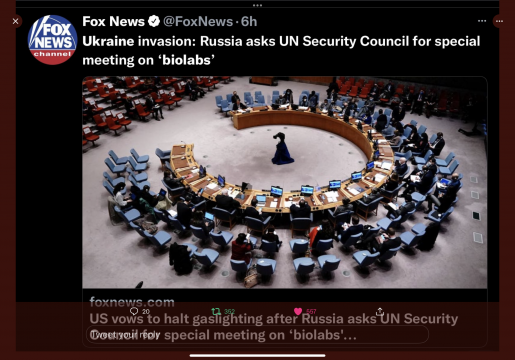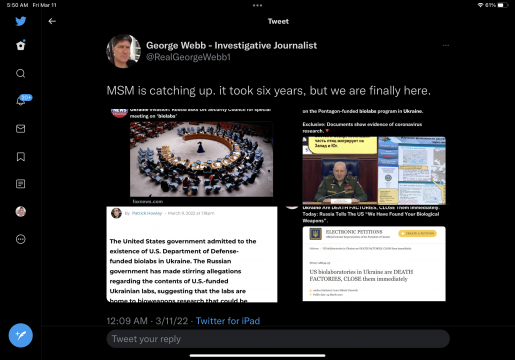 NOTE:  TRUMP IS NOW BACKPEDALING ON RUSSIA AND UKRAINE TO MISDIRECT PEOPLE BECAUSE HIS INITIAL REMARKS WHEN PUTIN WENT INTO NATO WERE IN FAVOR OF IT… CLEARLY HE HAS BEEN TOLD TO APPEAR ANTI RUSSIA IN ORDER TO DISTANCE HIMSELF FROM THE "RUSSIA COLLUSION" NARRATIVE THAT THE LEFT TRIED TO PIN ON HIM LED BY HILLARY IN THE PAST.  DON'T BE DECEIVED.  TRUMP AND PUTIN ARE IN CONTACT AND PUTIN VERY LIKELY IS CONSULTING WITH TRUMP WITH RESPECT TO ACTION S RELATED TO THE BIOLABS…. THIS IS MAJOR…
UPDATE:  
MUST SEE:  This is my 2nd interview with PATRIOT UNDERGROUND… RE UKRAINE, PUTIN, TRUMP THE BIOLABS AND JFK JR. AND JUAN O SAVIN
The real objective of the Covid Plandemic was to jump start the genetic engineering of the human genome to create multiple new humans…some using dna from past racial groups.  Some to create supersoldiers out of those that survive, some to create entirely new humans…   Some through the stimulus of their defense / immune response to create mutations in the genome and immunity to various pathogens some to create deviations in the genome in completely new directions.
This objective has now been achieved.  Those humans who opted in on some even subliminal psychic precog level opted to accept the risk of death or incapacitation in order to become somthing other than what they are….
Possibly new interpretation of Georgia guidestones.. They only will have 500 million natural humans left all the rest will be a completely new transhuman vessel.  Certainly linked to the borg for further upgrades and manipulation.
March 7, 2022
Kerry Cassidy