UPDATE:  OCTOBER 30, 2031
6,500 sent to the border, setting up razor wire and shipping containers to block routes being used.
All illegals making it past the blockades are now being arrested and put into jail.
TX is building its own border wall. All of its wall to be completed b4 the end of the year.
All federal NGO's trying to transport any illegals are being shut down.
TX will not go along with Biden's open border policies and recreating the US into the North American Union under UN rule.
***
….The following is from a source with close ties to the US militia… trusted have known him for years…They got the following from a source at the border as the article says… DEVELOPING…—Kerry Cassidy, Project Camelot. 10/23/2021
UPDATE AS OF 10:00AM PT I am getting some intel saying that no small town has been taken over by the cartel but we need to confirm this.  It may be the situation on the ground is fluid and could be changing by the hour….  working to confirm details of the story below.
NOTE:  DETAILS CONTAINED IN THIS REPORT ARE UNCONFIRMED.
DATE: 22-10-21
SUBJECT: Invasion of souther US/Texas border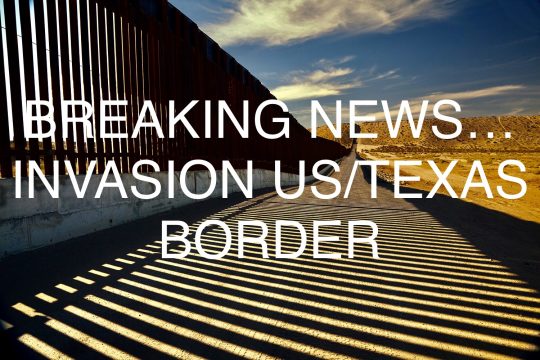 Late tonight via direct contact with boots at the TX-MX border. (boots = spec ops recon/combat vets)
Cartels have entered northern Maverick county and southern Kinney county are already engaged in firefights with private citizens, and have taken over a small town on US soil tonight, in what is thought to be preparation for the invasion. All law enforcement and US Border Patrol have left the area.
Expectations: 380,000+ illegals are hitting the southern Texas border in less than 72 hours from 2300 22-10-21.
150,000 (half) will hit northern Texas entrance (Del Rio) to overwhelm and breach entrance, causing Border Patrol and National Guard to be sent.
150.000 (half) will hit southern Texas entrance (Laredo) to overwhelm and breach entrance
causing more Border Patrol and National Guard to be sent.
80,000 armed Haitians will hit the middle absent of protection, and proceed with an invasion.
Heavy fighting is expected starting Monday (10-25-21) and is expected to grow in intensity thru the week.
IF YOU HAVE INFO RELATED TO THE ABOVE PLEASE WRITE TO :  [email protected]
*********************************
RELATED:
VIDEO FOOTAGE SENT FROM ANOTHER INCIDENT NEAR THE BORDER IN THE AREA OF JUAREZ, MEXICO heading into Del Rio.  10/22/2021
US Has 'Lost Operational Control' of Southwest Border, Senate GOP Panel Told
https://www.theepochtimes.com/us-has-lost-operational-control-of-southwest-border-senate-gop-panel-told_4061287.html
Border Patrol Arrests Shatter All Records at Southern Border
https://www.theepochtimes.com/mkt_morningbrief/border-patrol-arrests-shatter-all-records-at-southern-border_4064208.html?utm_source=morningbriefnoe&utm_medium=email&utm_campaign=mb-2021-10-23&mktids=e583a94a1d6b08faf26ad49157baae5e&est=42%2FSCA0pwYovJuXrni8lPX8e1%2FGJPCe%2FNS8X7WuNsorV1F3%2Fzh3MHE%2BQ1E7d9wtgPuqLEA%3D%3D