JULY 27TH UPDATE:
Dear Kerry,
Every day there are more people who order NANO SOMA for the first time. It is exciting to watch, knowing a little of the role and purpose of NANO SOMA in our time.
I have been clear for over a year that there is a plan behind the unfolding of NANO SOMA in our world, a plan of which I am but an agent, a servant. And it is my view that the trigger for the more widespread emergence of NANO SOMA into our world is the "fallout" from the jabs, the injections that many have received, on one basis or another, and just as importantly, the effects on the uninjected, as eloquently described in this video.
Luc Montagnier, a French Noble prize-winning virologist, has said most who have been injected will be dead in two years.
And if you have been injected, you cannot donate blood plasma for other COVID-19 patients in the US and, as I understand it, also in Japan.
My understanding is that those who have driven the injection agenda believe that, once they have enough of humanity injected, they have won.
Except for one thing… A plan older than life on Earth has this "Ninja particle" in NANO SOMA, which appears to have brought the blueprint of biological life to Earth, re-emerging as the fallout of these injections is becoming evident. Just as was planned.
This article proposes a protocol for dealing with the injection fallout. Please share this with those you care for and who can hear you. Most cannot…
A quick supply update
We have cleared all backorders in the US and are shipping all new orders every weekday. If you have a backorder and you have not been notified of the shipment of your order, please reply to this email, so we can take care of it.
In Australia, we are awaiting the arrival of a COVD-delayed shipment of 6,000 bottles, which will clear most of the backorders. The rest will be supplied from the warehouse that we are working with. Bottling in Australia will be in a week or so.
Bottling in Europe is happening later than I expected – August 9. I apologise to our European customers who have been waiting for the shipment of your backorder and/or the reopening of the store. Our first action will be to ship the backorders and, once that is done, we will reopen the store. We know there are a number of orders that were shipped incorrectly and we will be in touch with you about this, so you are taken care of. We will do much better in Europe than we were. That is my promise to you.
In the UK, we are being delayed by the bottler getting all of the pieces in place. Perhaps we will bottle within 2 weeks.
Finally, there is a growing list of people reaching out to me who want to see NANO SOMA in their country. We will work through these as they come forth.
Now for some of this week's testimonials:
Dear Richard,
I went to the Kinesiologist/Chiropractor and she tested the same as I did, that now I only need 1/2 the amount of thyroid medication I have been taking for a long time. At this rate, blood tests cannot keep up with these changes.
She said before, when I tried to get off thyroid meds, that she thought it was not worth pursuing. I still needed it, despite what another Naturopath was trying to replace it with, which didn't work.
We both tested that I no longer need about 6 expensive supplements I had been taking.
Now she wants to try NANO SOMA. Thank you so much for all.
Best, Lesta Frank. 21 July 2021.
Hello Dr Presser,
Thank you for your last 2 emails and info on the NANO SOMA being back in stock… I meant to respond to you sooner and got focused in other directions.  I love the product and am sparingly nursing my last bottle as there is not much left.  I have some money together now to order 3 more bottles!  I would like to report that an enlargement of the right lobe of my thyroid (Goitre) has shrunk significantly, and soon, I expect it will be completely gone ??
I always enjoy your presence on Jeffrey Daugherty's show, and I look forward to getting the DPE 100!!!  Thank you for bringing us this great product.
Sincerely,
Corinne Shea, VA, USA.  21 July 2021
Hi Dr. Presser, 
I have sent my brief experience after I started taking the product in my previous email. Anyway, one huge help has been that I don't need to use the inhaler, which I had to use to avoid the feeling of gasping for air. Also, before I was unable to be outside when the temperature was high because I could not breathe in the hot air, but now, I have no issues since I started taking NANO SOMA on July 9th. 
Another thing I've noticed is that I have no coughs when I do yard work or do vacuuming
because any movements caused severe coughs before. Also, I can breathe deeply now. 
Anyway, I thank you for the product. I've been trying to tell my friends in Japan 
but I think they need time or might be waiting for your office to open in Japan. 
But I'll continue to share my experience with them. 
Have a wonderful evening. Thank you! 
A.M. July 20, 2021
Hello Richard, 
As promised, I wanted to update you some more on NANO SOMA, as I mentioned that I was going to wait for a few more days to see what else it would do for me. Well, yesterday was day 14 since I started using NANO SOMA. The entire bottle is finished, and I am really excited to give you more feedback!  
Since July 2020, I was dealing with allergy issues due to dust mites. My allergies were seriously acting up, so I was not able to eat and drink as often as I should since the beginning of the year. Currently, I do not take any form of medication. The puffers/inhalers my doctor prescribed in October 2020 were not helpful after using them for a short while. My energy was low, but I got some relief from other forms of natural remedies that I took. 
I also had to lie down often due to weakness in my body and pains in my joints. Then, in the early part of May 2021, a friend and mentor of mine mentioned NANO SOMA and what it did and is doing for others he recommended it to. Now, after taking NANO SOMA, my joints are less painful and more flexible. I am taking longer walks and my appetite increased. I also noticed that I did not get a lot of menstrual pains during this month's cycle. This is the very first time I experienced such tremendous relief, as I have always suffered from serious discomfort, cramps and heavy pains during those delicate times. This is a miracle for me!!! I am very, very happy!!!  
Also, one of my older sons experienced mental clarity and focus. The other one experienced cognitive improvement, alertness, mental clarity, more energy, and an increase in his appetite. My youngest son, whom I gave 2 sprays per day, experienced mental clarity as well. Isn't that awesome? 
I am fully on board and have already fallen in love with NANO SOMA!  God bless you and Raghu always and forever for doing such great work! I am grateful!! 
Regards, 
Sandria Gillespie. USA. 20 July 2021.
NANO SOMA results for me Day 7.
– I have had to limit my activities due to my back which I mentioned to you previously. I really couldn't walk more than half a block without sitting down. In the last 3 days I have walk distances of 15 blocks!
– I enjoyed taking 30% less pain medicine.
– I hadn't slept more than 2 to 4 hours at a time for just about 2 years, and in the last 2 days I have slept 7 hrs and 7.5 hrs. 
– I have a far clearer mind consistently.
– I have double the energy throughout the day without a low point in mid-afternoon which was customary for me… I would grind through it.  I haven't had that for 3 days now.
– My dog continues to do extremely well. 
– After a time, I will have a biopsy done again to determine whether my lichen plans and lichen sclerosis will be gone. 
Thanks,
Anahata Graceland, USA. 17 July 2021. 
Hi Richard,  
Thank you so much for bringing NANO SOMA to the world.  I work as an FNTP (functional nutritional therapy practitioner) and I use food and nutrients to help people return to wellness.  I take good care of myself, but have had difficulty nailing down the inflammatory cause of my hypothyroidism (in spite of removing the foods to which I'm sensitive.)  I've taken NANO SOMA for a month, and now have no external markers for hypothyroidism. (Pre-tibial oedema is a good test point.  None now!)    
NANO SOMA seems to work for acute reactions to food sensitivities… Last night, I had Pad Thai for dinner from a local restaurant.  A half hour after dinner, my tongue was swollen, and sore.  "Ugh," I thought, "food sensitivity!"  I sprayed five sprays of NANO SOMA to the back of my throat, and five more directly on my tongue… I held it in my mouth and didn't swallow for about a minute.  Very shortly thereafter, my tongue stopped aching and the swelling went away. This morning, I had no symptoms at all.  Wow. 
Additionally, I noticed that my dream sleep returned almost immediately when I started taking NANO SOMA! I've told soooo many friends and clients about this!  Thank you so much for what you do.  
Sincerely,   
Antoinette Caruso. 17 July 2021.
Dear Richard, 
I definitely notice a higher vibrational level, happier, less worry, less impatience, more grateful. I am more embodied. I'm doing kinesiology testing for even less thyroid medication needed since yesterday. I will get a more experienced Kinesiology person to test for this. If I'm right, blood tests cannot keep up with this! No more haemorrhoids either. 
I'm astonished!!!!!  Thank you SOOOO much!!!  
Lesta Frank. 17 July, 2021.
Hi everyone,
I want to share my experience with NANO SOMA.
I have been taking this for a month now, and for me it has been a painful process. I was born with what the doctors call Eczema, and have been on prescription Cortisol Cream since a child (I am 35 now). I have also been overprescribed antibiotics, and due to a lowered immune system, I have been very susceptible to viral infections.
Since taking NANO SOMA, it has brought forward viruses that I had no idea that I had, the worst of which presented on my face. This was extremely painful whilst the virus was being eradicated by the NANO SOMA. However, once it comes out it is gone forever.
I just want to warn that unless you are in great health and have been all your life, it is highly likely that you will have a transition period where there will be some pain as the damaged cells are identified and pushed to the surface to be shed.
That being said, for me this is invaluable! A cure for everything! It is worth the pain.
This is a picture of my face while the virus was being shed and healing.
Jen. July 15, 2021.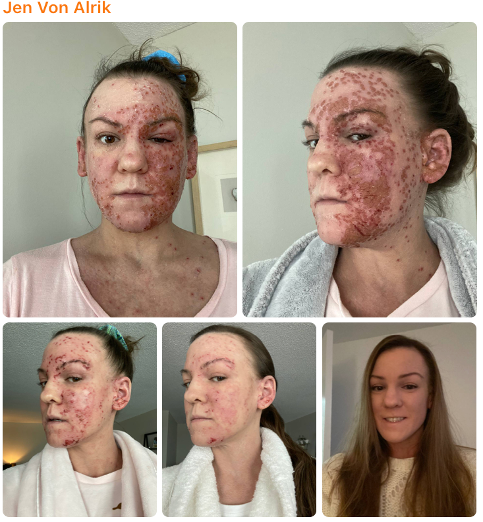 Ten years of testimonials gathered by Raghu can be found at http://raghutestimonials.thenanosoma.com and those gathered by me over the last year or so are at http://testimonials.thenanosoma.com, with a US only subset at http://ustestimonials.nanosoma-usofa.com. Also, these testimonials can now be found in French, Italian, Spanish and German at www.thenanosoma.com.
Kerry, the way NANO SOMA will reach others is through you sharing your experience with those you know and love. History tells us that one person who uses NANO SOMA tells 10 others. Everyone in the world deserves this piece of "natural magic", as I call it, and you can help inform others by sharing your experience with them. And if you want some incentive to do so, we have an affiliate program to compensate you for sharing it. If you want to take advantage of this program, just reply to this email.
To order your NANO SOMA, please go to your nearest store below. If you are outside of the US, Canada or Europe, please order from the Australian store.
Please understand that neither I nor any of the companies supplying NANO SOMA or Nano Ojas nor the companies' directors, shareholders nor employees are medical doctors and do not provide medical advice. For medical advice, please consult your medical practitioner. Further, these products are not intended to diagnose, treat, cure or prevent any disease.
Kind Regards,
Richard
Dr. Richard Presser
MagicDichol
1 800 507 3008
+44 1212 840929
+61 3 9021 6920
+31 30 808 0453
EU NANO SOMA store (currently closed)
Cosmic Connections (Int) Ltd
10/F 113-115 Argyle Street Mong Kok,
Room 1006,
Kowloon
Hong Kong
If you no longer wish to receive communication from us:
Cancel
To update your contact information:
Update
*****
NOW AVAILABLE interview with Dr. Raghavan and Dr. Richard Presser regarding their new supplement that is said to restore immune health and stimulate the body to repair itself including damage to DNA.
Alternate Video Source:
…"Discovered by research scientist Dr. P. R. Raghavan, the patented formula in NANO SOMA (Metadichol) represents an innovative modern breakthrough that addresses immune dysfunction at the cellular level. Formulated using nanotechnology as both a dietary supplement and as a topical solution, this incredible discovery (which comes from a powerful plant wax extracted from sugarcane) has been found to support many of the physiological functions essential for optimal skin and immune health."-from the website:
Bios for Dr. Raghavan and Dr. Richard Presser
Dr.P. R. Raghavan, Chairman and CEO of Nanorx INC has a Ph.D in Organic Chemistry from Oregon State University(1979)  and a M.S in Chemistry(1972) from I.I.T Bombay, Mumbai India. . He has worked on drug discovery for over 25 years at Columbia University, Max-Planck Institute, Germany, Novartis and Boehringer-Ingelheim Pharmaceuticals. His fields of specialization are CNS, Inflammation, AIDS and ACE inhibitors. His experience in drug research includes Chiral synthesis, process, scale up and clinical research. He has been working for the last 12 years in the field of Nano Medicine using food-based ingredients. Our lead product Metadichol aka Nanooajs ® and Nanosoma ® is covered by 40 international patents and covers 85% of the world population.
https://www.youtube.com/watch?v=X1as_ZB1F5o
https://pandemicsurvivor.com/category/metadichol/
***
Dr. Richard Presser has a PhD in Materials Engineering and ran a successful IT business before his spiritual journey began some 30 years ago, transforming his life and setting him on a path that led him to understand his life is profoundly connected to the time of change we are living through. He lives in Melbourne, Australia.
Richard was introduced to NANO SOMA in late 2019, 2 months before the COVID-19 global disruption began.
LATEST NEWSLETTER UPDATE:
Dear Kerry,

Once again, welcome to the flood of new arrivals to this list. The awareness of NANO SOMA continues to spread.

I know many of you are frustrated that we are out stock of NANO SOMA (Nano Ojas in Europe) in all of the stores. I share that frustration.

Some of you want to get your first order. Others of you or your loved ones have been using NANO SOMA to trigger your bodies to heal a serious health issue and you want to be able to continue, or you just love how you feel and how your body responds when you are taking NANO SOMA, and you want that to continue.

So, where are we at with this???

Firstly, the US. The bulk shipment from Switzerland just spent a week in the warehouse of the airline that shipped it, by plane to San Francisco and then truck to Salt Lake City (it was meant to be on a plane all the way). The COVID-19 disruptions are part of this, but we will be changing how we ship, to see if we can minimise these disruptions. What worked prior to COVID-19 on the shipping front no longer does.

All of this means I now expect stock in the warehouse sometime during the 4th week of June, best guess, earlier if the stars align. And we have another bottling of the same size right behind this one, so we will have plenty of stock, at least for now.

If you are holding off ordering until we get stock, I recommend you jump in now, so your order can be shipped to you when the stock arrives.

Supply in Australia will return to normal about 1 week later and we will be bottling in Australia, shortly.

If you are in Europe, you will most likely know I have closed the EU store for now. How we have been operating simply was not working and we are completely changing things. I am hopeful we will have the store reopened in about 30 days, with stock being available and a much better ability to ship what you order in a timely manner.

For those unaware of it, last week Raghu and I were honoured to join Kerry Cassidy of Project Camelot to discuss NANO SOMA, and you can find this interview at https://projectcamelotportal.com/2021/06/09/nano-soma-path-to-health/. Thank you, Kerry.

It is my pleasure to announce that Michael Millman has joined the MagicDichol team as head of Marketing. Michael describes himself as "The Copywriter's Copywriter". He will be bringing his direct marketing skills to MagicDichol and NANO SOMA, and will help us spread awareness of NANO SOMA and what it brings to the world. Welcome, Michael.

We receive many questions about when the gel and the cream will be available. We expect to have the gel available in the US sometime in July and the cream perhaps 60 days later. It will make its way to the other stores as we can manage it; the gel to Australia later in the year will be the first.

Just one brief testimonial for you today:

Hi Richard, 

I'm currently on my 5th bottle of NANO SOMA.

FYI my health appears improved.

My AFib condition is still there but not as prevalent. My sinuses have improved and in fact my chest wheezing has virtually disappeared.



I'm keen to build up my immunity level as I have not had a flu needle or the C19 AstraZeneca jab which I prefer to avoid.

I plan to order another 3 bottles in July.

Cheers, Paul T.    June 2021

Ten years of testimonials gathered by Raghu can be found at http://raghutestimonials.thenanosoma.com and those gathered by me over the last year or so are at http://testimonials.thenanosoma.com, with a US only subset at http://ustestimonials.nanosoma-usofa.com. Also, these testimonials can now be found in French, Italian, Spanish and German at www.thenanosoma.com.

To order your NANO SOMA, please go to your nearest store below. If you are in the UK or outside of the US, Canada or Europe, please order from the Australian store.

Please understand that neither I nor any of the companies supplying NANO SOMA or Nano Ojas (in Europe) nor the companies' directors, shareholders nor employees are medical doctors and do not provide medical advice. For medical advice, please consult your medical practitioner. Further, these products are not intended to diagnose, treat, cure or prevent any disease.

Kind Regards,

Richard

Dr. Richard Presser

MagicDichol

EU Nano Ojas store (closed for the moment)