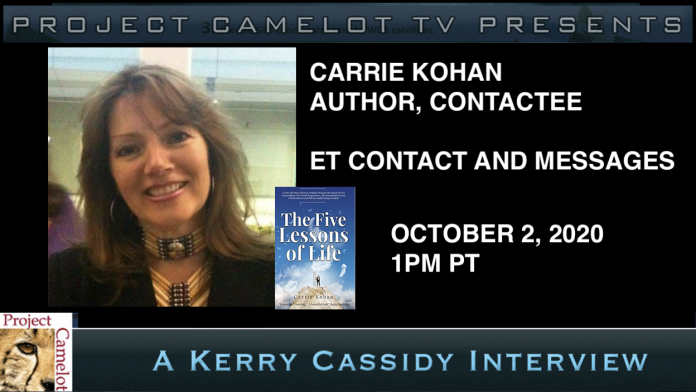 On Friday at 1pm PT I interview Carrie Kohan, author, about her ET contact and the messages she is receiving.
THIS VIDEO IS NOW SOUND EDITED.
Bio (from Amazon):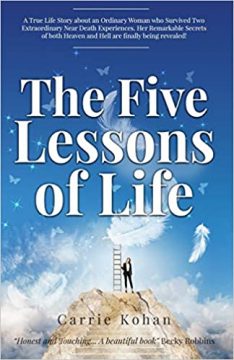 The Five Lessons Of Life: A True Life Story about an Ordinary Woman who Survived Two Extraordinary Near Death Experiences! Carrie Kohan returned with Insights, and now these remarkable Secrets are being shared with you! Paperback – April 11 2019
Carrie Kohan is a National Child Advocate who has been awarded medals from the United Nations and Queen Elizabeth II for her volunteer work. But Carrie's life wasn't always like this… She was illiterate much of her life; was placed in the 'Dummy Class' in grade 8 and failed grade 12! She was told by teachers that she was lazy and would never amount to anything! So, what happened to turn her life around so drastically? One day Carrie's prayers were answered in the most unusual way!
She died! Not once, but twice!
Carrie was an up-and-coming actress in 1992… That is until one fateful day when her self-destructive ways got the best of her, and she slipped away into the darkness of her first Near-Death-Experience.
Carrie survived and immediately turned her life around! So, imagine her surprise when she died for a second time a year later! This death was different however! This time, Carrie didn't venture into the Darkness. Instead, she floated up into the White Void (Heaven) and received one of the most profound and comprehensive messages imaginable!
In these remarkable pages, Carrie shares with you her extraordinary insights, downloads and wondrous Conversations with God, Jesus, The Council of Men, and her Spirit Counsellor – answering every question imaginable about Heaven, Hell and everything else in between!
Always an avid journaler, Carrie delivers her recollections in this astonishing narrative using excerpts from her personal diary entries from 1992 and '93.
After Carrie's return from her NDE's, she went on to become the pioneer and catalyst of a child protection movement in 1998. She's improved the lives of millions of children through her volunteer work as a National Child Advocate and Federal Government Witness. Carrie Kohan dedicated the next 17 years to helping to amend and write 14 laws to protect children. Despite death-threats and the obstacle of being illiterate much of her life, Carrie persevered! In the end she contributed to the creation of more laws than any other citizen.
Carrie is also the namesake for a Private Member's Bill written by MP Art Hanger called, 'Carrie's Guardian Angel Law'.
As a result, Kohan has been awarded medals from the United Nations and Queen Elizabeth II. And it all started with practicing The Five Lessons of Life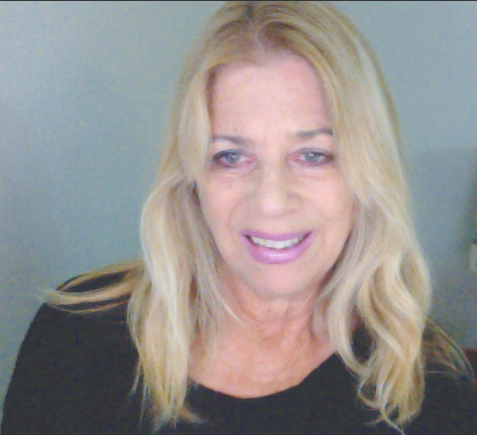 Kerry Cassidy is the CEO/ Founder of Project Camelot. Kerry is a documentary filmmaker/investigative journalist, author and well known host of Project Camelot TV broadcasting weekly live shows on Youtube.  PROJECT CAMELOT  http://projectcamelot.tv aka projectcamelotportal.com  –  is a leader in the alternative media sector, with a Youtube channel that has over 900 video interviews over past 15 years, plus 5 years of radio show interviews and over 69 million unique viewers worldwide with over 285,000 subscribers. Kerry travels the world conducting interviews and documenting the testimony of whistleblowers with above top secret clearances as well as authors, researchers and experiencers covering conspiracies, the secret space program, black projects, ETs, kundalini and ascension and free energy. She speaks at conferences around the world and is considered one of the leaders of the disclosure movement. Kerry's book, "Rebel Gene: Secret Space and the Future of Humanity" documents her trip down the rabbit hole and years in Project Camelot. 5-STARS ON AMAZON! Due to censorship and demonetization by Youtube Project Camelot has now become a subscription based platform.  JOIN NOW BECOME A MEMBER