See the article and links below.  Watch my video about my article.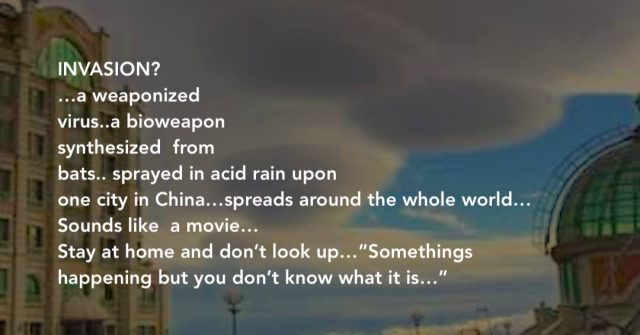 https://youtu.be/Pm78X27vkoY
UPDATE:  APRIL 8, 2020:
The video blog linked here by investigative journalist George Webb relates directly to my article below which was published April 7, 2020 :
MUST SEE  EXCELLENT.  George Webb about "Bat virus" HAS a protein covering that deceives the body into accepting the virus.  The covering of protein (called glycol-protein 120) WHICH back in 1985 Dr. Fauci was involved with developing! This protein covering without it the virus would fail.
https://www.youtube.com/watch?v=pFVNGugpquk
WHAT AM I WATCHING…. INVASION ON AMAZON THE SERIES… funny thing is… along with the invasion which is secretly taking over people… they are under lockdown and curfew… hmmmm.  Besides, it's not a bad series LOL
But seriously, in my last video update 04.07.20 I talk about the fact that things don't add up.  That there is really no real reason to keep people off trails, out of parks and off beaches.
In Malibu, you can't even park along PCH and stare at the sea! It doesn't take a rocket scientist to put this together but maybe it takes an investigative reporter.  I can tell you, the reader, that things don't add up.
It's not enough that they are preparing for a financial reset and a new digital currency and to chip us via nano in proposed vaccines, or that there is a virus that is killing people not even as rapidly as the yearly flu.  Nor that they want to roll out 5G and link us all to the AI creating a worldwide hive mind and get their one-world government and New World Order.  
Or that underneath cover of the above distractions that Trumps boys are out nabbing pedophiles and human traffickers.  Because all that may be true, but keeping people six feet apart, no hiking no parks and no beaches sound very suspicious to me.  Like there's something more going on than meets the eye.
So what are they trying to keep us from watching or finding out?  Is it an invasion so hidden that it sneaks in under cover of night?  And even if there is, I have NO DOUBT they are not doing this to protect us from whatever it is.  They don't give a sh–t how many people live or die.  Or get infected.  That's also a lie.  They never have and they never will (the controllers/ Illuminati and their masters) care how many of the people live or die.
So if they are not trying to protect us then it goes without saying they do want to protect themselves.  And their chosen elite.  But from what?  From us?
So just for argument's sake let's look at the situation.  There are military occupying some cities and some countries and there are military pretending to be assisting with building make-shift hospitals.  Although we don't need them in the U.S. because thanks to our citizen reporters we know hospitals are not overwhelmed or over crowded.  On the contrary.  In fact, Emergency rooms are empty.  
So if they are afraid of us…what are they afraid of?  And why didn't they allow people at businesses to cut their work days in half and stagger the days employees report in while observing the 6 foot social distancing mandate?  Why shut everything down?  It seems they don't want anyone ON THE STREETS.  Or out in nature.  Or on the beaches.  
So what is going on?  Should we be watching the skies for an incoming Asteroid like NASA is saying?  Or what else is it?  And why did China WELD CLOSE some infected residences and not others?  Is the other virus much much worse?  Is this a build up to RESIDENT EVIL or what?
None of it makes sense to me because they could have had all of the above without these NAZI-type rules… So what is really going on?
…"WE TRIED TO DEVELOP A SORT OF SPRAY THAT COULD BE DISPERSED FROM HELICOPTERS OR DRONES"–Chinese Communist Party Whistleblower
And the bioweapon is said to specifically be based on Bat DNA… So bats are….vampires, blood drinkers.  And there is one ET race said to be more diabolical than even the DRACO and that is the Dragon Moths.  There's a huge carving in the Sydney, Australia airport by the way.  Or there used to be in case it is no longer there.  I saw it.  So they honor the Dragon Moths in Sydney.  
And it could be argued that Bats are related through DNA and bloodline to the Dragon Moths… hmmm…. this could get interesting.  So if you don't die from the infection, you may live on and develop shall we say, unusual characteristics… Is this what our governments are afraid of?  Are they waiting to see what the implanted strain of DNA will yield?
And if I am right then it's not about the number of people who die it's about the ones who get infected but survive.  Because they are the ones that the experiment is all about.  
Think about it. If you know your kind are being hunted and taken down, especially the leaders, then what is the first thing a species facing extinction or a threat to their way of life might want to do?  They would want to create more of them.  There is one thing the Illuminati know and that is that there is safety in numbers.  Create more vampires and you have more places to hide and a culture that will support your lifestyle.
I realize this sounds completely mad.  At least it does to me.  But I can't help but look at the evidence at hand.  And the fact that here on Earth, the game is up for this type of creature…the blood drinking pedos.  And anyone who thinks they will go quietly into that dark night is dreaming.
One thing we have been told is that the Draco have been planning an invasion.  Of course we thought that meant craft in the skies and battles with tall diabolical humanoid reptilians.  What no one figured was it would come in the form of a virus that looked like a population elimination program (something the Illuminati are famous for).  What no one figured on was that under cover of a pretty inept population reduction program would be an invasion to transform the living into a race of vampires. It's the survivors they have to watch not the dying.
And the vaccine is the only way they have to test whether their plan is working and to get a count of those who became infected and survived.  And would serve of course to inject the rest who escaped the infection to make sure they got it too.
Or is this all 'just my imagination'?  God, I hope so.
RELATED LINKS:
THE VIDEOS LINKED BELOW say that CV was created using BATS…
SUPPOSED TRUTH BEHIND THE MAKING OF COVID19
https://www.youtube.com/watch?v=AJjaQJTBTGU&feature=em-uploademail
VIDEO CLAIMS THEY FOUND THE SOURCE OF CV…FROM INSIDE CHINA
https://www.youtube.com/watch?v=bpQFCcSI0pU&feature=youtu.be
GO TO AROUND 19 MINUTES FOR MORE SUBSTANTIATION OF THE BAT ORIGIN OF THE VIRUS AND BIO WEAPON ASPECT.  GO TO AROUND 8 MINUTES TO SEE FURTHER SUBSTANTIATION OF THE PROTEIN 120 SHEATH ALLOWING THE MAN-MADE VIRUS TO ENTER THE HUMAN BODY.
****
OK so maybe it is a monster from the sea… They closed VENTURA COUNTY BEACHES TODAY!! WHAT A DRAG….
OK only REAL EXPLANATION FOR CLOSING BEACHES IS MILITARY PLANS ON ATTACKING UNDERSEA BASES OFF THE COAST OF CALIFORNIA…that is ALIEN UNDERSEA BASES…. FOR THOSE WHO DON'T FOLLOW MY WORK
HOWEVER THE CLOSING OF TRAILS NOT QUITE CLEAR YET EXCEPT SOME TRAILS HAVE NICE VIEWS OF THE SEA…