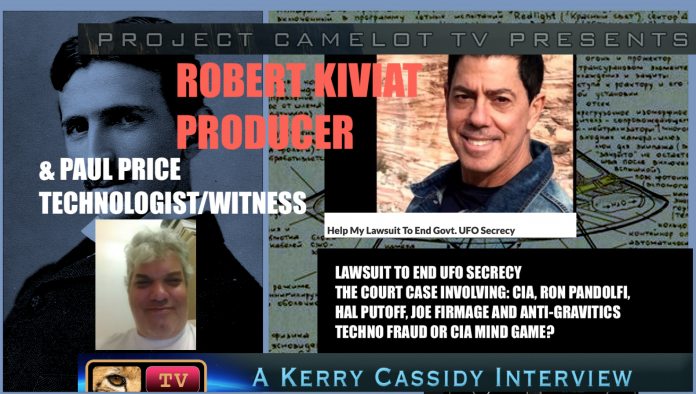 LIVE SHOW WITH GUESTS:  ROBERT KIVIAT, TV PRODUCER, AND PAUL RICHARD PRICE, TECHNOLOGIST, KEY WITNESS.  7pm Pacific time.
Regarding:  Supposed CIA "technoscam" used the Firmage Corporation …MANY ONE/INTERNASA,  VIA USWEB to raise funds with a false anti-gravity technology.  Bob Kiviat is an injured party…having been hired to produce media, shows, documentaries and other promotional materials to support this scam and never paid the $300,000 he was supposed to be paid.
ROBERT KIVIAT ON IMDB:    www.imdb.com/name/nm1411783/
Robert Kiviat is a producer and writer, known for Aliens on the Moon: The Truth Exposed(2014), UFOs: The Best Evidence Ever Caught on Tape 2 (2000) and Why in the World Do They Do That? (2000).
See the article below written by Kal Korff:   DEVELOPING STORY and pending show on Camelot with witness Paul Richard Price and possibly Bob Kiviat's lawyer, Eric Sapire.
MY COMMENT:   This reeks like a CIA dog and pony show where the players are all on the same side and this will never go to trial in my view.  The question is how can you charge the CIA with acting as the CIA has always acted.  They create mind-controlled, operations psi-ops.  The investors who lost a few million are strangely not involved in this lawsuit. At the center of validating the technology originally is HAL PUTOFF who is at the center of To the Stars Academy and many other CIA operations involved with so-called DISCLOSURE — nondisclosure game playing. 
LEGAL INPUT VERSION of Kiviat Lawsuit Part 2 MockUp 8.0v1 copy-2

<![CDATA[ KAL KORFF is often called "a writing and production machine," and with more than 10,000 articles to his credit written on a wide variety of subjects, several books; hundreds of videos and numerous media appearances, it is understandable why.
His radio show, Kal's Korner, appears exclusively on the 'X' Zone Radio Broadcast Network and its partnered affiliates, Rob McConnell is the Executive Producer.
Kal's Korner covers everything from Politics to the Paranormal.
Kal Korff has had an extremely diverse professional career. He is a longtime, internationally known accredited Analyst, Broadcaster, Columnist, Computing Systems Process Specialist in Enterprise Architecture, Counterterrorism Analyst and Specialist; Executive Producer, Investigative Journalist, IT Specialist, K-5 School Principal, Lecturer, Senior Systems Analyst Level III, Human Interface and Software Developer and Teacher whose articles, broadcasts and expertise have been sought by governments and private companies for decades. His research projects, results and various works have been featured in the global media on four continents: the United States of America and Canada, Europe, Middle East and in Asia.
Kal Korff has devoted his life to focusing on three major goals:
1. Conducting original research.
2. Finish research left incomplete by others, regardless of the reason(s).
3. Analyzing and studying existing issues, then finding new or original solutions to them.
Each of Kal's projects, books, products or causes falls within one or more of these three categories, or he's likely not interested.
The results of this research and studies are always released to the public or clients in various forms so that people are empowered to examine the data and decide issues for themselves, to help them separate fact from fiction.
An American by nationality, Kal lives in the country of India and has traveled to and/or lived in 27 countries on four different continents – North America, Europe, Middle East and Asia.
Kal has been an Analyst, Broadcaster, Commentator and Investigative Journalist on or for such popular TV networks as ABC, CNN, Discovery Channel, FOX, History Channel, MSNBC, NBC, National Geographic and has appeared on countless radio shows and in the newspapers, including National Public Radio's Science Fridays, Art Bell's Coast-to-Coast AM, Dr. Seth Shostak of SETI, Jeff Rense's Sightings, Laura Lee Show, San Francisco Examiner, Prague Post, Metropolitni Expres, Washington Post, U.S. News and World Report, Phoenix New Times, Daily Review, Argus, Huffington Post, Stanford Daily, San Jose Mercury News, Oakland Tribune, Ohlone Monitor, Omni, Skeptical Inquirer, Skepsis, True, Saga UFO Report, Beyond Reality, Fortean Times, San Francisco Chronicle, Frontiers of Science, LBC Radio, Daily World TV, RTL, DW2, TV Nova, Radio Praha, Radio Free Europe, YouTube, Scribd, Facebook, Twitter, 'X' Zone Radio Show and others.
Since 2016, his investigative journalism reports, full-page Specials, and numerous other articles have frequently appeared in Daily World, which is India's first international newspaper, and on their online television network, Daily World TV. Prior to this, for four years Kal's articles, more than 2,000 of them, which covered everything from international affairs to travel, technology and American politics were published in the English language newspaper Daily Post, as well as in his popular written column, Kal's Korner.
Kal Korff is also the author of several books, including non-fiction exposes such as: In Russia's Orbit: Why Obama, Governments, Spied on Trump and Associates and The Roswell UFO Crash: What They Don't Want You to Know, which remains the bestselling expose of all time concerning the mythical Roswell "UFO crash" of 1947. Some of his other books include Spaceship of the Pleiades – The Billy Meier Story, Annie Jacobsen's Area 51 Book Scandal, The CIA's Secret Torture Files The Secret FBI Cattle…
RELATED LINKS: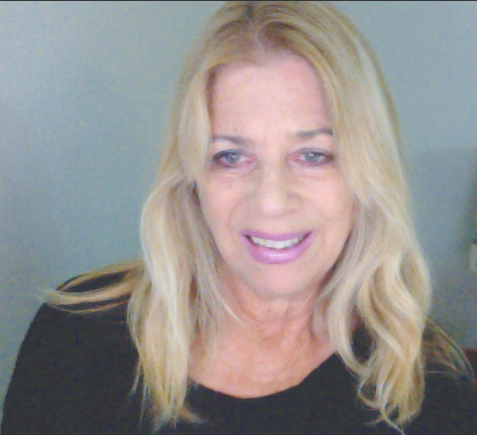 Kerry Cassidy is the CEO/ Founder of Project Camelot. Kerry is a documentary filmmaker/investigative journalist, author and well known host of Project Camelot TV broadcasting weekly live shows on Youtube.  PROJECT CAMELOT  http://projectcamelot.tv aka projectcamelotportal.com  –  is a leader in the alternative media sector, with a Youtube channel that has over 1000 video interviews over past 16 years, plus 5 years of radio show interviews and over 70 million unique viewers worldwide with over 312,000 subscribers. Kerry travels the world conducting interviews and documenting the testimony of whistleblowers with above top secret clearances as well as authors, researchers and experiencers covering conspiracies, the secret space program, black projects, ETs, kundalini and ascension and free energy. She speaks at conferences around the world and is considered one of the leaders of the disclosure movement. Kerry's book, "Rebel Gene: Secret Space and the Future of Humanity" documents her trip down the rabbit hole and years in Project Camelot. 5-STARS ON AMAZON! Due to censorship and demonetization by Youtube Project Camelot has now become a subscription based platform.  JOIN NOW BECOME A MEMBER
DISCLAIMER
Project Camelot does not necessarily agree with or endorse all of the views represented by those we interview or have on our radio shows, internet TV shows or other broadcasts and productions.What Camelot is about is the investigation into the mysteries that surround us. We are all, in a sense, investigators of our world. And while we, as individuals, may not agree with everything presented on our site, we fully support freedom of thought and speech as well as the Quest for truth.
JOIN ME ON TELEGRAM:  NEWS & UPDATES DAILY!

https://t.me/projectcamelotKerry

GET ACCESS TO ALL CAMELOT VIDEOS SINCE DEMONETIZATION ON YOUTUBE BACK IN MAY 2020…VIDEOS BANNED OR CONTROVERSIAL…SUPPORT OUR WORK!  SUBSCRIBE!