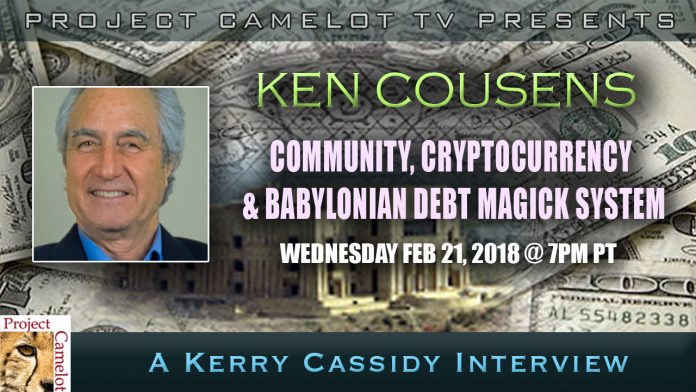 On Wednesday, Feb 21st @ 7PM PT –  I interview Ken Cousens regarding his investigations into the Crypto Currencies and the Babylonian Debt Magick System.
SEE BIO BELOW….
BIO (submitted by Ken Cousens aka kenneth scott
kenneth scott, House of Cousens
Overseer of the PanTerra D'Oro Private Society
Chief Justice of the PanTerra D'Oro Court of the Ekklesia
kenneth scott (AKA Ken Cousens) co-founded the PanTerra D'Oro Private Society and Private Contract Association in 2001 with his wife Andrea for the purpose of building a global community of like-minded/like-spirited beings to provide education and practical solutions in areas of law, money, banking, monetary systems, history, esoteric systems and much more.  This is intended to develop a true comprehensive understanding of the reality we are in and provide real and practical tools for self-transformation leading to global transformation.   
Ken has been immersed in deep research in the key areas of law, money, history and monetary mechanics for 28 years and in the study of esoteric knowledge for almost sixty years.   He has an integrated understanding of how the esoteric underlies, controls and directs the visible world system and how it is an essential requirement in order to understand and change the world system that few have really explored or understood.   
Ken began his career in the gemstone and jewelry business, which provided him a global perspective on the world, its peoples and their cultures and the field of hard assets and intrinsic wealth.  From this starting point he embarked on his legal and monetary studies in the early 1990s and has studied with many of the most advanced mentors, researchers and thinkers in these fields ever since.  He has traveled the world extensively and has built a network of associations, strategic alliances and partners in these fields to manifest a foundation from which practical applications in real world endeavors can ensue for the PanTerra D'Oro Society and its members.  PanTerra D'Oro is built on a foundation of knowledge and education, combined with comprehensive and practical solutions on how to operate within the world without being impaired or undermined by its many adhesions and traps that prevent real functional capacities.   
Key to this is his pioneering work in perfecting a process for Status Correction and how to build Private Societies.   This involves many disciplines and areas of expertise, one of the most important of which is the understanding of contract, trust and estate law and the nature and character of jurisdiction.   
Today the PanTerra D'Oro Private Society has nearly 1,200 members in over 30 countries and most states and provinces of North America.   It is growing everyday because it is pioneering new models and prototypes on how to build a better society and global system.   Membership is growing because people are finding the refreshing environment of PanTerra D'Oro and the GEMSTONE University where education, support, social interaction and committed passion to change the world all blend into a thriving community.   To better understand the mission of the Society, visit its two websites at www.panterrrapca.org (presenting public notices to the world system) and www.gemstoneuniversity.org (where members access the private education).    See also GEMSTONE University YouTube and GEMSTONE University Facebook Page.
A full overview of the Mission, Purpose and Intention of the PanTerra D'Oro Private Society can be found by reading the Master Plan written by Ken as an expression of his life's work to integrate his vast store of knowledge and experience into a vision of the future that can and will build better systems, models and prototypes for the PanTerra D'Oro Private Society as well as other societies and organizations to use and emulate, with which we can build a new world system that is best for all living things.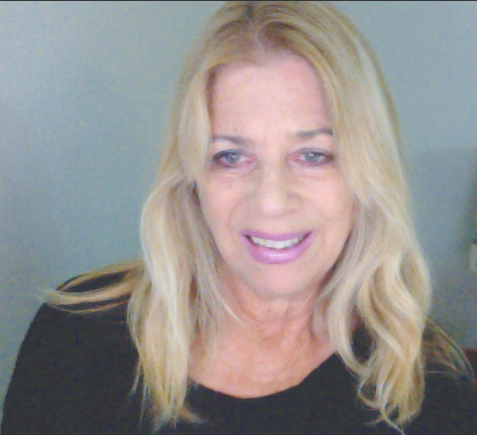 Kerry Cassidy is the CEO/ Founder of Project Camelot. Kerry is a documentary filmmaker/investigative journalist, author and well known host of Project Camelot TV broadcasting weekly live shows on Youtube.  PROJECT CAMELOT  http://projectcamelot.tv aka projectcamelotportal.com  –  is a leader in the alternative media sector, with a Youtube channel that has over 1000 video interviews over past 16 years, plus 5 years of radio show interviews and over 70 million unique viewers worldwide with over 312,000 subscribers. Kerry travels the world conducting interviews and documenting the testimony of whistleblowers with above top secret clearances as well as authors, researchers and experiencers covering conspiracies, the secret space program, black projects, ETs, kundalini and ascension and free energy. She speaks at conferences around the world and is considered one of the leaders of the disclosure movement. Kerry's book, "Rebel Gene: Secret Space and the Future of Humanity" documents her trip down the rabbit hole and years in Project Camelot. 5-STARS ON AMAZON! Due to censorship and demonetization by Youtube Project Camelot has now become a subscription based platform.  JOIN NOW BECOME A MEMBER
DISCLAIMER
Project Camelot does not necessarily agree with or endorse all of the views represented by those we interview or have on our radio shows, internet TV shows or other broadcasts and productions.What Camelot is about is the investigation into the mysteries that surround us. We are all, in a sense, investigators of our world. And while we, as individuals, may not agree with everything presented on our site, we fully support freedom of thought and speech as well as the Quest for truth.
JOIN ME ON TELEGRAM:  NEWS & UPDATES DAILY!

https://t.me/projectcamelotKerry

GET ACCESS TO ALL CAMELOT VIDEOS SINCE DEMONETIZATION ON YOUTUBE BACK IN MAY 2020…VIDEOS BANNED OR CONTROVERSIAL…SUPPORT OUR WORK!  SUBSCRIBE!