Tonight at 7pm PT – I will interview Darce Weir & Lee Lustig about their new documentary about NASA footage of secret space called BEYOND THE SPECTRUM.
See below for bio(s) and about "Beyond the Spectrum" and go here to view their documentary trailer.
http://youtu.be/zqANZOTlW_4
LEE LUSTIG:
In 2011, Lee moved to Los Angeles, California, where he immediately became an editor in Peter Brennan's (creator of Judge Judy, Current Affair, Hard Copy) production company on the Emmy winning show "Last Shot With Judge Gunn". Lee is typically busy with a variety of projects such as reality shows, sizzle reels, independent films, and comedy sketches. In the past several years Lee has been an Editor on an extensive amount of syndicated reality TV shows including Ax-Men (History), Yukon River Run (NatGeo), Leah Remini: It's All Relative (TLC), Shark Weekend: Shark Alley (Discvoery) and Morgan Freeman's: The Story of God (NatGeo).
Today, Lee continues to work on his passion as a highly sought after freelance video editor based in Los Angeles, and is excited to be regularly producing video content for television series, high profile actors and business personalities.
DARCE WEIR:
Darcy is an independent documentary filmmaker who has chosen to focus on interesting and challenging subjects. He's Canadian born and has travelled to world to make his documentaries. This most recent documentary has been in the making for over 4 years. He filmed most of it in Australia, the United States and Canada. Darcy has produced multiple other documentaries including The Underground about Phil Schneider and The Unwonted Sasquatch which follows a long history of the creature also known as Bigfoot in North America. He is currently working on a documentary series that includes new speculation on the UFO and Paranormal world.
About Beyond The Spectrum: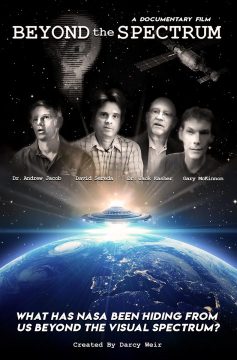 What if I told you that your eyes and your brain aren't fully capable to visualize what is happening around you in our universe, but NASA has extended the abilities of human sight using technology. Perhaps then you would like to see what Nasa has been filming in this invisible light spectrum.

Since NASA's inception, there has been a level of secrecy surrounding the truth of what is happening out there in space. This documentary covers a history of space secrecy and the most controversial UFO events captured on NASA's own space cameras. Perhaps this documentary provides the best evidence that the Earth is being visited by UFOs. Discussion is provided by Dr. Andrew Jacob on NASA's currently used technologies for observing the universe. Dr. Jack Kasher covers a history of UFO incidents that NASA has covered up. David Sereda also provides theories on why NASA and the military might be keeping this information undisclosed or misinformed. We also tell the story of Gary McKinnon's NASA server hacking and what he found being stored there. Earth based observations of UFOs in Australia from everyday people and their historic Westall '66 event.

Some of the best UFO footage ever to have been filmed in the history of this phenomenon is contained in this film. We see them on STS Missions, international space station missions, in infrared, ultraviolet and the light visible spectrum.

Only those that hold the information can make an informed opinion on this subject and knowledge is power. It would seem that Nasa can't keep that knowledge hidden from the public forever.