This show was broadcast on the Camelot Youtube Channel introducing the speakers from the IRELAND AWAKENS conference that will be taking place in Dublin.This is a Roundtable discussion with the speakers hosted by Kerry Cassidy.   Link to TICKETS and Speaker Bio(s) below.
Link to show:
https://www.youtube.com/watch?v=rTLeUm5XXU0&t=30s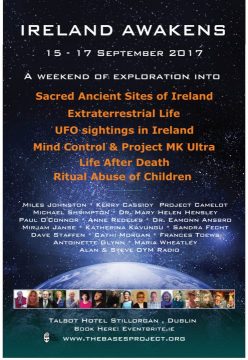 From the Ireland Awakens conference details:
The IRELAND AWAKENS Conference will provide a platform for amazing international speakers like Kerry Cassidy from Project Camelot and Miles Johnston from the Bases Project to bring their knowledge to the public. We will discuss topics like UFO sightings in Ireland, Sacred Ancient Sites of Ireland, Life After Death, Ritual Abuse and much more. It is also a fantastic opportunity to meet likeminded people from all over Ireland and share experiences.  Go here for more info and to purchase tickets:  https://thebasesproject.org/ireland-awakens-conference/
SPEAKER BIO(S) & TOPICS:
Alan and Steve FROM OYM RADIO – host an internet radio show in Dublin, Ireland called "Open Your Mind Radio" which was setup seven years ago to discuss all matters relating to the what we perceive as reality or tru-ality!  They cover most, if not all, topics regarding this subject matter and aim to build up a vast knowledge of information to make our listeners aware of things going on nationally, internationally and globally.  They have interviews with guest speakers and add some humour and satire into the show as some of the things that they discuss and expose are just laughable. Open Your Mind Radio broadcasts live every Sunday from 7pm to 9pm GMT+0.
Talk: The Waking Up Process and The Fluid Belief System
Talk description: TBA
 Email: [email protected]
Website: http://www.oymradio.com
Anne Redelfs, MD is a retired psychiatrist and ritual abuse survivor. She is the author of The Awakening Storm, With Every Addiction, Infants are Trying to Meet their Needs, and Illness Can Be the Cure!  She calls herself a "listener" since she's able to hear the messages of the soul that we are all ever communicating through our voices, behaviours, and life events. She resides in Texarkana, Texas, USA where she practices her ministry of trauma recovery and development.
Talk: The Psychology of Targeting: "Why Me?"
 Talk description: TBA
Email: [email protected]
Website: http://www.annethelistener.org/
Born in Ireland, Antoinette Lyons Glynn is the founder of the Flower of Light Mystery School in Luxor Est. 2006, the only Irish-Egyptian Mystery School in Egypt.  At age 14, Antoinette had a near death experience in which she would receive her life mission.  That mission was to re-establish the connection between the ancient lands of Atlantis Eire Ireland & Egypt, to reawaken and make available their Sacred Science.  Based on information she received, Antoinette has developed Bio-Quantum Geometric Healing, the Science of Ascension.  She runs Sacred Journey's, Workshops, Courses and Private Consultations in Egypt and Ireland.  Antoinette's goal is to share the deepest mysteries of life, death & the nature of reality and to awaken the memory and knowledge of her ancient ancestors.
 Talk: From the Emerald Isle to the Blue Nile – The Atlantis Ireland / Egypt Connection
 Talk description: The knowledge and wisdom of ancient Egypt was a legacy handed down from an even older civilization.  A highly advanced civilization that had at the core of its science and philosophy, the immortality of the Soul, its interconnectedness to the Cosmos and the One Creative Energy.  They were known as the Masters of the Net, they were the Wisdom Keepers of Atlantis Éire Ireland.  They were the Masters of the Mystery Schools.   The Temples and Pyramids of ancient Egypt are depositories of their Sacred Science and Wisdom, they are portals for consciousness to project itself into the cosmos to the heart of the Creator.  In this talk Antoinette will discuss the arrival of the Irish into ancient Egypt, their Science and advanced technology and their eventual exodus out of Egypt and back to the land of their ancestors, Atlantis Éire, the Emerald Isle.
Email: [email protected]
Website: www.floweroflight.com
Cathi Morgan is a researcher of MKULTRA and other covert manipulations of the public. She came to this research when investigating why her twin sister and she were monitored and examined regularly as children.  When she started to research the organisation responsible she began to discover links between the UK and MKULTRA (the CIA's covert mind control experiments).  Through investigating her own background, she was able to trace the development of population studies in the UK and their links to eugenics and MKULTRA and wider social agendas. She currently lives in Dingle, Ireland.
Talk: My Story – Covert Eugenics, MKULTRA and Ireland
Talk description: Cathi will share her ongoing research into UK Mind Control from a personal perspective in an attempt to stimulate research and discussion of the topic. By exploring her own background she has uncovered links to MKULTRA as well as covert research programs related to post WW11 eugenic population studies.
Email: [email protected]
Website: https://cathki.wordpress.com
Daniel Liszt
Bio:
Dark Journalist Daniel Liszt is an Independent Investigative Reporter and Documentary Filmmaker who coined the term "Dark Journalism" to introduce crucial areas of research and investigation that the mainstream media refuses to touch. The innovative subjects he covers include: The Black Budget, Missing Trillions, Deep State, Breakaway Civilization, Secret Space Program, Esoteric Mysteries, UFOs, GMOs Chemtrails and more! During his career as an investigative reporter he has interviewed many of the premier names in the field, such as Former Canadian Defense Minister Paul Hellyer, Bestselling Author Jim Marrs, Emmy award winning reporter Linda Moulton Howe, Former US Assistant Housing Secretary Catherine Austin Fitts, Ancient Mysteries researcher Graham Hancock, Oxford Scholar Dr. Joseph Farrell and more. His YouTube channel has reached over Five Million Views and his weekly show exposing the Deep State on GStar Satellite Radio reaches a wide international audience. 
Talk:
The Real Secret Space Program & The Missing Trillions
Since NASA Hacker Gary Mackinnon revealed his discovery of the existence of an Off-world Officers's list, the possibility of a Secret Space Program has been explored by expert researchers.
Through his exclusive interviews with Former US HUD Secretary Catherine Austin Fitts and Oxford Scholar Dr. Joseph Farrell, Dark Journalist Daniel Liszt  has deeply explored the findings they've presented on the Missing Trillions from the Department of Defense. Liszt has found extensive links from the classified paper trail around the Missing Trillions to the creation of a massive covert development of a Space Infrastructure that appears to be about the surveillance of UFOs and the weaponization of Space. Liszt also sees a massive disinformation campaign by intel agencies to take the public off the actual trail of the real secret program by promoting false whistleblowers with wild stories and no evidence. Liszt has determined that the high secrecy level of the program and the kind of funds that have been poured into it make the Secret Space Program a top Military Black Budget project whose goals of Space Domination go further than anyone has ever imagined!
Dave Staffen was born into a satanic cult family in Canada and received trauma-based mind control as a child. Dave was subject to Satanic Ritual Abuse since very early childhood. Together with Canadian Therapist Sandra Fecht and Researcher Frances Toews, Dave has worked to identify and heal the post-traumatic stress disorder resulting from his experiences. As a result he completely and irrevocably transformed into a man whose purpose is to lovingly make known the prevalence of cults, secrets societies and the practice of Satanism. He also intends to make known the unique, energetic healing methods that made his miraculous transformation possible, as well as the fact that every human being on earth is doing the best they can possibly do at this moment in time due to their present spiritual development.
Talk: Finding Your Loving Essence
Talk description: Dave will share his personal story on how he overcame the post-traumatic stress disorder resulting from his experiences as a child.
Email: [email protected]
Eamonn Ansbro has a Masters degree in Astronomy from University of Western  Sydney, Australia, and an MPhil and PhD (ABD) degree in Astronomy from the Planetary Space Science Research Institute (UK).  He set up his observatory in the mid 1990s at a time when locals began reporting strange lights and flying objects in the skies. The nearby town of Boyle has a history of UFO activity. Several UFO sightings have been reported in the area, most famously the crash landing of a supposed flying saucer in 1996 that drew parallels with the infamous Roswell incident. Eamonn is Director of Kingsland Observatory and SETI Kingsland in Ireland which is involved in planetary research, SETI and instrumentation.  Eamonn is pioneering a new approach in the Search for Extraterrestrial Intelligence or SETI as a worthwhile endeavour for contact because of the recent breakthroughs in communications technology.
Talk: Communications with Extra Terrestrial Civilisations
 Talk description: Since 2016 an international group of SETI (Search for Extraterrestrial Intelligence) scientists are working with Eamonn within a SETI Kingsland team in Ireland. This fundamental new approach of communications with ET civilisations may help to provide first hand contact with ET Civilisations. Eamonn will talk about his new ways of communicating on a galactic level and not to be constrained by the speed of light, where we currently use the electromagnetic spectrum such as radio.
 Email: [email protected]
Dr. Mary Helen Hensley is a chiropractor, metaphysical healer and international motivational speaker. After a Near Death Experience following a high speed car collision in 1991, a lifelong ability to communicate with those in spirit, coupled with the gift to see future events, was enhanced by a new endowment: to touch an individual, "read their past" and facilitate healing. Mary Helen began to realize that her previous skills of communicating with those in spirit had become so much more. She found herself able to "read" the ethereal field of an individual, linking her to the person's history, gaining insights into how past experiences were creating a person's present reality, regarding their physical, emotional and spiritual health. Mary Helen has been speaking to audiences across the globe about what it means to live with unshakable faith in the Divine plan of a multi-faceted Multi-verse. She chronicles her life experiences in her trilogy "Promised By Heaven", and has recently finished her latest book, "Understanding Is The New Healing".  She currently lives in Ireland with her two daughters Jemma Skye and Jada.
Talk: Understanding is The New Healing
Talk description: In this talk Dr Mary Helen Hensley will explain how understanding why things have happened in life is the most essential ingredient to healing. She will share different stories and insights from the years of healing sessions she has facilitated. These will include issues that were the result of past life events that have carried forward in the cellular memory of a current lifetime as well as stories that have their causes and solutions in present day challenges.
Email: [email protected]
Website: http://www.maryhelenhensley.com
Frances is a Canadian survivor of Satanic Ritual Abuse of the ancient, military and high-tech varieties. As a client of Sandra Fecht, Frances has experienced profound improvements in her physical, mental, emotional and spiritual aspects, and continues to work with commitment on her healing. She has a searching intelligence, which supports a remarkable ability to ask questions. She makes insightful connections about energetic controls used by cults. She is keeping a detailed record of these methods and the therapeutic interventions she and Sandra find. They hope to release this in a book to help others.
Talk: Healing Ritual Abuse Mechanisms
Talk description: Frances will speaks about her research and how to identify and heal the post-traumatic stress disorder resulting from Ritual Abuse.
Email: [email protected]
Katherina Kavungu is a practicing Hypnotherapist, Regression Therapist and Trauma Releases Practitioner based in Dublin, Ireland. Over the years, Katherina has learned how to access a client's deeper, unconscious mind and get to the root of their problems. Many of her clients, while under hypnosis, report having dark energies and earthbound spirits attached to their bodies and energy fields, creating psychological and physical problems. Some of her clients reported to have extra-terrestrial encounters. Katherina's focus is to merge the complex dynamics of the human mind, emotions, body and soul towards an increased understanding of who we really are.
Talk: Entities Attachments & Energetic Implants &  Mind Control
Talk description:
The discovery of non-physical energetic beings attaching to the human body is a fascinating emerging field. Meanwhile, not only hypnotherapists, but also more and more mental health professionals which are familiar with techniques of hypnosis as well as energy healers around the globe are confronted with this phenomenon. Even though it is not well known in today's western contemporary society, this phenomenon is as old as humanity. Katherina will discuss how she discovered that non-physical entities can get attached to our energy fields, how they influence our thoughts and emotions and create a false sense of reality. Katherina will share her personal experience with different types of human and non-human entities and will give insights from her work with clients.
Email: [email protected]
Website: http://www.hypnosisindublin.com/
Michael Shrimpton is an intelligence and national security lawyer and consultant. He was formerly an Adjunct Professor of Intelligence Studies in the Department of National Security, Intelligence and Space Studies at the American Military University, teaching intelligence subjects at Masters level to inter alia serving intelligence officers. He has wide ranging connections both in Western Intelligence agencies and amongst ex-Soviet Bloc agencies. The late Generaloberst Markus Wolf, of the Stasi and DVD, was one of his contacts. Michael has earned respect in the intelligence community for his analysis of previously unacknowledged post-WWII covert operations against the West by the German DVD organization based in Dachau, near Munich, Germany, and its British, French and American client agencies. In 2014 he was maliciously prosecuted for an alleged bomb hoax after receiving a tip-off about a missing Russian nuclear warhead, which was duly recovered.
Talk: Secret German Intelligence Agency
 Talk description: Michael will talk about the Prussian and German intelligence interference in Ireland since the 19th century and the assassination by Germany's GO2 of poor Martin McGuinness.
Email: [email protected]
Miles Johnston is a veteran UFO researcher from Belfast and creator of the Irish UFO Research Centre in the early 1970s. He is producer of historical documentaries on pirate radio stations in Ireland for two decades, which developed as a result of massive UFO activity in Ireland in the 1970s. Miles is producer and researcher of the Bases Project which derived from the early pioneering Irish UFO Research Centre. Barry King and Lisa Williams came to Miles Johnston speaking of a secret underground base in Peasemore, Berkshire, where Programmable Generated Life Forms were being produced. The interviews that followed became British Bases, and the Bases Project was born. Miles is a pioneer in the alternative media sector and has Youtube channel where he presents new information from eyewitnesses, ex and current military and civilian sources to people all over the world.
Talk: Intelligence Transfer Sequence
Talk description: TBA
Email: [email protected]
Website: https://thebasesproject.org/
Mirjam Janse is an Accredited Healer, Clairvoyant, Transformational Coach, Inspirational Speaker and Visual Artist. She studied Systemic Work, Personal and Space Clearing and Transformational Coaching.  She has the talent to combine her gifts which results in fast and powerful way of working. Time and Space are no limit to her observations. Those who intent to change their lives profoundly or seek to identify Karmic and Past Lives Causes find her to be an inspirational guide. The healing powers of the human body and the sagacity in nature have fascinated her since childhood. In her lectures she courageously connects Aliens to frequencies in our human bodies, our thoughts to our healing powers. Videos of her lectures can be found on YouTube, The Bases Project and her website. Mirjam works with individuals and groups in the UK, the Netherlands and Germany. She lives in Amsterdam, the Netherlands.
 Talk: Own Your Healing
Talk description: TBA
Email: [email protected]
Website: http://www.mirjamjanse.com
Sandra Fecht is a well known Psychotherapist in Canada for more than 40 years. She has been interested in truth seeking all of her life.  In her teens, she became aware of some extra sensory ability that was at first, very confusing.  Her caring, desire to learn and help, and a sense of needing to get to the bottom of issues, led her to become a therapist.  The recognition of repressed sexual abuse led to the development of techniques to help clients find their own truth and unlock the unconscious.  As she gained expertise in these methods, clients were increasingly comfortable going further down the rabbit hole.  They started to report incidents of extreme, Ritual, Satanic abuse.  Eventually stories of reptilians emerged.  At first, Sandra found these reports difficult to believe.  However, she soon realized that these memories were true.
Talk: Ritual Abuse of Children: A Hidden and Under-Reported Crime
Talk description: After working with many clients with repressed sexual abuse Sandra has developed techniques to help people unlock unconscious secrets that are buried deep within their memories. Uncovering incidents of extreme, ritual, satanic abuse led to stories of what seemed unbelievable including encounters with reptilians. Sandra will talk about how she uncovered this phenomenon, what was found, signs and symptoms of ritual abuse, methods that work including energetic awareness.
Email: [email protected]
Website: http://sandrafecht.com/
Kerry Cassidy is the CEO/ Founder of Project Camelot.  Kerry is a documentary filmmaker/investigative journalist and well known radio talk show host of Project Camelot Whistleblower Radio and Project Camelot TV broadcaster with a weekly live show on Youtube. Her website Project Camelot (http://projectcamelot.org / https://projectcamelotportal.com ) is a leader in the alternative media sector, with a Youtube channel that has over 52 million viewers worldwide and over 167,000 subscribers. Kerry travels the world conducting interviews and documenting the testimony of whistleblowers with above top secret clearances as well as authors, researchers and experiencers covering conspiracies, the secret space program, black projects, ETs, kundalini and ascension and free energy. She speaks at conferences around the world and is considered one of the leaders of the disclosure movement.
Email:  [email protected]
website:  https://projectcamelotportal.com
or if blocked go to:  http://projectcamelot.tv