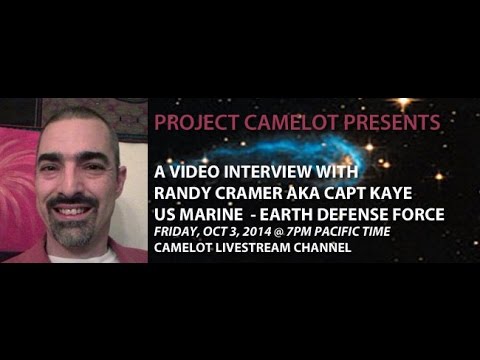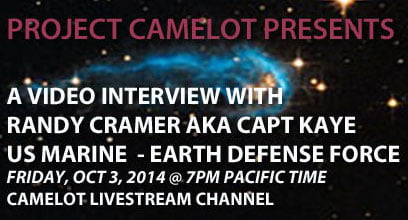 This man is a Marine super soldier who claims he spent 17 years in the Secret Space Program as part of the EARTH DEFENSE FORCE based on Mars and the Moon.
 Original Broadcast was  FRIDAY OCTOBER 3, 2014
Also available to view on the  PROJECT CAMELOT LIVESTREAM CHANNEL
livestream.com/projectcamelotlive/
Bio:  Captain Kaye aka Randy Cramer:  
www.earthcitizenconsulting.org/about.html
"I am till the day I die, a captain of the United States Marine Corps, special section.  USMC s.s. is a covert Unacknowledged Special Access Program (or USAP) signed into law as a legal and covert branch of the US military in 1953 by President Dwight D. Eisenhower.  USMC s.s. was mandated by President Eisenhower through the USMC s.s. special code to meet the exopolitical questions of EBE's,(Extra Terrestrial Biological entities) and ETV's (Extra Terrestrial Vehicles); to assist in assessing diplomatic opportunities  and military threats  and advise the MJ-12 committee and special study groups (SSG's) with intelligence from a fully staffed and operational military intelligence machine, and respond to their requests for specially trained military assistance in all matters extra terrestrial.  When I agreed to speak publicly, my security clearance was raised to a Blue/Gold-13, which has granted me full access to USMC s.s. intelligence files, and weekly briefings by Brigadier General Julian Smythe, personally. My knowledge is extensive, and I continue to learn and grasp the situation in a way that only can be seen from the internal machinations. Coupled with 20 years of  experience from a  very hands on military career makes me one of the most knowledgeable USMC s.s. officers, and as yet, the only one whom to be given the direct authority through his chain of command to make that knowledge available to the public and civilian government.  Since the USMC s.s command considers the weakening of our economy and the divisive political infighting as direct threats to national security, they have asked me to step forward and have encouraged me to offer my consulting services to assist my countrymen and the globe to make adjustments for better future technologies as well as restore legal and executive authority over ALL covert programs or risk further weakening of the US economy and social structure to devastating  effect, as USMC s.s. national security assessments and projections show.  Since it is the counter intelligence programs to keep secrecy that are at the heart of our social and economic symptoms of distress.  These two things are intimately attached and one cannot be solved without the other."
"I've been asked to speak more openly to the public, and civic bodies on the subject of exopolitics as best as my own experience and special section briefings can make me.  Having spent a 20 year tour of duty with the EDF, that experience and knowledge is vast.  My observations on tactical analysis of this subject are based on more than 2 decades of objective and rational experiences to apply as a consultant on all affairs exoplotique and a vast array of socio-technological interactions that can be applied to current gaps between the here and now and living in a world of the future.  My discipline and mentat prowess began early, as I was a meditating daily by age 10.  This prepared me for the shock and realization that my memories had been altered for security purposes, and that my PTSD symptoms were from terrors I could never have expected.  Many years of deep introspective work, and working with many, many wonderful caring and gifted healers in a wide array of fields eventually led to a full recovery of all my memories.  Which were followed by orders from my chain of command to pursue an avenue to attain my personnel files.  After three years of working with my congressman's office, having filled out the SF-180 and mailing back and forth many requests to many government archives it became clear that no one was willing to go to the right agency and ask (I believe for fear of reprisal from said agency (NSA)),  for the correct forms that I had been informed I needed and for which I made three hand written requests.  It also became clear that unless I wanted to become my own lawyer this was going to be a dead end.  After discussions with a Brigadier General, it was suggested to go forward without that paperwork.  That the consequences of further delay were to severe to wait out a bureaucratic wall.  With this webpage and the work I am doing with colleagues in the field of exopolitics, I hope to be able to help everyone find better solutions to these problems.  That's why I was asked to bring my 20 years of knowledge and experience from a USAP no one has ever heard of, until now, to civilian government and the non-classified branches of the military. Since, we believe, they will be offered up as sacrificial lambs in the coming global wars, that are absolutely unnecessary given the true mastery we have over the laws of physics, energy generation, propulsion and telecommunications.  We should all share in the benefits of this progress.  We should all share in the fruits of our tax dollars and the labors of employees on the government's dollar, our dollar.  We should all have a future we can look forward to, and not just a pretty one for some, but for all the people of this living and conscious planet."
(info taken from his website)  EARTH   CITIZEN   CONSULTING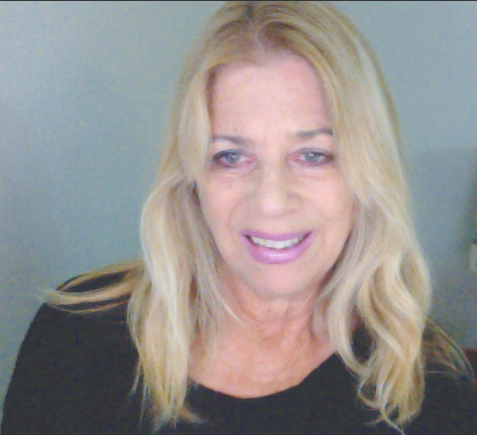 Kerry Cassidy is the CEO/ Founder of Project Camelot. Kerry is a documentary filmmaker/investigative journalist, author and well known host of Project Camelot TV broadcasting weekly live shows on Youtube.  PROJECT CAMELOT  http://projectcamelot.tv aka projectcamelotportal.com  –  is a leader in the alternative media sector, with a Youtube channel that has over 1000 video interviews over past 16 years, plus 5 years of radio show interviews and over 70 million unique viewers worldwide with over 312,000 subscribers. Kerry travels the world conducting interviews and documenting the testimony of whistleblowers with above top secret clearances as well as authors, researchers and experiencers covering conspiracies, the secret space program, black projects, ETs, kundalini and ascension and free energy. She speaks at conferences around the world and is considered one of the leaders of the disclosure movement. Kerry's book, "Rebel Gene: Secret Space and the Future of Humanity" documents her trip down the rabbit hole and years in Project Camelot. 5-STARS ON AMAZON! Due to censorship and demonetization by Youtube Project Camelot has now become a subscription based platform.  JOIN NOW BECOME A MEMBER
DISCLAIMER
Project Camelot does not necessarily agree with or endorse all of the views represented by those we interview or have on our radio shows, internet TV shows or other broadcasts and productions.What Camelot is about is the investigation into the mysteries that surround us. We are all, in a sense, investigators of our world. And while we, as individuals, may not agree with everything presented on our site, we fully support freedom of thought and speech as well as the Quest for truth.
JOIN ME ON TELEGRAM:  NEWS & UPDATES DAILY!

https://t.me/projectcamelotKerry

GET ACCESS TO ALL CAMELOT VIDEOS SINCE DEMONETIZATION ON YOUTUBE BACK IN MAY 2020…VIDEOS BANNED OR CONTROVERSIAL…SUPPORT OUR WORK!  SUBSCRIBE!