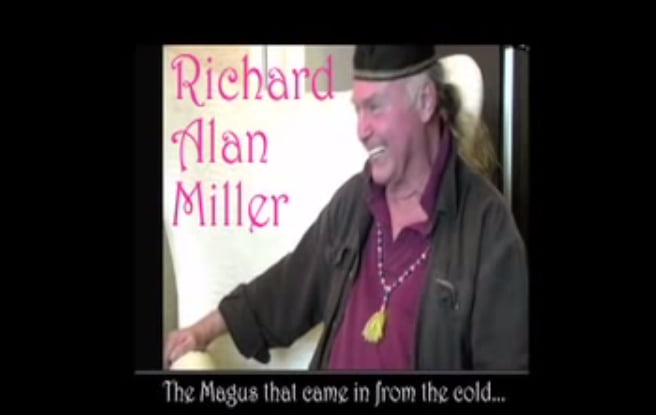 Richard Alan Miller has a background working in black projects above top secret. He has recently come forward in a more public way to talk about his experiences and has several new books he has recently published focusing on alchemy, psychic development and much more. He is a master magician, known in Illuminati circles and occult lodges but one with a true heart.



Kerry Cassidy

Project Camelot

http://projectcamelot.tv

http://projectcamelot.org



Richard Alan Miller: Physicist, Bio Physicist, Herbalist – Born : 1944



Author & researcher Richard Alan Miller reveals a wealth and depth of knowledge and experience in Alternative Agriculture, New Age Physics, and Metaphysics. Miller began working in the "X-Files" world in the 60s and has amazing experiences and conclusions to share.



An original team-member, "man-in-black," Miller's research in the field of Parapsychology & Paraphysics began as a graduate physicist working 11 years with Navy Intel.



Offering fresh perspectives on Metaphysical traditions his books, papers & articles include The Modern Alchemist; ESP Induction Through Forms of Self-Hypnosis, and "A Holographic Concept of Reality."



Richard Alan Miller has been at the forefront of many fields during his long and varied career. A solid-state physicist with graduate work at MIT, Miller was involved in groundbreaking work for cloaked agencies in the late '60s and '70s. A colleague of Dr. Stanley Krippner, Miller co-authored in 1973 the paper, The Holographic Concept of Reality – a document whose implications for psychoenergetic systems are only now beginning to be realized.



He is a Swiss mason and also belongs to O.T.O., A:.A:., and several other German Blue Lodges. He has been initiated into a number of pagan cults, including Church of All World (1974-) and Coven Camelot, Star of the North (1973-). Miller is listed in Who's Who in the World, America, and the West, and now writes for Nexus magazine.