Janis Sharp – Free Gary – An update on Gary Mckinnon's case
Los Angeles, May 2010 | .mp3 | .mov
On my recent trip to London I was fortunate to get the chance to meet Janis Sharp, Gary McKinnon's mother, a powerhouse who has been very actively working to stop the extradition of her son to the U.S. She has been surprisingly successful in generating a grass roots movement of support that includes such luminaries as Sting, Bob Geldof and Chrissie Hynde. As many people know, Gary McKinnon is also an accomplished and talented musician. Through Janis's efforts a new renditon of the well known protest song "Chicago" by Graham Nash has been released and is available on the Free Gary website for download.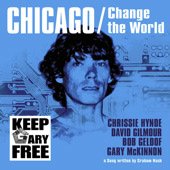 A short summary of the case from the Free Gary website:
"…seven years since his initial arrest !). Gary was indicted by a US court in November 2002, accused of "hacking" into over 90 US Military computer systems from here in the UK. The unjust treatment of British citizens (and others) when facing the might of the US Military "justice" system, which practices detention without trial in Guantanamo Bay and elsewhere, and stands accused of making use of torture by allied regimes ("extraordinary rendition") is an ongoing scandal. It cannot be excused even by a "war on terror". It seems only just that Gary should face any charges in a British court, and to serve any sentence, if he is found guilty, in a British prison.
While it is obviously crucial that Gary not be extradited, as many will know who have followed Project Camelot since the beginning, I interviewed Gary back in 2006. I encourage you to watch the original interview with Gary "Hacking the Pentagon" which really shows his personality and brings forward what he found using a dial-up modem several years ago; records within NASA and the Pentagon that detailed non-terrestrial officers, fleet-to-fleet off- world transfers… in essence evidence of the existence of the secret space program and the true advances in technology and space travel code name: Solar Warden.
Kerry Lynn Cassidy
May 2010