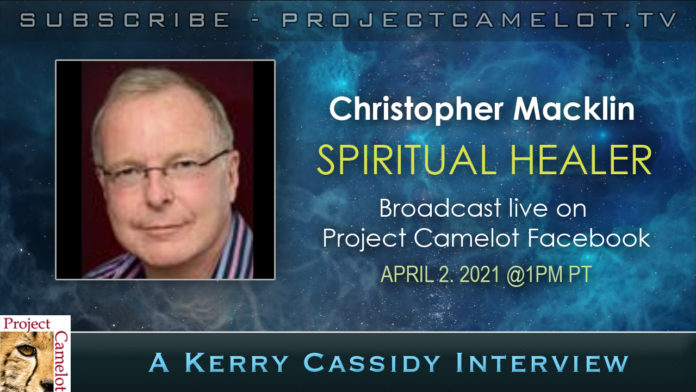 I interviewed Christopher Macklin, spiritual healer who works with energy, time travel, Morgellons and healing of all kinds.  
BROADCASTING LIVE ON THE PROJECT CAMELOT FACEBOOK PAGE THEN UPLOADING TO RUMBLE.
rumble.com/vfb8jz-christopher-macklin-spiritual-healer.html
www.facebook.com/officialprojectcamelot
See bio and info below.
Dr. Christopher Macklin is an extraordinary sage who brings several facets to his work  – in the realm of spirituality, health and wellness, alien connection, angels divination, paranormal, world conspiracies, Covid-19 etc.. He specializes in developing protocols for removing 'manufactured diseases' like Lyme, HIV, Agent Orange, Morgellons and spends his life work healing the physical, spiritual and emotional psyche. He utilizes Divine Healing techniques is cultivated to help people recover from all types of illness. Christopher is able to heal many people simultaneously with rebalancing the body's energy field by clearing chakra points and cleansing the body's meridian field by removing blockages and negative energies. Christopher has written several books that can be found on his website: www.globalenlenlightmentproject.com
PARANORMAL BIO:
Born as a highly aware psychic child in Chester, England, Christopher Macklin is one of five Melchizedek beings on the planet today. He was often visited by negative ETs as a young child in his room at night. His screams brought his parents to his side but not believing him, they felt that Christopher was only experiencing nightmares. This left young Christopher to learn early on how to deal with the presence of negative ETs in his life. He began to use his psychic abilities and the power inherent in his Melchizedek Soul to understand why they were visiting him, how to remove them from the planet and how to heal the manipulations and violations that he eventually understood they were inflicting on an unsuspecting humanity. These early experiences would form the basis of Christopher's life work.

Today Christopher is an internationally known energy healer who specializes in healing people from all forms of illness, especially those created through ET technologies such Morgellons, Lyme, etc. He specializes in healing abductees and others who have suffered related negative ET trauma. He assists people in removing negative ET presences from their lives, clearing homes and land and closing multidimensional portals. He also works tirelessly with "illuminati fall out children" who have been mind-controlled and physically tortured by ET influenced governmental agencies and institutions. In addition, he works very closely with the Pleadians and Arcturians to help heal and rebalance humanity. He has a new book and protocol out that addresses the negative ET presence and how it has affected humanity.
Today, Christopher works with thousands of clients a month internationally. He provides a full range of healing services that address a spectrum of physical, mental and emotional issues and he teaches people about their divine sovereignty, divine alignment and the divine plan. He and his wife Amanda have founded "The Global Enlightenment Project" to serve an awakening humanity and to support the healing needs of people all over the earth.  He lives with his wife, Amanda at their centre in Branson, Missouri. 
 *******************************************************************************************************SOCIAL MEDIA:
Twitter: @cmacklinm, Global Enlightenment Project                                                           Instagram: GlobalEnlightenmentProject
YouTube: google Christopher Macklin for his many videos        
FB: Global Enlightenment Project                                                                                             Website:  www.globalenlightenmentproject.com/                                                                                                      
His recent books can be found on Amazon:
* Dissolving the Enigma of Divine Healing Divine                                                
*Transcendence: How to Navigate Humanity's Shift in Consciousness
*Rise to Your True Place as a Divine Being                                                                 
*History, Truth& Healing: Manufactured Diseases: HIV/AIDS, Agent Orange, War Syndrome, Morgellons and Lyme   Disease                                
*Centering the Mind: Healing of Chronic Stress, Anxiety, Depression, ADD, OCD & PTSD in Children, Adolescents and Adults
*****************************************************************************************
Please mention to your audience: Invitation to Group Healings:

3x weekly meditation and healing gathering – donation basis.
All are welcome to participate in the new protocol to remove Lyme/Morgellons/AIDS/HIV/Agent Orange and experience Christopher's work.  One hour comprehensive healing session.
WHEN: Mondays-9amCT/Thursdays-5pmCT/Saturday-11amCT.
Link to register: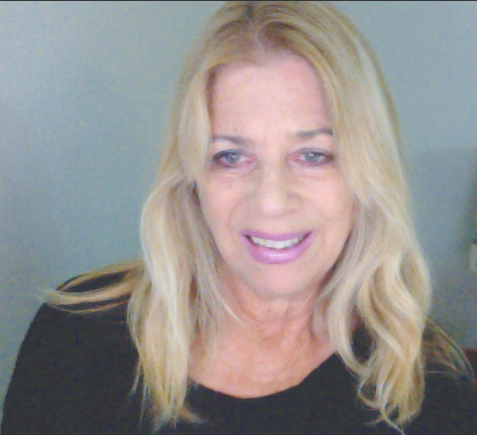 Kerry Cassidy is the CEO/ Founder of Project Camelot. Kerry is a documentary filmmaker/investigative journalist, author and well known host of Project Camelot TV broadcasting weekly live shows .  PROJECT CAMELOT  http://projectcamelot.tv aka projectcamelotportal.com  –  is a leader in the alternative media sector, with a Youtube channel (NOW ON OUR OWN PROJECT CAMELOT LIBRARY)  that has over 1000 video interviews over past 16 years, plus 5 years of radio show interviews and over 70 million unique viewers worldwide with over 312,000 subscribers at the time our youtube channel was removed by the Youtube censors. Kerry travels the world conducting interviews and documenting the testimony of whistleblowers with above top secret clearances as well as authors, researchers and experiencers covering conspiracies, the secret space program, black projects, ETs, kundalini and ascension and free energy. She speaks at conferences around the world and is considered one of the leaders of the disclosure movement. Kerry's book, "Rebel Gene: Secret Space and the Future of Humanity" documents her trip down the rabbit hole and years in Project Camelot. 5-STARS ON AMAZON! Due to censorship and demonetization by Youtube Project Camelot has now become a subscription based platform.  JOIN NOW BECOME A MEMBER
KERRY CASSIDY – PROJECT CAMELOT is now banned and deleted from the following platforms:  YOUTUBE, TWITTER, VIMEO, INSTAGRAM, LINKEDIN FOR TELLING THE TRUTH.  WATCH OUR VIDEOS HERE:
https://media.projectcamelotportal.com/
Over 900 free videos…
DISCLAIMER
Project Camelot does not necessarily agree with or endorse all of the views represented by those we interview or have on our radio shows, internet TV shows or other broadcasts and productions.What Camelot is about is the investigation into the mysteries that surround us. We are all, in a sense, investigators of our world. And while we, as individuals, may not agree with everything presented on our site, we fully support freedom of thought and speech as well as the Quest for truth.
JOIN ME ON TELEGRAM:  NEWS & UPDATES DAILY!

https://t.me/projectcamelotKerry

GET ACCESS TO ALL CAMELOT VIDEOS SINCE DEMONETIZATION ON YOUTUBE BACK IN MAY 2020…VIDEOS BANNED OR CONTROVERSIAL…SUPPORT OUR WORK!  SUBSCRIBE!
http://projectcamelotportal.com/membership-plans/
SEE OUR NEW PROJECT CAMELOT MEDIA LIBRARY AND WATCH OUR VIDEOS