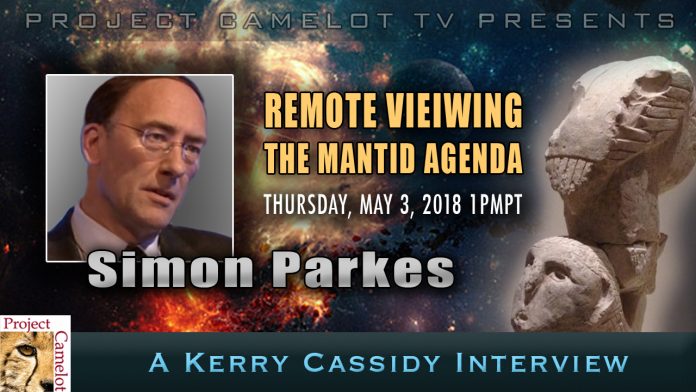 SIMON PARKES RE REMOTE VIEWING THE MANTID AGENDA 
For more info on Simon go to his website:  www.simonparkes.org/ 
YOUTUBE BLOCKED MY ATTEMPTS TO BROADCAST THIS SHOW LIVE SO I USED FACEBOOK.  NOW POSTED TO YOUTUBE:
COMMENT BY BRETT STUART – REMOTE VIEWER HAS THIS REPLY TO THE COMMENTS MADE BY SIMON PARKES ABOUT HIS VIEWING INFO
"From the sounds of it, Simon may be mixing my RV results with my video-end postulates/hypothesis where I include information from various reports and accounts that I researched following the RV project results. The YouTube video Simon talking about is an automatic reading of an article written by Christine Aprile, a well-known intuitive tarot reader from Los Angeles, called, Mantis Aliens: The Overseers. I wasn't aware of the video until someone sent it after Kerry's interview with Simon, but Aprile's article is one of the sources that I used to form my concluding thoughts, due to the many striking similarities in her article and the RV data.
The mentioned delineation between "insectoid" & "mantid" is definitely interesting though, as I have never heard of them before. It could certainly be the case, as the RV data never said Mantid by name, but the drawing of the creature looked what I thought was a Mantid. Anything past the RV data, which is clear in the video since I cut away from the RV pages, is just my own personal postulates and analysis."–BRETT STUART,
TECHNICALINTUITION.COM
BIO FROM SIMON'S WEBSITE:
Simon Parkes is a life long experiencer of aliens, shadow people, elementals and ufo's, these include Mantid (Mantis) beings, Draconis Reptilian, Feline, small and tall Grey creatures, Crystalline beings and other creatures that can't be identified. Simon was an elected Politician and served a full term of office. 
Simon's biological mother worked for the British Security Service, often called MI5 between 1965 – 1979. However while she was managed by British Intelligence she was in fact working "jointly" for the National Security Agency (NSA) of America. Her job was to type out documents that related to crashed ufo craft that had come down all over the Earth's surface and had then been retrieved by American special forces/recovery teams. 
Simon's Grandfather, who was a British diplomat, worked for the foreign arm of British intelligence often called MI6. But again in his case he was closely associated with the Central Intelligence Agency (CIA) of America.  During this time he was awarded the Order of the British empire (OBE) medal as well as the Commander of the British Empire (CBE) medal, however he turned down a Knighthood from the Queen.  Simon's Grandfather was also a prominent Freemason and was Britain's appointed diplomat to the United Nations in the late 1950's and early 1960's .
Simon went public with his story in 2010, and since then has toured the UK speaking at conferences, initially attacked by the establishment media in a concerted effort to discredit him. However an event in 2013 was to be a game changer, when Simon was invited by the British Ministry of Defence (MOD) to join a small party being given a tour of a secret space radar base in the UK.  This totally confounded the established media and has led to a far more serious appraisal of Simon's story by them.
Simon has assisted a growing number of people who have come forward from Illuminati families/bloodlines – where they have suffered torture and trauma, many from MILAB situations. Simon is able to re-integrate any alternate personalities that the individual may have, remove any Jinn/demonic possession and "de-activate" any suicide programmes placed in the person. 
On a lighter note Simon also does Soul readings, where in most cases is able to identify the individuals soul/star family background.  A reasonable fee is charged for these services – Simon is offering a nearly unique service and places the highest value on client confidentiality – having helped people from many countries and from widely differing backgrounds, from college students to employees of the Rothschild's. Simon understands the critical nature of his de-programming/healing/soul reading work and the support that his clients need."–FROM simonparkes.org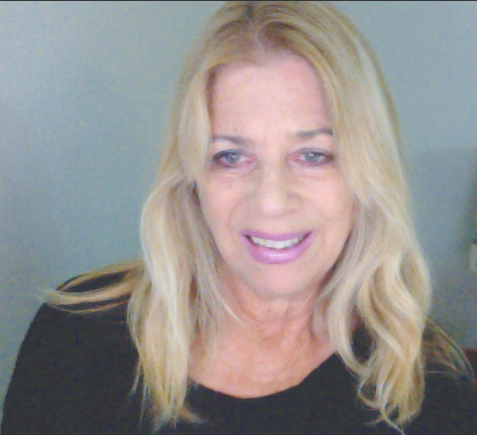 Kerry Cassidy is the CEO/ Founder of Project Camelot. Kerry is a documentary filmmaker/investigative journalist, author and well known host of Project Camelot TV broadcasting weekly live shows on Youtube.  PROJECT CAMELOT  http://projectcamelot.tv aka projectcamelotportal.com  –  is a leader in the alternative media sector, with a Youtube channel that has over 1000 video interviews over past 16 years, plus 5 years of radio show interviews and over 70 million unique viewers worldwide with over 312,000 subscribers. Kerry travels the world conducting interviews and documenting the testimony of whistleblowers with above top secret clearances as well as authors, researchers and experiencers covering conspiracies, the secret space program, black projects, ETs, kundalini and ascension and free energy. She speaks at conferences around the world and is considered one of the leaders of the disclosure movement. Kerry's book, "Rebel Gene: Secret Space and the Future of Humanity" documents her trip down the rabbit hole and years in Project Camelot. 5-STARS ON AMAZON! Due to censorship and demonetization by Youtube Project Camelot has now become a subscription based platform.  JOIN NOW BECOME A MEMBER
DISCLAIMER
Project Camelot does not necessarily agree with or endorse all of the views represented by those we interview or have on our radio shows, internet TV shows or other broadcasts and productions.What Camelot is about is the investigation into the mysteries that surround us. We are all, in a sense, investigators of our world. And while we, as individuals, may not agree with everything presented on our site, we fully support freedom of thought and speech as well as the Quest for truth.
JOIN ME ON TELEGRAM:  NEWS & UPDATES DAILY!

https://t.me/projectcamelotKerry

GET ACCESS TO ALL CAMELOT VIDEOS SINCE DEMONETIZATION ON YOUTUBE BACK IN MAY 2020…VIDEOS BANNED OR CONTROVERSIAL…SUPPORT OUR WORK!  SUBSCRIBE!