WEDNESDAY, MAY 2, 2018 7PM PT –  AN UPDATE ON CURRENT AFFAIRS WITH SCOTT BENNETT
Scott Bennett is a U.S. Army Special Operations Officer (11th Psychological Operations Battalion, Civil Affairs-Psychological Operations Command), and a global psychological warfare-counterterrorism analyst, formerly with defense contractor Booz Allen Hamilton. 
He received a Direct Commission as an Officer, held a Top Secret/Sensitive Compartmentalized Information (TS/SCI) security clearance, and worked in the highest levels of international counterterrorism in Washington DC and MacDill Air Force Base in Tampa, Florida. He has worked at U.S. Special Operations Command, U.S. Central Command, the State Department Coordinator for Counterterrorism, and other government agencies. He served in the G.W. Bush Administration from 2003 to 2008, and was a Social Science Research Fellow at the Heritage Foundation. His writings and lectures seek to enhance global awareness and understanding of modern psychological warfare, the international intelligence.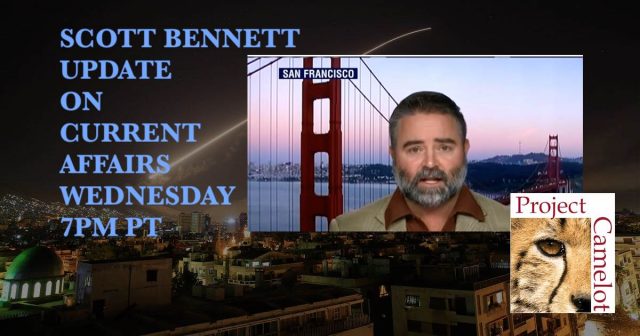 AND
THURSDAY, MAY 3, 2018 @ 1PM PT –  SIMON PARKES RE REMOTE VIEWING THE MANTID AGENDA 
For more info on Simon go to his website:  www.simonparkes.org/
Kerry Cassidy is the CEO/ Founder of Project Camelot. Kerry is a documentary filmmaker/investigative journalist and well known host of Project Camelot TV broadcasting weekly live shows on Youtube.  PROJECT CAMELOT  http://projectcamelot.tv aka projectcamelotportal.com  –  is a leader in the alternative media sector, with a Youtube channel that has over 800 video interviews, 5 years of radio show interviews and over 63 million unique viewers worldwide with over 237,000 subscribers. Kerry travels the world conducting interviews and documenting the testimony of whistleblowers with above top secret clearances as well as authors, researchers and experiencers covering conspiracies, the secret space program, black projects, ETs, kundalini and ascension and free energy. She speaks at conferences around the world and is considered one of the leaders of the disclosure movement.