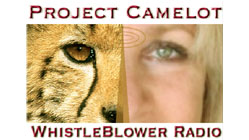 Click here to listen/download the mp3
Brooks Agnew
Brooks graduated with honors in the top 0.1% of graduating seniors from Tennessee Technological University in Chemistry and Mathematics, then continued his studies to achieve a Master's degree in Quality (statistics) and a Ph.D. in Physics.
In 2004, with his co-author EJ Clark, he wrote and self-published Volume One of The Ark of Millions of Years that discussed the origin and destiny of the Earth. It quickly became a national best seller. Volume Two was published in 2006, and Volume Three was published in 2008. All three Volumes remain in the top 1% of books for sale on Amazon and Barnes and Noble. He keeps a busy lecture schedule and hosts X-Squared Radio each week live between 5-8PM Pacific Time.
In 2006, he became the expedition leader for The North Pole Inner Earth Expedition, heralded by many as the greatest expedition in history. He has filmed, or been featured in, a half-dozen scientific documentaries awakening millions to the mysteries of the universe and of the Earth. Hence, he became an Earth explorer.
Bio taken from: www.x2-radio.com/about.html.