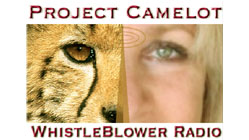 Click here to listen to the show
Mark McCandlish bio
Having grown up as a military dependent, Mark McCandlish manifested an interest in aircraft and other modes of transportation from an early age. This interest was augmented by an artistic and mechanical ability that initially grew out of an interest in dinosaurs, fossils and science.
As a teenager, this interest 'shifted' to cars, (no pun intended) and Mark decided that he wanted to become a designer for General Motors. He soon discovered that attending one of the premier automotive design curriculums offered at Art Center College of Design in Pasadena, California was not going to be possible on the minimum wage of the early 1970's. So, he headed off to join the U.S. Air Force, and take advantage of the G.I. Bill, eventually passing through electronics school at Lowery AFB in Denver, Colorado. Then on to his permanent duty station, McChord AFB in Tacoma, Washington.
While at McChord AFB, he performed repairs on and bore-sighted the infrared and radar-based MA-1 and ASQ-25 weapons control systems of the F-106 Delta Dart with the 318th Fighter Interceptor Squadron.
Upon leaving the Air Force in 1974, Mr. McCandlish made use of the G.I. Bill to attend Art Center College of Design, initially under an automotive design curriculum. He later switched to an illustration major when it became clear that the influx of Japanese imports and its impact on our economy was going to reduce the possibility of being hired at GM.
He later worked for a short time in the Hollywood special effects business, as a matte artist, and then was hired by the General Dynamics Corporation in Pomona, California as a technical illustrator and technical publications editor.
After two years, Mark left General Dynamics and began a career freelancing for a variety of defense and aerospace contractors, mainly producing art within an aviation theme.
During this time, Mark also was given the opportunity to participate in a number of media orientation rides in frontline U.S. Air Force and Air National Guard fighters, such as the F-15 Eagle and the F-16 Fighting Falcon.
In 1986, Mr. McCandlish became aware that the U.S. military was in possession of some extraordinary technologies, and began to pursue his own private research into where it came from and how it works. The research led to many strange events and encounters…..