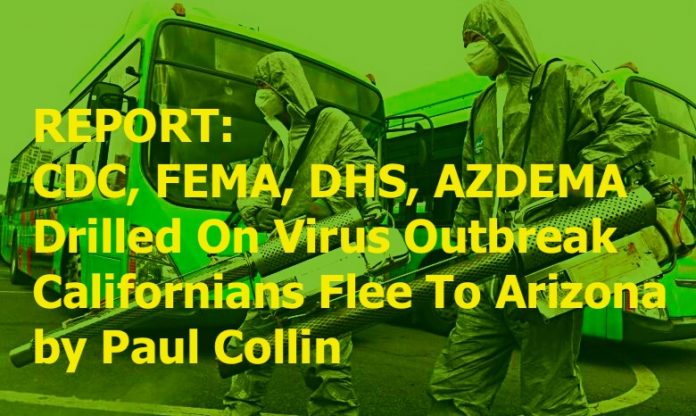 by, Paul Collin ( 'The UPI Guy' at Project Camelot )
LOS ANGELES – February 28, 2020 – What did the U.S. government 'know in advance' (2018), to conduct an official task force exercise / drill involving, the CDC, FEMA, DHS, ADHS, AZDEMA ( Emergency Military Assistance ) plus others surrounding a 'mass exodus of State of California residents fleeing into the State of Arizona' just before the 2019 novel CoronaVirus ( 2019-nCoV ) global outbreak, and now the 2020 'community spread in America today?
STARTEX –
STARTEX was the U.S. government 'National Mass Care Exercise' approved by the U.S. Federal Emergency Management Agency ( FEMA ) National Exercise Division ( NED ) allowing the Arizona Department of Emergency and Military Affairs ( AZDEMA ) to conduct a drill / exercise based on the following case situation ( scenario ), of:
Hundreds of thousands – if not millions – of people fleeing away-from California before, during and after a public emergency outbreak ( e.g. endemic / pandemic virus / disease ), bomb ( i.e. conventional explosive, chemical, biological, nuclear, radiological / CBNR ), tsunami, flood, earthquake, fire, creating that population mass to storm into Arizona.
CDC And ADHS –
When the U.S. Center for Disease Control and Prevention ( CDC – Atlanta, Georgia, USA ) is notified or identifies an emerging threat, they will notify and coordinate with the Arizona Department of Health Services ( ADHS ).
The Bureau of Epidemiology and Disease Control Services collects, analyzes, and distributes infectious disease data to internal programs, public health stakeholders, and counties to monitor public health and assist in the containment and prevention of infectious disease.
When notified by the CDC or when ADHS identifies an emerging  threat, ADHS will notify and coordinate with the county health departments.
Investigations into the 'source of an outbreak' can depend on the etiology involved ( e.g. viral, bacterial, parasitic or chemical ), the mode of  transmission  (e.g. foodborne, waterborne, environmental, person-to-person, etc. ), or the  outbreak setting ( e.g. restaurant, hospital or assisted living facility / convalescent hospital, school or community ).
Tracked by ADHS, most infectious disease outbreaks can be classified into the following categories:
– Respiratory or Influenza Like Illness [ e.g., SARS / CoronaVirus, Anthrax, etc. ] Outbreaks;
– Vectorborne [ Mosquito, etc. ] or Zoonotic [ Rodent, Bat, etc. Tick or Flea borne ] Disease Outbreaks;
– Foodborne or Waterborne Outbreaks;
– Healthcare Associated Infection Outbreaks; and,
– Vaccine Preventable Disease Outbreaks.
More …
… [ EDITED-OUT FOR BREVITY ] …
Category C –
Third ( 3rd ) highest priority agents, include:
'Emerging pathogens' that could be 'engineered for mass dissemination' ( 'community spread' ) in the future ( e.g. Nipha Virus, Hanta Virus, other 'emerging viruses' and diseases ):
Availability;
– Ease of production ( virulence / mutation rate of growth ) and dissemination ( 'community spread' ); and,
– Potential for high morbidity ( death ) rates and major health impact.
More …
… [ EDITED-OUT FOR BREVITY ] …
RESEARCH REFERENCES ( .PDF Document Download ):
Arizona's 2018 National Mass Care Exercise – National Mass Care Strategy ( 122 pages revealing EXERCISE / DRILL DETAILS ):
nationalmasscarestrategy.org/wp-content/uploads/2018/11/EM-EX_2018MAY-Arizonas-National-Mass-Care-Exercise_FSE_AAR_IP.pdf
AND,
VIRUS DETAILS: State of Arizona Hazard Mitigation Plan – Department of Emergency and Military Affairs ( 330 pages revealing VIRUS DETAILS + MORE ):
dema.az.gov/sites/default/files/publications/EM-PLN_State_Mit_Plan_2018.pdf
Homeland Security Exercise And Evaluation Program –
FEMA has enhanced the U.S. Department of Homeland Security ( DHS ) Evaluation and Improvement Planning section to fill gaps in guidance and 34 support continuous improvement efforts.
The 2020 revision of the Homeland Security Exercise and Evaluation Program includes:
Input from the whole community;
Revised chapter on Program Management ( replacing the Training and Exercise Planning Workshop ) with an Integrated Preparedness Planning Workshop;
More information on evaluation; plus,
Addition of several tables and figures.
The intent of the revision is to provide a more comprehensive and inclusive document for the use of the whole community to use in exercising:
Program Management;
Design & Development;
Conduct;
Valuation; and,
Improvement Planning. 
RESEARCH REFERENCE –
Homeland Security Exercise And Evaluation Program ( October 2019 ):
www.fema.gov/media-library-data/1571168444076-f9a85b98cd0e7d6099250e5b6a28ae9f/HSEEP_Revision_REVIEW_20191016.pdf
U.S. Subcommittee On Disaster Reduction  –
If all of the aforementioned was not enough, then FEMA saw to a SubCommittee On Disaster Reduction entitled the 'National Exercise Program' ( NEP ) within 'The National Preparedness System' including 'The National Incident Management System' ( NIMS ), all of which information is going to become headlines in the mainstream news media to provide the American community at-large ( and, stockmarkets ) with a general feeling of comfort and complacency rather than panic and chaos while the CoronaVirus continues spreading out of control.
RESEARCH REFERENCE –
www.sdr.gov/pdfs/Presentations/2018/NEP%2520Overview%252020180711_1430.pdf
It is important to stay abreast of information details hidden behind mainstream news reports, and one of the world's best places where people can obtain detailed information, research and references is within The UPI Guy column of reports online at Project Camelot.
–
EXAMPLES:
projectcamelotportal.com/2020/02/20/global-social-distancing-is-self-quarantine-human-cocooning/
AND,
projectcamelotportal.com/2020/01/14/caught-a-new-disease-secretly-rising-against-women/
AND,
SPECIAL RESEARCH REFERENCES ( BIODEFENSE BREAKING NEWS & OFFICIAL COVER-UPS ):
globalbiodefense.com/2020/02/25/patients-in-nebraska-part-of-first-covid-19-clinical-trial-in-u-s/
AND,
www.msn.com/en-us/news/us/california-undertakes-massive-effort-to-trace-contacts-of-woman-with-coronavirus/ar-BB10rLu9
–
If you believe my reports and research references are helpful, to you, your family or someone you know, PLEASE DONATE directly to me, here ( below ):
PAYPAL –
www.paypal.com/paypalme2/UpiGuy/
OR,
SECURE ONLINE BANK-TO BANK –
projectcamelotportal.com/2019/06/03/how-to-donate-to-paul-collin-unwanted-publicity-guy/
Thank you for your time spent reviewing my report and research references designed especially for people like you.
Catch a few breaking news reports from The UPI Guy, at:
TWITTER: 
AND,
LINKEDIN: 
www.linkedin.com/in/unwantedpublicityintelligence
Submitted for review and commentaries by,
Paul Collin, The UPI ( Unwanted Publicity Intelligence ) Guy ( Columnist at Project Camelot )
EMAIL: UnwantedPublicity@GMAIL.Com
http//:projectcamelotportal.com/category/guest-blogs/unwanted-publicity-guy/
WWW: kentronintellectresearchvault.wordpress.com
WWW: unwantedpublicityintelligence.blogspot.com/
WWW: web.archive.org/web/20081020050929/http://unwantedpublicity.media.officelive.com/Gallery.aspx
About ( Project Camelot Interviews The UPI Guy ) –
m.youtube.com/watch?v=mFxhHnObAFs
/
/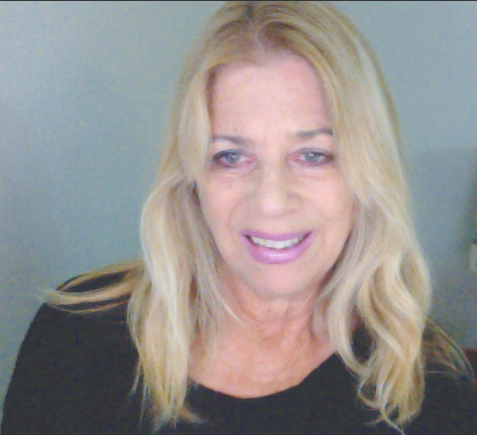 Kerry Cassidy is the CEO/ Founder of Project Camelot. Kerry is a documentary filmmaker/investigative journalist, author and well known host of Project Camelot TV broadcasting weekly live shows on Youtube.  PROJECT CAMELOT  http://projectcamelot.tv aka projectcamelotportal.com  –  is a leader in the alternative media sector, with a Youtube channel that has over 1000 video interviews over past 16 years, plus 5 years of radio show interviews and over 70 million unique viewers worldwide with over 312,000 subscribers. Kerry travels the world conducting interviews and documenting the testimony of whistleblowers with above top secret clearances as well as authors, researchers and experiencers covering conspiracies, the secret space program, black projects, ETs, kundalini and ascension and free energy. She speaks at conferences around the world and is considered one of the leaders of the disclosure movement. Kerry's book, "Rebel Gene: Secret Space and the Future of Humanity" documents her trip down the rabbit hole and years in Project Camelot. 5-STARS ON AMAZON! Due to censorship and demonetization by Youtube Project Camelot has now become a subscription based platform.  JOIN NOW BECOME A MEMBER
DISCLAIMER
Project Camelot does not necessarily agree with or endorse all of the views represented by those we interview or have on our radio shows, internet TV shows or other broadcasts and productions.What Camelot is about is the investigation into the mysteries that surround us. We are all, in a sense, investigators of our world. And while we, as individuals, may not agree with everything presented on our site, we fully support freedom of thought and speech as well as the Quest for truth.
JOIN ME ON TELEGRAM:  NEWS & UPDATES DAILY!

https://t.me/projectcamelotKerry

GET ACCESS TO ALL CAMELOT VIDEOS SINCE DEMONETIZATION ON YOUTUBE BACK IN MAY 2020…VIDEOS BANNED OR CONTROVERSIAL…SUPPORT OUR WORK!  SUBSCRIBE!