SEAN DAVID MORTON - and MELISSA MORTON
UPDATE AS OF AUGUST 30TH:
Hello Kerry,
All the kitties are safe with Melissa's friend who also breeds NFCs.
I have been speaking with a mutual friend each day.  All kitties were healthy and fine, they enjoyed getting their wet food right away! The lady brought them to her home with her other kitties, Melissa had told the lawyer to contact her about the cats and our friends also contacted her.
These are all wonderful people who really care.
They have been cleaning and putting things in order and he put Melissa's valuable things in a box in his storage. Melissa has been in the hospital wing and not allowed to receive guests, the lawyer says he can see her Thursday.
That's all the news I have.
We hope that it will not be too long for Melissa and she can come back to her kitties."--A FRIEND
UPDATE AS OF AUGUST 28TH
Sean and Melissa are now being held in San Bernardino County -- see links below to send gifts and contact them.
copy of Sean's arrest booking info:
Booking number:  1708342757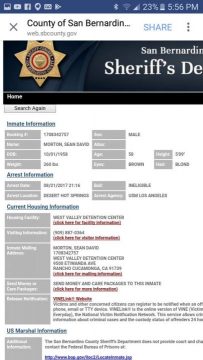 web.sbcounty.gov/sheriff/bookingsearch/bookingsearch.aspx
copy of Melissa Morton's arrest info:
Booking number:  1708301081
web.sbcounty.gov/sheriff/bookingsearch/bookingsearch.aspx
******
... in hiding and on the run broadcasting from somewhere in the Universe... Sean talks about his case and the illegal proceedings in the court room. He also talks at length about Trump, the SOLAR ECLIPSE on August 21st and it's lasting effects going forward for the United States.
MUST SEE!
Support Sean by purchasing his books