TOURS AND CONFERENCES
CAMELOT IN EGYPT – SPRING 2018
DATES:  APRIL 4-14, 2018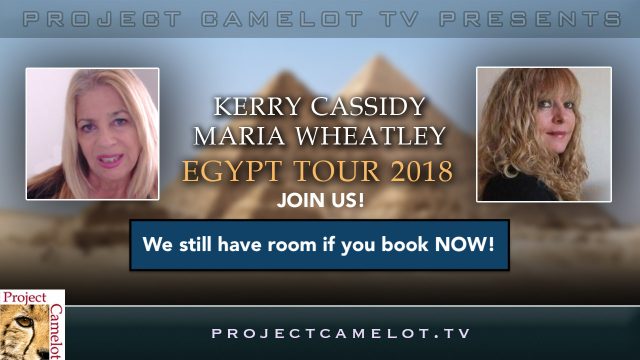 Kerry Cassidy and Maria Wheatley are leading a tour in Egypt this spring. Join Us! 
SPECIAL NOTE:  We still have plenty of room for new signups however you must book and pay ASAP to hold your place!
SIGN UP FORM (below):  PLEASE DOWNLOAD AND FILL IN NECESSARY DETAILS, SIGN AND EMAIL TO:  kerry@projectcamelot.tv
BOOKING FORM UPDATED Feb 21st PROJECT CAMELOT AND Soul Of Egypt Travel – Booking Form (ONLINE)
BOOKING FORM UPDATED Feb 19th PROJECT CAMELOT AND Soul Of Egypt Travel – Booking Form (PDF)
UPDATED:   THIS TRIP IS A "GO" — YOU CAN NOW BOOK YOUR FLIGHTS!
Note:  The Jordan portion will not be happening as we do not have the necessary number of people.  However, if you want to go to Jordan we may arrange this on our own.  Email us if interested.
[products columns='2′ ids='44034,44981′]
FULL PAYMENT NOW REQUIRED VIA WIRE TRANSFER ONLY!  FOR WIRE TRANSFER INSTRUCTIONS CONTACT KERRY!
PRICING:
EGYPT $3550 Per Person (TWIN ROOM)
EGYPT (SINGLE SUPPLEMENT) = AN ADDITIONAL  $777.00
SINGLE SUPPLEMENT MEANS 1 PERSON TRAVELING ALONE REQUESTING A SINGLE ROOM BY THEMSELVES
ALL PAYMENTS MUST BE SENT VIA WIRE TRANSFER ONLY.
Please TEXT Kerry's cell phone for her to send Wire Transfer Details. Please do both if you wish to join the trip at this time.
IMPORTANT! CONTACT INFO:
Email: kerry@projectcamelot.tv Phone: (+1) 310 279 6769
Due to the large amount of email if you do not hear from us or have questions call or text Kerry @ (+1) 310 279 6769 or skype: snowjaguar or what's app free at same number.
Questions write to:  kerry@projectcamelot.tv
ITINERARY   — SUBJECT TO CHANGE
Day 1: Wednesday 4th April – Arrival, meet greet & assistance – Overnight Cairo.
Welcome to the land of Pharaohs! Upon arrival our friendly rep. will be waiting for you to meet, greet & assist you throughout airport procedures, and then you will be transferred to your chosen hotel for overnight. 
Meals: Meals on your own / Overnight: Hotel in Pyramids Area
 Day 2: Thursday 5th April – Sakkara – Overnight hotel in Cairo
We will take you for a guided trip to "Step Pyramids of Saqqara" one of the most extensive archaeological sites in Egypt! It was the cemetery for Memphis, the capital of Ancient Egypt, yet it is still one of the virgin archaeological sites, despite the fact that so much has already been found here! "The Step Pyramid of King Zoser".
Meals: Meals on your own / Overnight: Hotel in Pyramids Area
Day 3:  Friday 6th April – Giza Great Pyramids & Private visits
In the morning we will have a visit privately inside the Great Pyramid with a culminating initiation in the King's chamber. Here, we unite our life story with the story of those who have come before us and those who will come after as we embrace the transformation that we have experienced.
Followed by our visit the Giza Plateau, Take a very good look at The Great Sphinx, the guardian of the Pyramids, Feel the energy of the spirits… Then we are off to discover some of the most awesome wonders of the World to touch them and to feel them here the Pyramids of the Giza Plateau. Our guide, who is an encyclopedia of Egyptology, will give us detailed examinations of various controversial theories surrounding these amazing structures.
Meals: Breakfast / Overnight: Hotel in Pyramids Area
Day 4: Saturday 7th April – Egyptian Museum & Fly to Luxor  
After breakfast you will meet up with your tour guide at the lobby to start an interesting trip to the "Egyptian Museum" housing more than 160'000 piece of antiquates; you can also ask your tour guide to enter Mummies room where you can reveal more secrets about mummification…
Afternoon will be free at your disposal. Evening flight to Luxor. Arrival & transfer to your chosen hotel in Luxor.  
Meals: Breakfast at your hotel / Overnight: Hotel in Luxor
Day 5: Sunday 8th of April – East Bank in Luxor 
Start our trip with a visit to "The Temple of Karnak", considered as the largest Temple in the World! The complex contains a group of Temples such as the Great Temple of Amon Ra, The Temple of Khonso, The Ipt Temple, The Temple of Ptah, the Temple of Montho and the Temple of the God Osiris. A 20m high, mud brick enclosure wall, surrounded all of these buildings. On the Bank (East Ban of the Nile); will head to "Luxor Temple" it is huge in scale — it once housed a village within its walls. It has several pylons (monumental gateways) that are some 70 yards long. The first pylon is over 70 feet high, fronted by massive statues and several obelisks. There are several open areas, once used for various forms of worship but now empty. Later additions include a shrine to Alexander the Great, a Roman sanctuary, and an Islamic shrine to a 13th-century holy man.
After this breathtaking trip; will take you back to your hotel to relax & refresh. Night will be free at your disposal… you might love to have a relaxing walk through the city or perhaps stay & enjoy hotel facilities.
Meals: Breakfast / Overnight: Hotel in Luxor
Day 6: Monday 9th of April – Dendera & Abydos & the start of your 4 nights Cruise trip:  
After breakfast will start with an early drive North from Luxor & head to "Abydos Temple",  dedicated to Seti I, Osiris and Isis along with Ptah, Ptah-Sokar, Nefertem, Re-Horakhty, Amun, and Horus, is one of the major archaeological sites in that region. It was begun by Seti I and finished by his son, the great Ramesses II. In fact, this structure built of fine white limestone is actually one of the most impressive religious structures in Egypt.
Will take you to "Dendera Temple" or "Temple of Goddess Hathor", this Temple complex contains the Temple of Hathor, is one of the best-preserved temples, if not the best-preserved one, in all of Upper Egypt.
The whole complex covers some 40,000 square meters and is surrounded by a hefty mud brick wall. The present building dates back to the times of the Ptolemaic dynasty and was completed by the Roman emperor Tiberius, but it rests on the foundations of earlier buildings dating back at least as far as Khufu (known as the Great Pyramid builder Cheops, the second Pharaoh of the 4th dynasty [c. 2613–c. 2494 BC]) but it was the pharao Pepi I Meryre who built the temple. It was once home to the celebrated Dendera zodiac, which is now displayed in the Louvre Museum in Paris.
After we are done with the visits, will take you to the cruise dock where you will check in for a magnificent 4 night's trip sailing from Luxor to Aswan.
Meals: Lunch box & dinner / Overnight: On board 5* deluxe cruise.
Day 7: Tuesday 10th of April – West Bank in Luxor
Get up early in the morning to avoid the noontide heat of the West Bank, head to the Valley of the Kings with its numerous tombs and chambers. Only fifteen tombs out of 63 are open for public, among them are those granted to Tutankhamun, Thutmose III, Ramesses I and Seti II.
Visit the massive twin statues depicting the Pharaoh Amenhotep III widely known as the Colossi of Memnon, Queen Hatshepsut, where you can learn the tale of the divine birth of the first female king. Sail to Esna by 12:30 noontime.
Meals: Breakfast, Lunch & dinner / Overnight: On board 5* deluxe cruise.
Day 8: Wednesday 11th of April – Sail to Edfu
Breakfast on board; visit the remarkably well preserved Temple of Edfu dedicated to the falcon God Horus. Set sail to Kom Ombo by 10:30 am, after lunch we will take you to the unusual double temple of Kom Ombo.
Meals: Breakfast, Lunch & dinner / Overnight: On board 5* deluxe cruise.
Day 9: Thursday 12th of April – Sail to Aswan – Philae Temple
Early Sail to Aswan, arrival & a short sail across the river that will bring you to the Agilkia Island, where the Philae Temple dedicated to the Goddess Isis is currently located.  Originally, the temple was situated near the First Cataract of the Nile River, though in 1902 when the construction of the Old Aswan Dam started, the area was flooded and the complex was moved. Afternoon felucca ride in Aswan. Night is free at leisure; you might like to go exploring Aswan's Famous markets in the evening.
Meals: Breakfast, Lunch & dinner / Overnight: On board 5* deluxe cruise.
Day 10: Friday 13th of April – Fly Back to Cairo
Cruise disembarkation & afternoon transfer to Aswan airport for the flight back to Cairo. 
Meals: Breakfast / Overnight: 5* deluxe hotel in Cairo
Day 11: Saturday 14th of April Departure
Breakfast and meet up with our friendly rep. for the transfer to Cairo International airport for final flight.
Rate per person / per package in double or twin share U$D 3550.00

Rate is based on minimum 10 persons confirmed minimum.
Enjoy last breakfast on the Land Of Wonders! Ten you will be transferred to the airport for your final flight back home…Bonne voyage!
If you haven't read the REGISTRATION FORM (link to download above) please do so!   It contains important info relating to the trip and what is included and what is not!
Cost as follows:

∙ Rate per person / per package in double / twin share is $3550.00

∙ Single supplement (single room only) is U$D $777 (to be added to the top of the rates) ∙ Based on min. 10 pax
TRIP includes

Pick up & drop off transfers

Transfers and Tours via deluxe Cars

3 Nights hotel accommodation at Mena House (Former Oberoi – OR similar) ü 2 Nights hotel accommodation at
Steigenberger Nile Palace ‐ or similar) ü 4 Nights on board Nile Cruise 5* deluxe ‐ sailing from Luxor to Aswan 1 Night in Cairo second stay ‐ Mena House (Former Oberoi – OR similar)

Daily breakfast

Entrance fees to all mentioned sightseeing ; Private visit at Pyramids Area
Private Visits at the Sphinx

Relevant transfers

Private English speaking tour guide throughout

Domestic Flight ticket Cairo / Luxor ‐ Aswan/ Cairo based on currently available class; however should it be raised by EgyptAir, will charge the difference.
Rate excludes:

∙ International Flight tickets from / to Cairo

∙ Meals other than the included above.
∙ Phone calls, laundry, personnel expenses, optional tours, beverage …etc. ∙ Entering the Mummies Room at the Egyptian Museum
∙ Tipping kitty

‐ Travel Insurance: it is highly recommended that you purchase your own travel insurance. ∙ Any unmentioned item
FURTHER CLARIFICATION ON MEALS:
Reg. included meals, please find details hereunder:
Breakfast is daily included (starting next day to arrival)
Breakfast , lunch and dinner meals on board cruise are included on daily bases (for the four night starting with lunch on the first day & ending with breakfast on the last day).
All other lunch & dinner meals are excluded.
IMPORTANT NOTE: DISCLAIMER
We strongly recommend that you take out appropriate travel insurance to cover your travel arrangements which is also recommended by the Department of Foreign Affairs and Trade for all overseas travel. Your insurance protection should include cover for cancellation, medical and repatriation expenses, personal injury and accident, death and loss of personal baggage and money and personal liability insurance. Evidence of such insurances should be produced to Soul Of Egypt Travel and PROJECT CAMELOT on request. Insurance cover offered by credit card companies or reciprocal medical cover agreements are often not comprehensive.
We act only as an agent for the participants in regard to travel, whether by railroad, motor coach, private car, boat, aircraft, or any other convenience and assume no liability for injury, illness, damage, loss accident, delay or irregularity to person or property resulting directly or indirectly from any of the following causes; ­ Weather, acts of God, force majeure, acts of government or other authorities, wars, civil disturbances, labor disputes, riots, theft, mechanical breakdowns, quarantines or acts of default, delays, cancellations or changes of any hotel, carrier, or restaurant. No responsibility is accepted for any additional expenses.
We are not liable for delays, inconveniences, accidents, injuries or expenses of any kind resulting entirely or in part from the negligence of others or from causes beyond our control. Participants assume all risks of personal injury and aggravation of any medical condition related in any way to the activities of the tour. Baggage and other personal property are the responsibility of the owner and we are not liable for any loss.
Each client bears the ultimate responsibility for ensuring that he or she is in good health and physical shape. It is your responsibility to determine whether the tour you choose is suited to your physical condition. You are responsible for the cost of any medicines or medical care you may require during the trip for any reason. 
Kerry Cassidy and Maria Wheatley
NOTE:  DUE TO INTERFERENCE WITH EMAILS WE SUGGEST ALL TRAVELERS USE TEXT BY CELL PHONE TO REACH US AND SKYPE.
My cell phone:  +1.310.279.6769   (PLEASE TEXT ONLY unless it is an EMERGENCY).