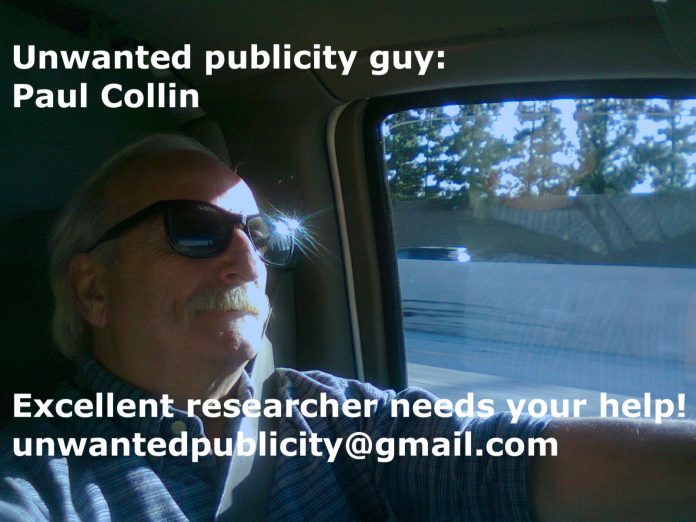 Begin forwarded message:

Subject: Re: Paul Collin Needs Help

Date: September 12, 2018 at 4:27:01 PM PDT

To: Scott Pollack 

Hi Scott,

Your heart and all that you've done for me brought me to tears

watching your broadcast done on my behalf.

If people only knew the extent of my plight just to survive at this

moment in my life, at my age, in failing health, and being socked /

sacked so many times these past years where I didn't give one hoot

about myself but 'other people' instead.

m.youtube.com/watch?v=8JaVuiyJefE

It's just such an incredibly personal and humbling moment in my life

when I see a man of your stature producing a special edition of The

Goldwater Report broadcast trying to help 'me'.

It is a sobering moment in today's world to see a man of my talents

humbled down onto his knees because I am broken for having chosen the

selfless career path as a volunteer for over 6-years now after all

I've been through around the world.

Fighting the fight for others; those, innocent people whom blamed

themself for reasons they could never fathom were complex U.S. foreign

clandestine intelligence government operations utilizing global

fraudsters manipulating individual investors whom were duped under

secret pretexts into financial games they knew nothing about.

One such case situation, the last one, Scott made a series of ten ( 10

) YouTube video broadcasts that introduced 'me' ( anonymously,

at-first ) to these facts, here:

m.youtube.com/watch?v=hD_6-TS5nuE

I followed-up by my own in-depth international report, which

mainstream news broadcast repirts only told a smidgen-of, what really

happened here:

unwantedpublicityintelligence.blogspot.com/2015/01/foreign-fraud-intelligence-cats-under-9.html

All I have been doing since I returned to Ameeica from my Eastern

Europe assignment ( 2002 – 2006 ) is just trying to give people

'credible inside information' to sharpen them up so, they never get

conned again by such complex treacheries.

I've seen families torn apart, suicides, and murders because people

around the globe were duped into emptying their life savings and

annuity accounts to Non-Official Cover ( NOC ) foreign government

intelligence operatives protected by U.S. federal government

operations. This, is the untold story of gpvernment crimes within

other crimes people never hear about on mainstream news broadcasts.

Since 2002, 16-years now, I have fought the good fight against

international investment frauds.

And, in doing this, I have suffered the mental anguish and physical

pain of my body withering down faster than normal, and then not being

able to care for myself because of being rendered as a now handicapped

war veteran for almost 2 decades now.

I have 'no public resources', as most poor and homeless individuals do

so, this makes it extremely difficult to survive.

Thank you for taking time and energy to produce your recent broadcast

calling on people in your audience at The Critical Post Chicago to

help me.

You, and Kerry Cassidy ( of Project Camelot ) have hearts the size of

high-rise buildings towering over this great Land we call America

today.

projectcamelotportal.com

Many blessings upon you 'both' and your 'collective audience viewerships'.

Donations for me can be accomplished by simply clicking on my PayPal

donation link, here:

www.paypal.me/UpiGuy/

Thank you.

Humbly with all my respect,

Paul Collin

The Unwanted Publicity Intelligence Guy ( The UPI Guy )

E-MAIL:

UnwantedPublicity@GMAIL.Com

WWW:

projectcamelotportal.com/category/guest-blogs/unwanted-publicity-guy/

WWW:

www.linkedin.com/in/unwantedpublicityintelligence

WWW:

web.archive.org/web/20111224045623/http://upintelligence.wordpress.com:80/

WWW:

kentronintellectresearchvault.wordpress.com

WWW:

web.archive.org/web/20020602014634/http://communities.msn.com:80/AnExCIA/biography.msnw

/
Kerry Cassidy is the CEO/ Founder of Project Camelot. Kerry is a documentary filmmaker/investigative journalist, author and well known host of Project Camelot TV broadcasting weekly live shows on Youtube.  PROJECT CAMELOT  http://projectcamelot.tv aka projectcamelotportal.com  –  is a leader in the alternative media sector, with a Youtube channel that has over 800 video interviews over past 15 years, plus 5 years of radio show interviews and over 66 million unique viewers worldwide with over 258,000 subscribers. Kerry travels the world conducting interviews and documenting the testimony of whistleblowers with above top secret clearances as well as authors, researchers and experiencers covering conspiracies, the secret space program, black projects, ETs, kundalini and ascension and free energy. She speaks at conferences around the world and is considered one of the leaders of the disclosure movement. Kerry's book, "Rebel Gene: Secret Space and the Future of Humanity" documents her trip down the rabbit hole and years in Project Camelot.