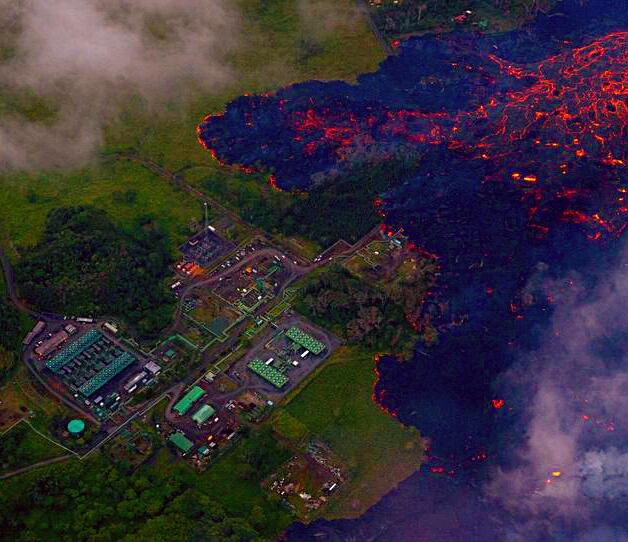 by, Paul Collin ( The UPI Guy at Project Camelot )
UPDATE: June 1, 2018  – ORMAT, Shut It Down, Shut It Down Now!
DUKE UNIVERSITY, did a report on ORMAT TECHNOLOGIES INC. subsidiary
PUNA GEOTHERMAL VENTURE ( PGV ), wherein it found PGV shooting very
high speed water into the ground that was consequently fractured the
underground rock right along and just above the lithosphere magma
tunnel pathway leading and 'into' and thereby feeding Mt. Kilauea
volcano so, this has already been factually proven.
Additionally, ORMAT TURBINES LTD. and its technology demanded Rare
Earth Elements ( REE ) incorcorated into its turbine system parts,
which came from CHINA that mined those REE materials out of mines
located in NORTH KOREA.
The proof is now in the line of lava pudding that served to erupt at
least one ( 1 ) new volcano on the Lower East Rift Zone where that new
volcano never existed before.
Reference
m.youtube.com/watch?v=vp_Xwdmrifk
My collection of information to write my reports hopefully provides
some key critical piece(s) of evidence leading to even more
investigations support litigation claim settlements for damages
against victims of such global atrocities in Hawaii and elsewhere.
Sincerely,
Paul
/
/
ORIGINAL POST
LOS ANGELES – May 30, 2018 –  Hawaii Kilauea volcano crater, known as Halemaumau Crater, has grown exponentially from 14 acres to now greater than 90 acres according to the U.S. Geological Survey ( USGS ) Hawaii Volcano Observatory ( HVO ) whose 'earlier theory' on Kilauea volcano crater Halemaumau ( also known as ) "Halemaʻumaʻu" where explosions recently changed official statements from 'spewing' "steam" into 'spewing highly toxic' "gas" as the volcano crater walls are breaking off and collapsing down inside of itself.
Today ( 29MAY18 ) the Kilauea Halemaumau crater gas plume reportedly rose greater than 15,000 feet into the air.
Reference
www.msn.com/en-us/news/us/fast-lava-from-hawaiis-kilauea-volcano-closes-highway/ar-AAxZ3Kb
Officials later 'altered that fact of the gas plume explosion having rose 15,000 feet', by cleverly commenting  that the plume rose above 8,000 or 10,000 to 12,000 feet from the "summit ( top ) of Kilauea ( volcano ) that is thousands of feet tall to begin with.
While officials are 'cleverly minimizing facts', to 'prevent wider scale evacuations', more and more people remain smothered in that type of a clandestine news blackout endangering more lives.
Recently a giant sink-hole pit ( pock mark ), was noticed near the southwest area of the Kilauea volcano Halemaumau crater rim, and can be indicative of more swiss cheese like holes being punched through the area surrounding this crater inviting an even greater collapse in the near future.
Reference
m.youtube.com/watch?v=49h6crohY3Y
New ORMAT Secrets In Hawaii To World –
People believed 'geothermal power' was 'environmentally safe' "Green Energy" but that has changed now since new information surfacings.
While no more lava is coming out of the Kilauea volcano Halemaumau crater top because its primary magma tunnel was interrupted by ORMAT subsibiary PUNA GEOTHERMAL VENTURE ( PGV ) multiple well bore-holes drilled and fracked down to the primary underground lava feed diverted and drained to the southeast where it permeated the ground into multiple large lava rivers seeping down and becoming 'multiple lakes of fire' where brand new volcano vents are spitting lava up to 500-feet above the ground while more lava propagates through even more ground cracked fissures turned into molten rivers piling-up more land mass weight on top of the Hilani Slump expected to slip off into the Pacific Ocean where consequential water displacement is expected to create tidal waves up to 1,000 feet affecting several additional coastlines; some models indicate waves encircling other islands wile travelling as far away as California and elsewhere.
Hawaii 1-Day Swarm Of Over 400 Earthquakes Today –
Reference
m.youtube.com/watch?v=bcv3aGpPZXg
ORMAT Geothermal DPRK Rare Earth Element Secrets –
ORMAT TECHNOLOGIES have many-many multiple 'similar geothermal energy facilities', besides its Puna Geothermal Venture ( PGV in Hawaii ), operationally tapping into highly volatile volcano magma tunnels worldwide where a plethora of secrets are buried too.
North Korea ( DPRK ) natural resources consist of Rare Earth Elements found within products inside ORMAT turbine parts manufactured exclusively in China, both countries of which also sell exclusively to U.S. Department of Defense ( DoD ) contractors for REE in components seen as not only secret in America stealth military defense equipment but in China and Russia too.
References
projectcamelotportal.com/2018/05/08/unwanted-publicity-guy-needs-your-help-4/
projectcamelotportal.com/2018/03/16/dprk-north-korea-intelligence-leaks/
www.thinkgeoenergy.com/u-s-doe-geothermal-and-ipads-providing-rare-earths-and-critical-materials/
ORMAT facilities see their 'super high-technology turbines' supplied with very special parts produced from Rare Earth Elements ( REE ) mined out of 'North Korea' ( DPRK ) under an exclusive working business agreement with the People's Republic of China ( PRC ) in 'Nagqu' where the center of the Qinghai – Tibet plateau is located; about 186 miles from the Tibet capital of Lhasa where a population of 400,000 exists. ORMAT claims its geothermal electricity power project in Nagqu, China.
ORMAT World's Largest Geothermal Facility In Indonesia –
Let us not forget the Adaman-Sumatra earthquake and tsunami ( also known as ) the "Boxer Day" tsunami that struck Indonesia, where ORMAT TECHNOLOGIES located its world's largest geothermal energy facilities, and that was also where the disasterous earthquake and tsunami killed 350,000 people in 11 countries surrounding Indonesia.
ORMAT In Steamboat Springs, Mammoth Lakes And Salton Sea –
Not only is ORMAT present in its PGV facility in Hawaii, ORMAT has at-least two ( 2 ) such facilities operating near 'five ( 5 ) mud volcanoes' in the Salton Sea of southern California between the San Andreas Fault Zone and Pacific Rift Zone.
In the Coachella Valley of Imperial County just east of San Diego is where one of ORMAT's geothermal wells blew up secretly spewing 'hydrogen sulfide gas' and pentane ( a 'solvent' with combustible explosive properties like 'unleaded gasoline' ) exploded into the atmosphere, but that never hit mainstream news out of the Salton Sea area where over 400 earthquakes in 1-day came to shake even Los Angeles where and when I was researching and reporting as a volunteer for Project Camelot just a few years ago.
Near Mammoth Lakes in Long Valley, California is yet another huge geothermal facility that was taken over by ORMAT whose American headquarters is based out of Reno, Nevada near Lake Tahoe.
Research References
www.ormat.com/en/projects/all/main/?Country=0&Seg=0&Tech=6
m.youtube.com/watch?v=QLEAKYx1YMg
m.youtube.com/watch?v=bqXlJaT4lgk
m.youtube.com/watch?v=5dF3bHVdAQ8
m.youtube.com/watch?v=LVB59D12iPc
m.youtube.com/watch?v=s-EjR4oRPFg
Subduction Zones, Volcanoes And Abandoned Oil Wells As Geothermal Power Profit Pictures –
Salton Sea is an environmentally delicate area effecting all of North America, Central America and South America for millions upon millions of bird migrations and fish exist, and it is precisely here where in-between two ( 2 ) giant earthquake fault zones are located plus five ( 5 ) volcanoes that ORMAT TECHNOLOGIES built two ( 2 ) geothermal facilities tapping into magma within the lithosphere of Earth's upper mantle not far underground for quick high business profits too.
Reference
m.youtube.com/watch?v=C18Eg_IZWME
ORMAT may be near you and you will never know it or of its dangers because they are using different names for their electricity facilities.
ORMAT is elsewhere throughout other states, within the United States of America, and rest of the world too.
Wherever volcanoes exist, primarily near population centers, and there is a huge profit to be made off of hard working people's monies you can count an ORMAT geothermal facility venture nearby because ORMAT TECHNOLOGIES is growing incredibly fast, which does not happen without full government knowledgeable complicity.
Who's Crying Now Besides Hawaii Residents?
I don't know if a multi-billion enterprise like the ORMAT Group can cry, but on May 28, 2018, in Hawaii and because PUNA GEOTHERMAL VENTURE ( PGV ) is now considered a total loss, that didn't stop the Israeli company ORMAT TECHNOLOGOES from bragging about its super 'insurance policy' covering all those losses.
Ormat has property and business interruption insurance policies that include insurance coverage in a combined amount of up to $100 million in the event of volcanic eruptions and earthquake. The Company is working with its insurance broker and has provided notice to its insurance carriers regarding the situation at Puna. As of March 31, 2018, the Puna complex represented approximately $90 million of net assets on the Company's balance sheet based on a total asset value of approximately $109 million plus approximately $30 million of prepaid expenses less deferred lease income of approximately $49 million. In addition, PGV is required to pay an aggregate of approximately $22 million of future lease payments until 2027.
It is understood that the insurance carrier may very well investigate further into ORMAT, PGV, or a contractor likely having created this loss albeit by improper drilling, fracking or other issue exacerbating the monumental rupture and consequently diversion of an entire underground magma chamber and/or lava tunnel feeding the Mt. Kilauea volcano caldera that was drained below the watertable last week when hydrogen sulfide gas clouds began rising by thousands of feet into the atmosphere.
And, while ORMAT, PGV and its affiliate capital venture investment partners may be covered by 'some losses', there is another venture speculation that neither of any of those business concerns had sufficient liability coverage for what insurance companies do not cover, such as what is referred to as "Act Of God insurance" that does 'not exist' so, it is highly unllikely that 'civil litigation settlements' to Hawaii local residents displaced from their homes, businesses, plus personal and real property losses will surely see litigation through the courts.
Perhaps, Important to note is that ORMAT holds better than a 63% interest in PGV and the balance is 'also held by ORMAT's partner'; an ( unnamed ) 'affiliate' ( ? ) of NORTHLEAF CAPITAL PARTNERS.
ORMAT may rethink geothermal tapping into magmatic undergrpumd surfaces near subduction zones and earthquake fault zones once public outcries begin circumnavigating the globe.
Reference
www.thinkgeoenergy.com/ormat-updates-on-situation-of-its-puna-geothermal-plant-on-hawaiis-big-island/
ORMAT works in secret cooperation with many public utility ( electricity power ) organizations and local governments.
ORMAT is also having its public name 'rebranded' while ORMAT ventures into diversifying ( hiding ) intl other emerging technology profitable areas so people will never know ORMAT is becoming a global monopoly elsewhere too as using volcanoes as its source for 'geothermal electrical power' becomes an unavoidable global environmental risk to life as we know it.
ORMAT TECHNOLOGIES INC. already knows this, and that is why in 2017 as ORMAT was beginning to face much slower growth in its core geothermal market, now ORMAT BSAAS accelerated its move into the rapidly expanding battery storage and demand response sector by buying VIRIDITY ENERGY. It is common knowledge today that the People's Republic of China ( PRC ) is expected to takeover that same global market due in part to ultrapure lithium mined by China in North Korea ( DPRK ) today, which will be a world leader of Rare Earth Elements ( REE ) for emerging technologies for the next 70-years; unless something changes that too.
The alliance is an attempt to meet China's demand for the exploitation and utilization of geothermal energy, 'accelerate development of geothermal industries', implement its national strategy for constructing a "green" and beautiful country, and eventually to benefit all of humanity, which we now know comes with greater risks to humankind since ORMAT's PUNA GEOTHERMAL VENTURE ( PGV ) disasterous losses to all in Hawaii and elsewhere never thoroughly covered by corporate government mainstream news media in America.
Research References
m.youtube.com/watch?v=PEFAmco_k8g
m.youtube.com/watch?v=vEa5kC6Gfc4
viridityenergy.com/about/press-releases/
ORMAT has geothermal facilities in Kenya, Africa as well as in many other countries too, however ORMAT strategic investments, technologies and facilities are closely held by an Israeli businessman keeping many secrets guarded by partners within the U.S. government with political affiliates worldwide; most of which remains classified information today.
References
m.youtube.com/watch?v=LVB59D12iPc
m.youtube.com/watch?v=oA-zw5XUklg
How Hawaii Ground Fissures Turn Into Lava Rivers –
An example of lava bubbling up and being redirected through "Propagated Ground Fissures" is seen thrpugh the following aerial drone film footage, here:
Reference
m.youtube.com/watch?v=0qZTqp6Qfjc
An easy review of 'volcano walls collapsing' after underground pressure is suddenly released causing the existing caldera magma to drop down, is seen here:
Reference
m.youtube.com/watch?v=BBGmXsZHInw
Hawaii 'Lower East Rift Zone' area of the "Hilani Slump" when it slips creating a tsunami:
References
A 70-Foot Tsunami, as projected by NOAA:
m.youtube.com/watch?v=XsobqNpkVus
m.youtube.com/watch?v=Jq1dhptx3ew
m.youtube.com/watch?v=KstQogN8DUA
Navy Tsunami Drills Increase –
The U.S. Navy has just recently conducted another Tsunami drill; now, its 'second' ( 2nd ) Tsunami drill in the past month.
The following video clips will show giant ground fissures around the rim of Halemaumau crater of Kilauea, provide insight as to the primary magma chamber beneath Kilauea volcano Halemaumau crater being drained, and provide details surrounding up to date additional dangers now under government and scientific review.
Reference
m.youtube.com/watch?v=RHMkEg8354w
Federal Emergency Management Agency ( FEMA ) –
FEMA is making standby requests, of the:
U.S. National Guard Bureau ( NGB );
U.S. Army ( at least: 1,200 soldiers );
U.S. Marine Corps ( USMC );
U.S. Navy ( USN );
U.S. Coast Guard ( USCG ); and,
U.S. Department of Homeland Security ( DHS ).
DOI OAS sUAS Missionings –
In addition to multiple U.S. federal government agencies and military branches of government becoming involved, the U.S. Department of the Interior ( DOI ) Office of Air Services ( OAS ) is conducting special aerial surveillance of the Lower East Rift Zone and Hilani Slump expected to eventually slip off into the Pacific Ocean.
Reference
m.youtube.com/watch?v=ryqrI6f41Ng
Research
With over 500,000,000 million acres of land under their management, the U.S. Department of the Interior ( DOI ) is the largest single landowner in the United States of America; DOI maintains this land for U.S. citizens and in order to keep eyes on it, have 1,200 + aircraft in their fleet inluding Unmanned Aerial Vehicles ( alsi known as ) 'drones'.
Reference
m.youtube.com/watch?v=4Z2TDLfPv-A
Specially outfitted drones operated by DOI OAS, plus some aircraft operated by the U.S. Navy and Air Force plus other types of global crafts are currently tasked with deployments over this southeastern portion of Hawaii.
One example of such deployments would extend to NASA and U.S. Air Force high-altitude scientific aircraft used for collecting environmental air particulate samples determining air quality from the atmosphere high above the ground where Hawaii's Kilauea volcano has been spewing toxic hydrochloric acid and hydrogen sulfide gas up into the atmosphere being carried by trade winds across the world. Usually used in conducting such airborne experiments is a special high altitude aircraft ( based on the design of the U-2 Dragon Lady spy plane ) employed in these types of operations and others too.
The National Oceanic and Atmospheric Administration ( NOAA ) indicates recent changes in 'trade wind' directions from 'east' to 'west' ( especially during evening hours ),  which is sending dangerous toxic 'gas plume' ( from the Kilauea Halemaumau crater ) particulates toward Hilo, Hawaii.
Scattered rainfall is expected over the next 2 days.
As reported earlier, the U.S. Marine Corps detachment recently deployed for evacuations, from southeast Hawaii residents, was planning on using Hilo, Hawaii as their evacuation destination, however as my previous report noted, such might necessitate changing if additional dangers required being factored in-to those original evacuation plans for Hawaii.
References
m.youtube.com/watch?v=A-S3OcBs6-g
projectcamelotportal.com/2018/05/26/hawaii-volcano-new-fracking-emergencies/
A few members inside the Hawaii local area U.S. National Guard Bureau ( NGB ) warned of information surrounding more dangers not being released to members of the general public.
Reference
m.youtube.com/watch?v=sGokUdN7d-E
It is now being reported that the 1924 Kilauea eruption, and tidal waves that ensued, are appearing to bear resemblances to recent geological and volcanic activities with the exception that Kilauea did not have its magma chamber diverted to the southeast Lower East Rift Zone that now sees an even greater land mass weight atop the Hilani Slump expected to calve off into the Pacific Ocean.
References
m.youtube.com/watch?v=uOYxxhbl5UY
m.youtube.com/watch?v=49h6crohY3Y
Research
projectcamelotportal.com/2018/05/21/coast-guard-hawaii-tsunamis-as-hilani-slump-prepares-to-break-off/
projectcamelotportal.com/2018/05/23/new-caldera-forming-in-hawaii/
Officials Not Educating People ( Methane, Hydrogen Sulfide, Pentane, Geologic Slump Calving And More ) –
Methane gas comes as no surprise for those whom know how to identify it ( odorless and colorless ), its perils, plus how much methane has built up in the Earth and spread throughout our atmosphere to-date. Not a pretty picture, which some people will soon come to learn about by reviewing my research references.
With methane leaking out of the ground, no one should operate electric motors ( containing armatures and commutators within them ) or any other engine having the possibility of spark activities. Methane is highly volatile and explodes under certain conditions; even 'outside'.
Methane, slightly seeping into oxygen areas can ignite, and create a 'blue flame', however 'natural gas' does by turning on any kitchen gas cooking range.
Sulfur smells like rotting eggs, and while hydrogen sulfide may smell similar it is far more deadly and will in several ways kill living things.
Research may be easily accomplished by simply clicking or finger tapping on the blue-colored text links to review the reference links contained within my report.
References
m.youtube.com/watch?v=Quq3YnRlRZY
projectcamelotportal.com/2015/12/15/secret-invisible-bombs/
projectcamelotportal.com/2015/09/21/arctic-50-gigaton-methane-bomb-activated/
Bad News –
Inexperienced officials keep guessing and speaking publicly to people whom do not know anything more about science than politicians whom took money and gifts under their crooked tables to let greedy corporate governments rule most of mankind.
Important to know just whom is running these shows over mainstream news media broadcast cable network television channels, and people will become wise to all the confusing doublespeak double talk.
Lessening the numbers down from "180-feet" to "60-yards" into the air, when lava was actually shooting up to as 'high' as "500-feet" and a 'minimum' of "180-feet" can be cleverly manipulated by a spokesperson told to say: "We saw lava only spewing 60-yards into the air, which has been noticeably reduced since yesterday."
Actual facts reveal far more dangers occurring since May 21, 2018 through May 25, 2018 most of which are activities people never heard broadcasted.
All these Hawaii emergency events are now out of control because 'nothing can stop nature except another natural event dowsing the other event'.
Living Through This Natural Disaster –
Most 'all officials' never experienced all of these multiple nuances occuring simultaneously during any single event like what we now see being recorded in our history of modern man today.
It's all brand new, extremely dangerous and situations are taking place very rapidly while people are sitting idly by while listening to public officials guessing and explaning 'combined complex details' they know absolutely nothing about.
Officials will tell the public that lava is hot and will melt things, but officials will not mention that lava on top of ground will also melt ground too. Hence, lava rivers that converge begin pooling in-place forming 'lakes of fire' from where magma can reemerge, shoot up and out creating a brand new volcano crater opening spewing lava hundreds of feet into the air.
Good News –
It would be a good idea to prepare for events in Hawaii that some officials courageously announced is about to grow even worse over the coming days and weeks, while other officials only keep dropping 'subtle hints', 'cleverly minimizing actual events', or 'claiming they are unaware'.
Sensible Awareness –
Whatever happened to making a good emergency plan for oneself and sticking to it while practicing simple common sense?
The UPI Guy Reports –
As more details become exposed, more of humanity may be even-better prepared because they were alerted through Project Camelot website reports like this so, alerting your friends and loved ones lets them know you care enough to 'say something' they can alert others they know about in danger zones.
Please support my research, reports and updates for the sake of humanity.
DONATE, directly, here:
Thank you.
Cordially submitted for review and commentary by,
Paul Collin, The UPI Guy ( at Project Camelot )
E-MAIL: UnwantedPublicity@GMAIL.com
WWW: projectcamelotportal.com/category/guest-blogs/unwanted-publicity-guy/
/
/
Kerry Cassidy is the CEO/ Founder of Project Camelot. Kerry is a documentary filmmaker/investigative journalist, author and well known host of Project Camelot TV broadcasting weekly live shows on Youtube.  PROJECT CAMELOT  http://projectcamelot.tv aka projectcamelotportal.com  –  is a leader in the alternative media sector, with a Youtube channel that has over 800 video interviews over past 15 years, plus 5 years of radio show interviews and over 68 million unique viewers worldwide with over 267,000 subscribers. Kerry travels the world conducting interviews and documenting the testimony of whistleblowers with above top secret clearances as well as authors, researchers and experiencers covering conspiracies, the secret space program, black projects, ETs, kundalini and ascension and free energy. She speaks at conferences around the world and is considered one of the leaders of the disclosure movement. Kerry's book, "Rebel Gene: Secret Space and the Future of Humanity" documents her trip down the rabbit hole and years in Project Camelot. 5-STAR RATING ON AMAZON! Due to censorship and demonetization by Youtube Project Camelot has now become a subscription based platform.  JOIN NOW BECOME A MEMBER