We had a great time and are getting great reviews on last weekend's conference… here are a few (names removed to protect the innocent 🙂
Dear Kerry,
I would just like to offer my sincere gratitude for the wonderful weekend and fantastic lineup of speakers you organized. 
I have been following Camelot basically from the get go so It was an absolute honor to meet you for the first time !!!
Thanks again for your bravery. You are an inspiration to us all and a true gift to humanity. Hope to be at the conference again next weekend.
Very best regards,
*********
Dear Kerry
I was only able to attend on Saturday but what a magnificent array of speakers and information!
Truly inspiring!
You are a compelling speaker and I was so pleased to have been able to attend and feel the outpourings of your hearts.
I hope my modest donation will be opf use and I look forward to listening to you again.
Yours in gratitude
****
JULY 16-17 – LONDON, UK
VENUE:      PASSING CLOUDS
SPEAKERS:  SIMON PARKES, MARIA WHEATLEY, CATHI MORGAN, MILES JOHNSTON, HARALD KAUTZ-VELLA,  KERRY CASSIDY
TICKETS ON SALE NOW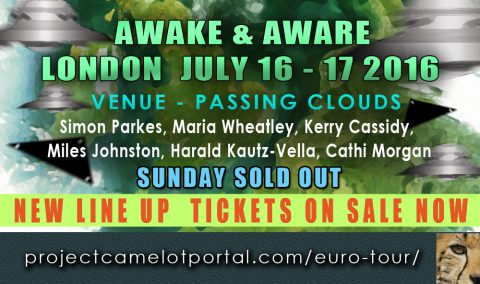 >>>>>>>>>>>>>>>>>>>>>>>>>>>>>>>>>>>>>>>>>>
NEXT STOP:
PRAGUE CONFERENCE  –  FROM ILLUSION TO REALITY
PRODUCED BY ALEXANDRA BERG
SPEAKERS:  KERRY CASSIDY, OLE DAMMEGARD, ZEN GARDNER, GEORGE GREEN, KEVIN ANNETT,  HARALD KAUTZ-VELLA, AND MARSHALL MASTERS VIA LIVE VIDEO.
TICKETS ON SALE HERE:
SCHEDULE:  (SEE BELOW)
One ticket costs 1700 CZK, czech koruna (63 Euro)
Dinner 22 July with Prague Peace Prize 2016 in Restaurant Nebozizek, 5 pm, costs 900 CZK (33 Euro) alt 700 CZK (26 Euro) if you attend the Conference.
Your payment-receipt is your ticket, please bring it to the Conference/Dinner.
Conference Location:
Lucerna, Great Hall:
SATURDAY July 23, 9am-6pm:            
George Green – 2 hours                        
Harald Kautz – 2 hours                          
                      LUNCH BREAK 1pm – 2pm
Kerry Cassidy – 2 hours                        
Panel Discussion – end of day                      
SUNDAY July 24, 9am-6pm: 
Ole Dammegård      2 hours                        
Zen Gardner            1-2 hours
                      LUNCH BREAK 1pm – 2pm
Kevin Annett           2 hours
Marshall Masters joins Panel Discussion at 5pm via Skype
Schedule Subject to Change